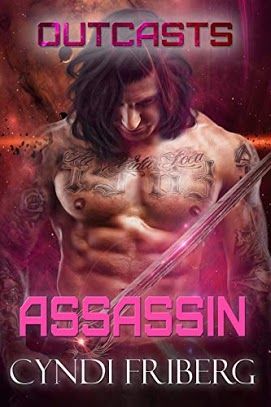 Publisher: Anything-but-Ordinary Books
Torrin's simple mission is seriously complicated when he finds Arrista, a lovely Sarronti female, in need of rescue. The Sarronti resent the Outcasts and continually sabotage their efforts to build a settlement on the primitive planet. But Arrista isn't just any Sarronti. She's the personal servant of one of the most powerful Sarronti. The information Arrista can provide would be vitally important to the Outcasts, so Torrin is ordered to use their mutual attraction to question her.
Arrista has been taught to fear and mistrust the savage Outcasts, so why does she find Torrin so fascinating, so desirable? It's not just his muscular body and rugged features. He is kinder and more protective than any male she has ever known. She is drawn to him by a force so compelling it leaves her no choice but surrender. She wants him, needs him, but can she trust him not to break her heart?
Note to Readers: This book contains detailed descriptions of sizzling passion only suitable for mature readers. Certain plot elements carry on from book to book. Though Assassin can be read as a standalone, it's more fun to read the series in order.
Other Books in the Outcasts Series:
Publisher: Anything-but-Ordinary Books
Genre: Sci-fi RomanceRestless and embittered by an abusive past, Arton the Heretic finds himself in a battle of wills with Lily, a gorgeous geneticist. She holds the key to the future of his people, but she was brought to this savage world against her will and that's an insult she'll not soon forget. Their attraction is instantaneous and intense, yet each has valid reasons for mistrusting the other. He wants her, is consumed with the need to claim her, but he can't focus on the future until he deals with the past.
Publisher: Anything-but-Ordinary Books
Rex Dravon, a notorious smuggler, is one of the Outcasts' most important allies. Many of the Outcasts' philosophies and approaches to life in general appeal to him, but he's hesitant to commit to any cause. Hoping to entice Rex into committing, Arton the Heretic, tells Rex that he is genetically compatible with one of the "captive brides", a feisty blonde named Thea Cline.
Thea is still enraged that she was dragged from Earth without her permission, and she's recovering from a horrendous tragedy. She sneaks aboard the Marauder hoping to steal a weapon. Instead she's confronted by the ship's handsome commander. She knows to be wary of Rex because of his reputation, but she's instantly, and powerfully, drawn to him. His offer to help her escape comes a little too quickly and she fears he has ulterior motives. Is he simply hoping to lure her into his bed—a fate she's not sure she'd mind—or is his motivation more nefarious?
Publisher: Anything-but-Ordinary Books
Published: September 2018
Xorran, a famed tracker, is sent to find two human females kidnapped by the Outcasts' enemy. His search seems futile until he encounters Sara and a feisty battle cat cub. He's fascinated by the tiny animal, but feels an immediate and powerful connection with the wisecracking human.
Sara is still angry about being brought to the Outcasts' planet without her permission, yet her stubbornness is no match for "the pull". As they work together to rescue her friend, their passion flares ever hotter. Can Xorran prove to Sara that he wants more than a torrid affair? Now that he's found a potential mate, he will settle for nothing less than forever.
Copyright © 2019 Cyndi Friberg
Torrin's jaw dropped, and his heart lurched inside his chest. For one blissful moment, he was paralyzed by shock and primal need. A goddess stood before him naked, offering her perfect body to him. High round breasts, tiny waist and softly curved hips combined to form the personification of his wildest dreams. A small patch of hair above her mound was the same silvery blue as the shimmering hair on her head. Her legs were long and shapely, perfect to wrap around his waist while he thrust strong and steady between her thighs.
"I am willing to serve you, but I need to know what pleases you."
Her soft, tremulous voice snapped him from his lust addled stupor. He forced his gaze back to her face as he pushed to his feet. His ocular scanners provided information on her biological functions, but he knew nothing about the Sarronti, had no idea if the readings were problematic or not.
Still, fear smelled like fear regardless of the species and facial expressions were nearly universal. Her pastel blue gaze followed his movements with a mixture of dread and hopelessness. Her bleak resignation tore at his heart, and he'd thought himself much too jaded to feel pity. It was obvious she'd done this before, offered her body out of obligation and fear.
He snatched the towel off the deck and wrapped it around her, inadvertently trapping her arms at her sides. "This is not why I brought you here. If we share pleasure, it will be because you want me just as much as I want you."
About the Author
Cyndi Friberg has written about rock stars, vampires, and cat shifters, but she's currently focused on outer space. Her stories are fun, fast-paced, and seriously hot. She has made the USA Today Top 100, and every book in the Battle Born series landed on Amazon's Top 100. She is currently working on Outcasts, a spin-off series set in the Battle Born universe.
FREE to Kindle Unlimited Members!