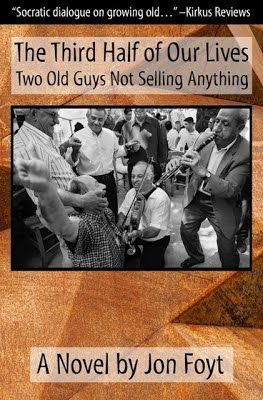 American Literary Genre of Senior Adult
Two Old Guys Not Selling Anything
Publisher: Andrew Benzie Books
Two men reflect on what went right and wrong during their long lives in this novel. Socratic dialogue on growing very old. These two men of the Silent Generation might not confront any of the really intriguing issues—from their white maleness to the sex lives of octogenarians—but they do hit the classics: parenthood, accomplishments, and the point of it all. A philosophical tale about two men in old age.
"The Third Half of Our Lives" is a dialogue between two old guys living in a fictionalized retirement community as they think back about their lives, their marriages, their families, while engrossed in their very different stamp collections, and cope with everyday concerns living amidst senior women and men.
Both Kirkus Reviews and celebrated author Maxine Hong Kingston call the book "Socratic" in its dialogue.
About the Author
Jon Foyt has been writing novels for 30 years, initially in collaboration with his late wife Lois.
"The Third Half of Our Lives, Two Old Guys Not Selling Anything" is his current novel.
Writing is Jon's fourth career, with earlier ventures in radio broadcasting in the Pacific Northwest, commercial banking in Oregon, and building houses and condominiums in California.
Jon has degrees from Stanford in journalism plus an MBA, and pursued a masters in Historic Preservation at the University of Georgia. He served in Army Military Intelligence during the Korean War. A distance runner, he has completed 60 marathons. Here in Rossmoor, he was one of the founders of the Published Writers. He is president of the Stanford Alumni Club, is active in the Democratic Club, as well as several men's clubs, plus participating in a Buddhist Meditation group.