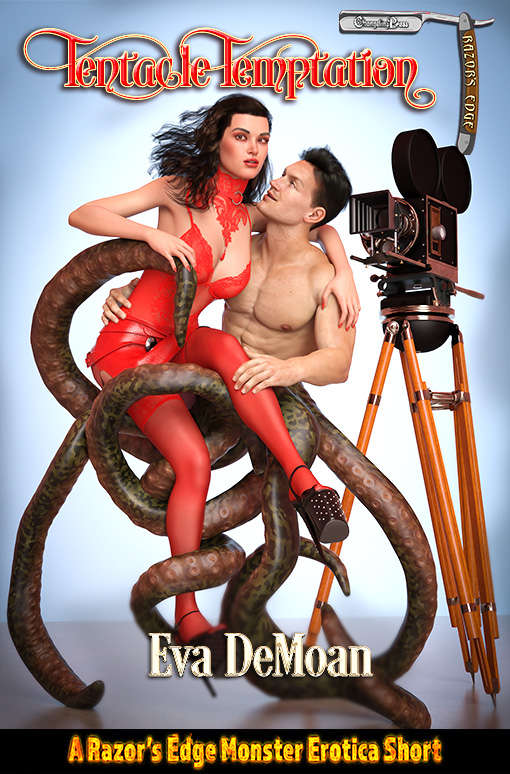 Naughty Films Inc #1
Fantasy Erotica
Date Published: February 25, 2022
Publisher: Razor's Edge
WARNING: Tentacle Temptation is part of the monster erotica series Naughty Films Inc. There is little to no plot, not much in the way of character development, but there is lots of super hot sex of the taboo variety with seven kraken males and one human female. If you want a happily-ever-after, with romance and a strong storyline, this is NOT what you're looking for. Please leave all concepts of reality here before proceeding…
I worked my way up the ladder in the Adult Entertainment industry, taking any jobs I could. Now my producer has come to me with an offer I can't refuse -- mostly because he didn't give me a choice -- a series of "monster" films with actors in elaborate costumes. But I'd never say no to the amount cash involved…
Except he lied. Those aren't costumes!
I'm not only about to be claimed by the Alpha Kraken, but by his pod, too!
Excerpt
I didn't have a fucking clue what I was supposed to be doing, so I turned to face the counter and looked at the glass tubes set up. I lifted one and "accidentally" dropped it.
"Oops! I'm so clumsy today," I said, bending down to pick it up. The camera man zoomed in on my boobs, which nearly spilled from my shirt.
"Doctor, your patient is ready," a voice called out from off-set.
I turned to face the fake door, and my breath stalled when the most beautiful man I'd ever seen entered – propelled by tentacles! Oh, shit! When Carl said they'd spared no expense, he wasn't kidding. This guy looked like he'd just come straight from the sea.
He approached, not even slowing, until he'd pinned me against the counter. "I'm finished being your experiment."
I swallowed hard, my heart racing as he pressed his hard body against me. "What are you going to do about it?"
He grinned, exposing a mouthful of sharp, needle-like teeth. I nearly shuddered, but repressed my reaction. Barely.
"You've poked and prodded me for months. I think it's my turn."
A tentacle slithered up my thigh. Oh, crap!
About the Author
Eva loves erotica, both writing and reading -- the filthier and the kinkier, the better. While Eva has always loved monster books and movies, when she saw the World of Warcraft movie she fell head over heels for Durotan, the Orc Chieftan. That's when Eva decided to start writing some monster stories of her own.
If you'd like to be notified of future Eva DeMoan releases, follow her on Amazon! You can also find Eva on Facebook and Twitter.
Contact Links
Purchase Link