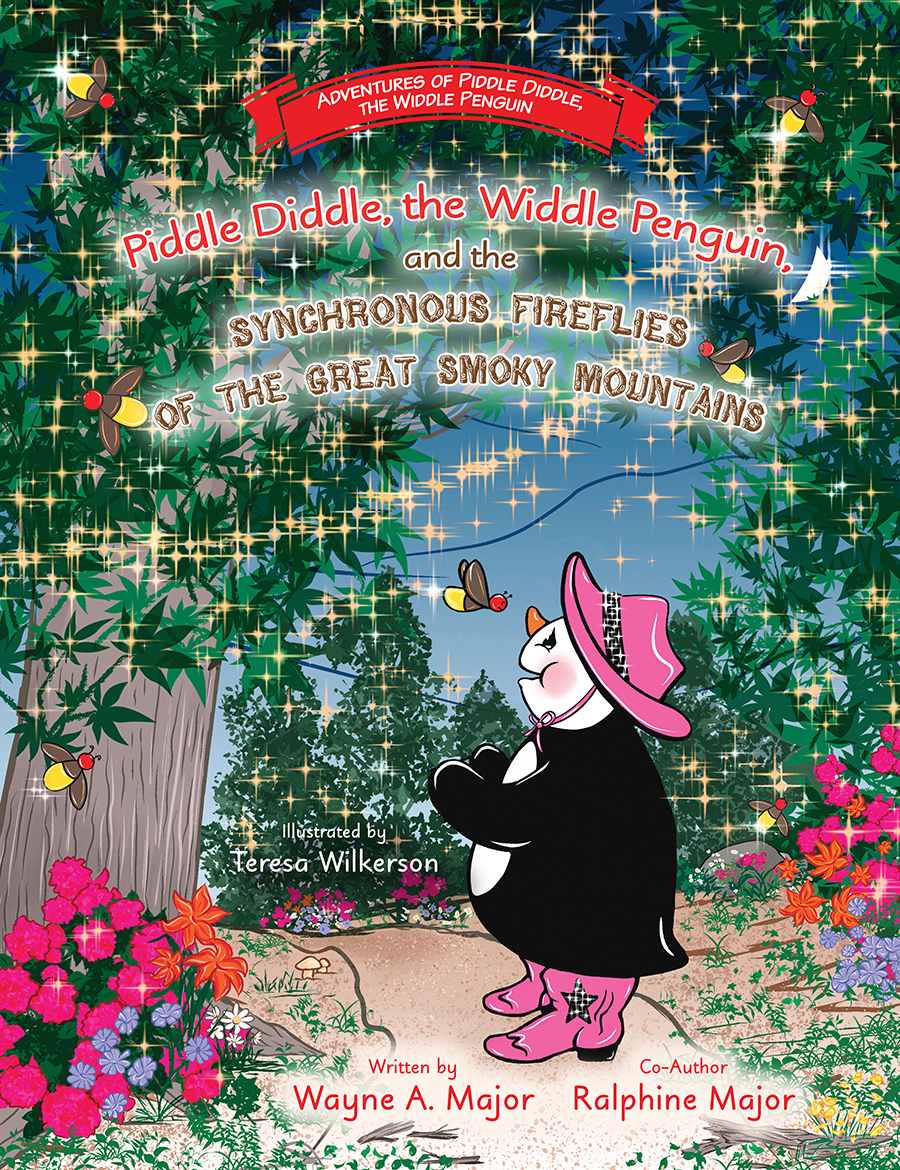 Adventures of Piddle Diddle, the Widdle Penguin
Children's Book
Date Published: April 6th 2022
Publisher: Jan-Carol Publishing, Inc.
What animal can hold a child's attention better than a mischievous, cunning penguin?! Piddle Diddle, the Widdle Penguin, is such a penguin. Despite her small size, she can be an example to children. Size is an obstacle only if you let it be. Penguins are some of the most entertaining animals on the planet! Come and join Piddle Diddle, the Widdle Penguin, and her family as they enjoy the amazing synchronous fireflies in the Great Smoky Mountains of Tennessee!
About the Authors
Wayne A. Major and Ralphine Major both grew up in Corryton on their family's dairy farm in rural East Tennessee. Always surrounded by lots of animals, they developed a love for them at an early age. Both went on to graduate from The University of Tennessee with degrees in Business Administration. Wayne majored in Marketing and is retired from the State of Tennessee. Ralphine majored in Office Administration with a teaching certification, and is retired from the Tennessee Valley Authority. Though she has never had a journalism class, she uses her God- given talent as a contributing writer of a weekly true human-interest column for The Knoxville Focus ( www.knoxfocus.com ).
Years later, one Sunday morning Wayne was sitting in the choir at Wallace Memorial Baptist Church in Knoxville, Tennessee, and something unexpected happened. He was listening to a sermon about David and Goliath that was directed toward the youth. Wayne heard a voice say, "You need to write children's books." He even turned to see where the voice came from. After hearing his story, Ralphine committed to the project as well. While the brother/sister duo had helped teach kindergarten classes at church and admired the children's eagerness and willingness to learn, this was a new venture and a step of faith.
Getting published did not happen overnight, but it was worth the wait getting to work with Publisher Janie Jessee, Graphic Designer Tara Sizemore, and the staff of Jan-Carol Publishing, Inc. The authors believe the great chemistry they have with Illustrator Teresa Wilkerson is because she grew up on a dairy farm in East Tennessee also. Wayne created the character, Piddle Diddle, the Widdle Penguin, which is a registered trademark. Ralphine vividly remembers how excited Wayne was when he shared about hearing a voice that Sunday morning in the church choir. She is happy to be a part of this adventure with Wayne and remembers well that Sunday night when they first talked about this journey that started in the church choir! The authors are proud to partner with two generous donors who have helped to put hundreds of books in the hands of children. God does work in mysterious ways! Throughout this process, Wayne and Ralphine have felt God's hand guiding them and realize how important it is to wait on God's timing. They hold firm to Proverbs 3:6 (KJV): "In all thy ways acknowledge him, and he shall direct thy paths."
Contact Links
Purchase Links