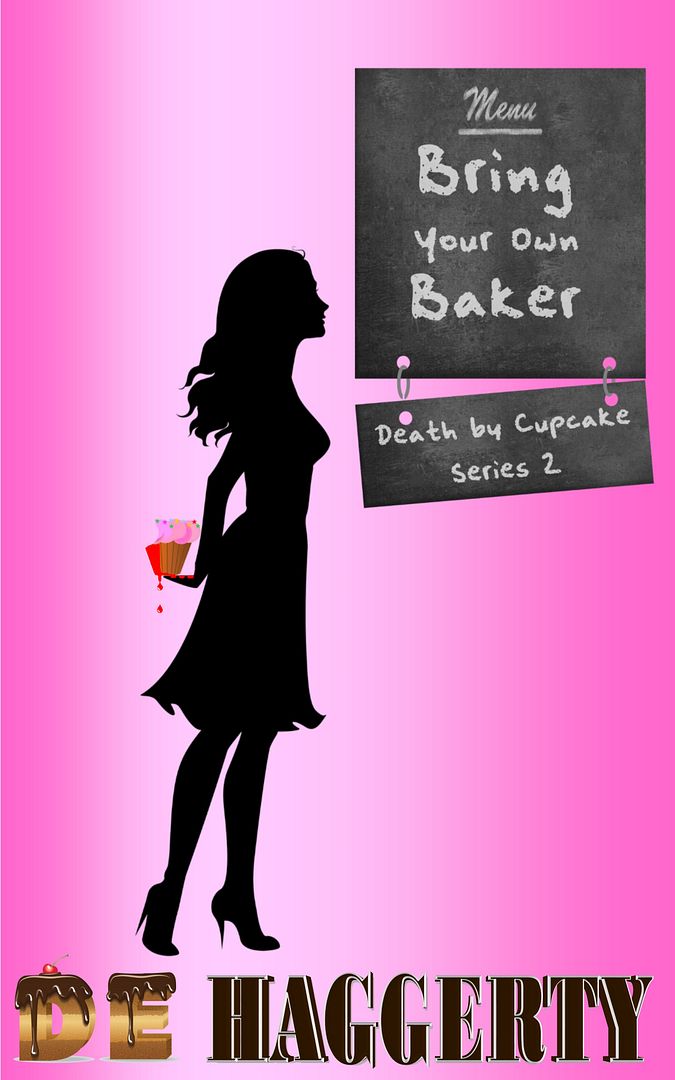 Date Published: June 20, 2016
Anna just wants to earn enough money on the side to buy into the bakery, Callie's Cakes, where she works together with her best nerd pal Callie. The last thing she expects to see when she walks into Arthur's apartment to do some moonlighting is a blood bath. Callie's ready to jump into the investigation into Arthur's murder, and she's bringing another bakery worker, Kristie, into their hijinks whether Kristie wants to or not. But things aren't as they seem. There are gang affiliations, illegal gambling dens, and ladies of the night to wade through. Will Anna and Callie discover who murdered Arthur or will Callie's detective boyfriend Ben and Anna's self-appointed protector put a stop to such aspirations?
Come join us at Callie's Cakes, where murder investigations are on the menu, but make sure to bring your own baker because Anna's a bit preoccupied at the moment.
Warning: This is NOT your mom's cozy mystery. Bring Your Own Baker may be a 'clean' read, but if gangs, illegal gambling, and pimps make you turn your nose up at your e-reader, you might want to skip this one. Although you'll be missing some sizzling chemistry between Anna and her protector. Not to mention a whole bunch of witty dialogue.
I grasp the weapon in my hand and throw it with all my might at him. The weapon makes a 'tee hee' sound as it hits his stomach.
"Did you just throw a Pillsbury dough boy at me?" His voice carries a hint of humor. The Pillsbury dough boy was probably not the best item to grab from the kitchen to use as a weapon. Obviously, I'm totally losing it.
I inch backwards into the kitchen searching for a more appropriate weapon. Dag nab it! The knives are way over on the other side. I have no choice. Without taking my eyes of the man, I grab a perfectly formed and probably fricking delicious muffin from the tin and throw it at the intruder. Apparently, my fast ball needs some work as he just catches the muffin as if I merely lobbed it in his direction. He smiles and, not bothering with the paper liner, takes a huge bite.
"Mmmm…," he groans around a mouthful. "This is really good."
"Seriously?" I throw my arms in the air before planting my hands on my hips. "If you want my muffins, just come to the bakery. You don't have to break in." Uh oh, I nearly forgot that he broke in. I start backing up again, getting ever closer to those knives.
The man's eyes narrow as he notices me shuffling my way towards the knives. He stalks me and, when he's only an arm's length away, reaches around me and grabs the knife block. He keeps his eyes steady on me as he places the block on top of the refrigerator. Somewhere I can only reach if I get out my step ladder.
"Who are you? And what are you doing here?" I may be terrified and my voice my stutter a bit, but I'm not backing down. Not. One. Bit.
"You're a feisty little thing, aren't you?"
"Who you calling little?" Apparently, I have no regard for my safety at all as I'm now goading an intruder.
The man chuckles. His smile shows a perfect set of teeth. Huh, not exactly what I expected from Mr. Piercings and Tattoos. "For a pink-haired pixie, you sure aren't afraid, are you?"
I grew up reading everything I could get my hands on from my mom's Harlequin romances to Nancy Drew to Little Women. When I wasn't flipping pages in a library book, I was penning horrendous poems, writing songs no one should ever sing, or drafting stories which have thankfully been destroyed. College and a stint in the U.S. Army came along, robbing me of free time to write and read, although I did manage every once in a while to sneak a book into my rucksack between rolled up socks, MRIs, t-shirts, and cold weather gear. A few years into my legal career, I was exhausted, fed up, and just plain done. I quit my job and sat down to write a manuscript, which I promptly hid in the attic after returning to the law. Another job change, this time from lawyer to B&B owner and I was again fed up and ready to scream I quit, which is incredibly difficult when you own the business. Thus, I shut the B&B during the week and in the off-season and started writing. Several books later I find myself in Istanbul writing full-time.
Email: dena@dehaggerty.com
Book #1 of the series, Never Trust a Skinny Cupcake Baker, is on sale for 99 cents Today!!!