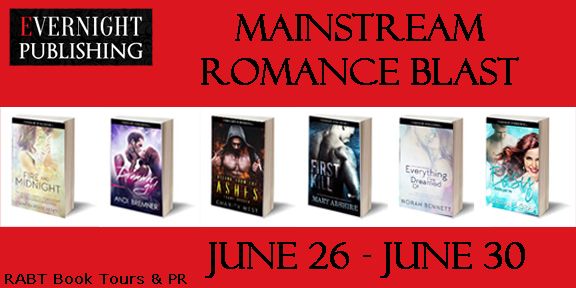 Drummer Girl (Moonstone Series) by Andi Bremner
*Editor's Pick*
Shawna Gill, drummer for the all girl band Moonstone, is hiding a shameful secret she can't let anyone find out about...
When an opportunity comes up to play drums on The Lairs new album, Shawna jumps at the chance. Her passion in life is playing percussion. But performing with The Lair means spending time with Adam Wilson, their sexy, arrogant, lead singer who seems determined to antagonize her at every turn.
But as their hate slowly turns into a passion neither of them expected, Shawna is torn between choosing what her heart wants and losing what she has sacrificed everything for. And worse too, her secret could come out and she could lose the one person more important to her than anything.
Andi Bremner is a forever romantic who grew up with her nose in a book and head in the clouds.
She always dreamed of writing sexy romance stories featuring strong heroines and dashing heroes and feels blessed to share her stories with readers all over the world.
When Andi is not busy writing she can found teaching high school or hanging out with her husband and three sons.
Easy (Labeled Series) by Jordan S Gray
New Adult
Labeled, 2
It's been an entire month since Shayler Thompson has orgasmed from something not made out of silicone. If her sour mood is any indication, she needs to get laid like yesterday. So when she walks up to a sexy nerd at the bar and propositions him, it seems like a great idea. Until he rejects her and calls her easy.
Still reeling from his hurtful words, Shayler is surprised to find that the nerd, David, is a Teaching Assistant for the one college class she's totally embarrassing herself in. When he offers to help her study, she accepts, thinking that maybe she'll get laid after all. But David isn't into casual sex, and Shayler refuses any sort of commitment. With enough chemistry to set his dumb Prius on fire, she's sure one of them will eventually give in…she just really hopes it won't be her.
Jordan S Gray is a full time mother, college student, and writer. She never did grow out of that emo stage and considers punk music, coffee, and Taylor Swift to be the necessary fuel for her writing. If you happen to run into her at the library or book store, the only places she leaves the house for, she's probably dressed head to toe in black. Actually, if it weren't for the purple hair, she would probably be shunned as a total goth- not that she has a problem with that.
PRUDE is her debut novel, and its standalone sequel, EASY, released in January 2017. You can stalk her online via Twitter @JordanStephanie where she procrastinates most of her adult responsibilities and all of her schoolwork.
Everything I've Dreamed About by Norah Bennett
Contemporary Romance
Love in Lakes Crossing, 2
Kate Willowbrook dreamed of a life filled with beauty –– a man who loves her, friends, and a home. At eighteen, Kate's dreams were replaced by nightmares when she witnessed a crime. Kate fled, never settling down and never trusting anyone until at the age of the thirty, she discovers the small town of Lakes Crossing and CEO, Noah Reed.
When Noah's wife was killed in an accident, his world exploded. Noah settled for an empty, loveless life until the day he met Kate. When he learns about Kate's past and finds she is still in danger, Noah takes over, becoming over-protective—to the point Kate feels stifled and controlled.
As Noah and Kate struggle to put the past behind them and find a balance that fulfills both their needs, they learn that there are no guarantees in life, but in Lakes Crossing they have been given a second chance at love.
Norah lives a double life. By day she is a suit-wearing, prim and proper, professor, administrator, researcher, and lecturer. By night she is a PJ wearing dreamer and writer of books that make people sigh, smile, cry, laugh, fall in love and believe in second chances. She lives in a small town deep in the woods of Northwest Jersey with her husband of thirty years, a 160 lb great dane puppy, a cranky geriatric maltipoo, and an obnoxious cockatoo who runs the house and terrifies all its inhabitants.
Norah discovered the joy and escapism that comes from reading at the age of twelve and swears books saved her life and her sanity. Through reading, she has travelled the globe and learned all kinds of equally useful and useless skills such as the proper way to eat a pomegranate, carve a watermelon, or bathe an elephant. These are skills she has passed down to her two daughters who are incredibly supportive, but often wish she had a wider scope of hobbies. Website: http://www.norahbennett.com
Fire and Midnight by Sandra Renee Appet
Contemporary Romance / Women's Fiction
"Fire and Midnight is a delightful story full of characters you won't soon forget. I didn't want it to end!" ~ New York Times bestselling author Stephanie Evanovich
He could be her best worst decision…
With a glass of wine in hand, Jane Keegan's finger is poised to delete the account her pushy BFF created for her on "The Cowboys" escort service website. Sure, she's lonely, but not desperate. Then an image of sky-blue eyes and warm, tanned muscles jumps off the screen. And she finds herself hitting the "Book Now" button.
After all, why not? She's a free, divorced woman on business in San Antonio. There's nothing to lose…except her nerve. Especially when Mr. Tall Dark And Incredibly Sexy meets her at a River Walk bar—and his only-for-you smile turns her insides into a quivering mass of second thoughts.
Ryan Zeigler is enduring one last escort assignment as a favor before hanging up his Cowboys hat to run his own restaurant. Yet there's something about the pretty New Yorker's vulnerable grin and I've-got-baggage eyes that halts his usual dating M.O. in its tracks.
When Ryan sweetens the deal—no strings, no payment expected—Jane the good girl takes the bold step of letting her vixen out to play. But when it's time to go home, her heart is at a crossroads. Is Ryan the real deal? Or is she letting yet another man take her heart for a ride?
Sandra is an author of romance who stays up too late dreaming up sexy heroes. When she's not writing, shoe shopping or saving wayward turtles, Sandra can be found with a cup of coffee browsing the shelves of an indie bookstore.
First Kill (Heaven Sent Series) by Mary Abshire
Paranormal Suspense
Heaven Sent, 1
Andrew enjoys the company of women, perhaps too much. The council in heaven had enough of his sexual promiscuity and sentenced him to return to Earth to destroy demons. To make matters more difficult, if he has sex with a woman he has to stay an extra year. Without clothes, money, or food, his task seems impossible.
Emily is in a world of trouble. She leaves her family, job, and home in Chicago to start a new life. As she's driving along a country road, she discovers a naked man lying in the middle of it. He's incredibly built, sculpted to perfection, and blessed with a fine package south of his navel. When he asks for her help, she can't resist.
Over the next several days, Emily's sanity is tested. Andrew struggles to keep his hands to himself. Emily seeks the truth from Andrew while he endeavors to kill a demon. What she discovers frightens her—angels, demons, heaven and hell exist. Determined to help Emily change her future, Andrew offers her a deal. But is heaven the best eternal resting place?
Mary lives in Indiana and is a lifetime lover of the paranormal, sci-fi, and fantasy. When she's not slaving away at her government job, she is a Paranormal Romance and Urban Fantasy Author. She creates fantastical worlds with vampires, demons, werewolves, angels, and other supernatural creatures. Dive into her books and find suspense, a dash of mystery, and seductive men with passionate hearts.
Rising from the Ashes (Flame Kissed Series) by Charity West
Contemporary Suspense
Flame Kissed, 1
Kaycee Witherspoon barely escaped her last relationship with her life. Now that she has a fresh start in a new town, she feels like she can finally breathe. But is she relaxing her guard too soon? When she finds her tires slashed and her apartment broken into, she has to wonder if her past isn't quite so far behind her.
Zarek O'Donnell doesn't know much about the new assistant at his fire station except that her mesmerizing curves and bewitching smile have him under her spell. Even though she laughs easily and seems to light up around him, he can tell that there's something darker haunting her. His protective side rises to the surface whenever she's near, and he knows he'll stop at nothing to keep her safe.
When the lines of past and present begin to blur, there's only one thing Kaycee knows. This time she might not escape. If she wants the new life she's forged for herself, she'll have to fight to keep it.
Charity West is a young adult/new adult romance author who has always had her head in the clouds. She had her first crush when she was four, and it lasted for six years. Then she quickly fell head over heels for another boy, until she had to move away and leave him behind. Jumping from one boy to another, she finally found a keeper when she was twenty, and she's been married to him ever since.
By the time Charity was twelve, she was sneaking her mother's Harlequin romances and reading them in secret when she was supposed to be asleep. Teased throughout middle school and high school for the bodice ripper covers on the books she openly read in class, she knew that one day she wanted to write her own happily-ever-afters.
a Rafflecopter giveaway