Empire of Ninety Nine Stars Book 1
Date Published: 10/10/2019
Edj Dumarc LaRand Bronacious Tarkle, the son of Emperor Risherd Fontanue LaRand Bronacious Tarkle, and the Crown Prince and Heir to the Crystal Throne of the Empire of the Ninety-Nine Stars is on his way to Herrig's World, a remote planet that rarely warrants attention. However, production of the ore critical to anti-grave tech, minzite, has recently cratered.
There are many ways to address the decline. The navy could be sent in to investigate, but they never do anything small. An official auditor could be dispatched, but he would inevitably find several perfectly good reasons for the decline and file a report saying, oh well, that's just the way it is. Or Edj could go and make a few quiet, discrete inquiries and find out precisely who is profiting. It seemed so simple when his father asked him to investigate matters.
But nothing is ever simple. What Edj uncovers on Herrig's World is a plot to destroy the foundation of the Empire. With a mindbender named Mala and his loyal android companion, JD, in tow, Edj begins an adventure across the Ninety-Nine stars to stop the conspiracy in its tracks. Unfortunately, that's exactly what they expect. With his ship barely functional, and the odds stacked against him, can Edj save the Empire before time runs out?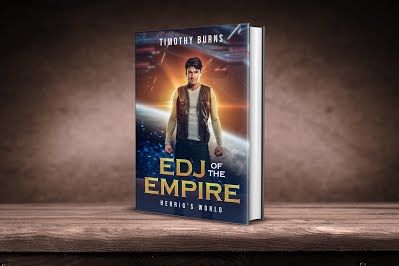 Mr. Burns is a factory worker who sidelines as a carpenter, computer technician and jack of many trades handyman whose primary interest is hard science-fiction. He has read and loved that genre all his life and has always dreamed of writing books that others would enjoy reading as much as he himself enjoyed those of the great S/F masters. He is very interested in high technology and tries to impart accuracy and plausibility into his work. Other reading and writing interests include fantasy, magic, the paranormal, the Norse runes and nature-centered religions. He lives in northern Mississippi.