Date Published:
February 1, 2017
Publisher: Limitless Publishing


A motorcycle crash forces Skyler Smith into Laney Pearson's hospital, barely clinging to life…
As a trauma nurse, Laney works with surgeon Josh Stone to bring Skyler back from the brink of death and toward recovery. But what initially looks like nothing more than a freak accident may turn out to be much more dangerous—and maybe even deadly.
In the years they've worked together, Laney has never given Josh the time of day…
She thinks he's nothing more than a pompous doctor looking for another notch to add to his belt. But caring for Skyler brings the pair closer, and Laney lets down her guard, allowing them the chance to find happiness together in the midst of so much destruction. But someone doesn't want them to be happy. Someone wants Laney gone.
Threats might derail their love before it really starts…
As the couple tries to build their budding relationship, Laney begins to receive menacing messages. And when she and Josh learn that Skyler's accident is anything but unintentional, they fight to balance finding the would-be killer with keeping keep Laney safe from her stalker. But each wild turn takes them further away from the truth…and each other.
Can Laney and Josh discover who is behind the violent acts, or is each guess they make nothing more than a shot in the dark?
Some accidents aren't accidental…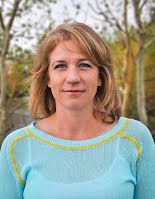 JG Sumner is a Registered Nurse who went rogue. As good as she was at starting IV's, she enjoys writing the down the stories in her head even more. Most of the time the characters won't stop pestering her until she has them down on paper.
JG can often be found with a glass of red wine or prosecco in front of her computer. When she's not creating, she enjoys the outdoors hiking, bike riding, snowboarding, and camping.
JG has a very dry sense of humor, and should never be taken too seriously. She loves to hear from her fans, and even those who aren't and would love to hear your opinion on her books.
JG writes romantic suspense/thrillers including: A Shot in the Dark, Into the Light, The Surrender Trilogy including Surrender, Shattered, and Saved which will be available through Limitless Publishing soon.