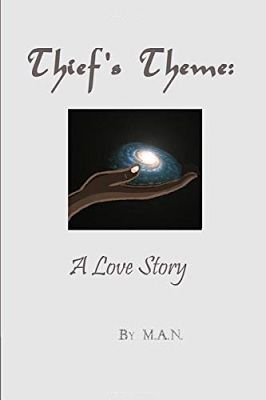 A romantic tale of fantasy and thievery that explores the concepts of growth and making impossible choices concerning one's dreams.
Ji, better known as Merc, strives to become the greatest thief in the history of mankind. From stealing worldly treasures to the seemingly impossible, Ji will attempt to grab everything that isn't bolted down, and several things that are. His greatest opposition comes in the form of Sharia, Ji's childhood friend and crush, who willingly aids the authorities in his capture. Ji is forced to choose between two conflicting paths, as he embarks on a fantastical journey of self-discovery and thievery.
Praise For Thief's Theme:
"Thief's Theme: A Love Story by M.A.N. was an interesting book to read in that it did not truly fit into any one genre. " - Sefina Hawke, Readers' Favorite, 4 Star Review.
M.A.N. is an award-winning author with an interest in science fiction and fantasy. M.A.N. is primarily a fiction writer who fuses different styles (novelist, screenwriting, anime, movies) into his novels for the best possible product.