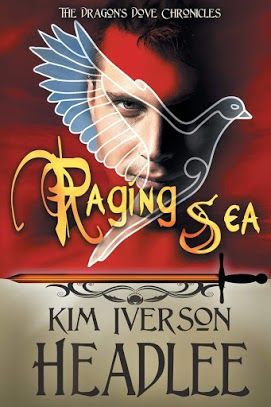 Dragon's Dove Chronicles, Book 3
Release Date:
March 11, 2019
Publisher: Pendragon Cove Press
Outcast, clanless, and but a junior officer in Arthur the Pendragon's army, Angusel struggles to rebuild the life stolen from him through betrayal by the person he had held most dear. His legion allegiance thrusts him onto the campaign trail as one of Arthur's forward scouts, stalking Angli troops and being among the first to clash with these vicious enemies at every turn. But the odds loom high against him and his sword-brothers, and they will need a miracle just to survive.
Pressured to make the best choice to ensure her clan's future leadership, Eileann struggles with her feelings for Angusel, whose outcast status makes him forbidden to her as a mate. When Angli treachery threatens everyone she loves, she vows to thwart their violent plan to conquer her clan. But she is no warrior, she has no soldiers to command, and she will need a miracle just to survive.
How can one soldier make a difference? How can one woman save her kin and clan? In the crucible of combat, Angusel must surrender to the will of the gods, and Eileann must invoke divine power to forge the most dangerous warrior the world has ever known.
Other books in the Dragon's Dove Chronicles
The Dragon's Dove Chronicles, Book 1
Publisher: Publisher: Lucky Bat Books
What if King Arthur's queen was every bit as heroic as he was? Find out by immersing yourself in this epic story of the power couple whose courage and conviction would shape the destiny of a nation.
Gyan is a Caledonian chieftainess by birth, a warrior and leader of warriors by training, and she is betrothed to Urien, a son of her clan's deadliest enemy, by right of Arthur the Pendragon's conquest of her people. For the sake of peace, Gyan is willing to sacrifice everything...perhaps even her very life, if her foreboding about Urien proves true.
Roman by his father, Brytoni by his mother, and denied hereditary rulership of his mother's clan because of his mixed blood, Arthur has followed his father's path to become Dux Britanniarum, the Pendragon: supreme commander of the northern Brytoni army. The Caledonians, Scots, Saxons, and Angles keep him too busy to dwell upon his loneliness...most of the time.
When Gyan and Arthur meet, each recognize within the other their soul's mate. The treaty has preserved Gyan's ancient right to marry any man, providing he is a Brytoni nobleman—but Arthur does not qualify. And the ambitious Urien, Arthur's greatest political rival, shall not be so easily denied. If Gyan and Arthur cannot prevent Urien from plunging the Caledonians and Brytons back into war, their love will be doomed to remain unfulfilled forever.
But there is an even greater threat looming. The Laird of the Scots wants their land and will kill all who stand in his way. Gyan, Arthur, and Urien must unite to defeat this merciless enemy who threatens everyone they hold dear.
The Dragon's Dove Chronicles, Book 2
Publisher: Publisher: Lucky Bat Books
In a violent age when enemies besiege Brydein and alliances shift as swiftly as the wind, stand two remarkable leaders: the Caledonian warrior-queen Gyanhumara and her consort, Arthur the Pendragon. Their fiery love is tempered only by their conviction to forge unity between their disparate peoples. Arthur and Gyan must create an impenetrable front to protect Brydein and Caledonia from land-lusting Saxons and the marauding Angli raiders who may be massing forces in the east, near Arthur's sister and those he has sworn to protect.
But their biggest threat is an enemy within Urien, Arthur's rival and the man Gyan was treaty-bound to marry until she broke that promise for Arthur's love. When Urien becomes chieftain of his clan, his increase in wealth and power is matched only by the magnitude of his hatred of Arthur and Gyan—and his threat to their infant son.
Morning's Journey, the sequel to the critically acclaimed Dawnflight, propels the reader from the heights of triumph to the depths of despair, through the struggles of some of the most fascinating characters in all of Arthurian literature. Those struggles are exacerbated by the characters' own flawed choices. Gyan and Arthur must learn that while extending forgiveness to others may be difficult, forgiveness of self is the most excruciating—yet ultimately the most healing—step of the entire journey.
For the first time in a year and a half, Angusel was returning home.
To his birthplace, he corrected himself. "Home" had become a barracks chamber.
He marveled that Stonn seemed to remember the lands surrounding Senaudon, tugging at the bit and prancing higher by the league. It took Angusel's last mote of skill to keep his stallion from bolting down the path ahead of the Pendragon and Centurion Cato.
And why shouldn't Stonn be eager? He had the comforts of a familiar stable awaiting him, not scorn.
Angusel straightened in the saddle, submerging his resentment. Whatever might happen, he would comport himself as one of Arthur's soldiers, stoic and reserved.
That plan worked until the troop rode to within hailing distance of Senaudon's gate tower.
His mother chanced to be standing on the battlements, talking to Saigarmor, the guard captain. As Centurion Cato identified the troop, Alayna's face clouded. She had to resent the Breatanach occupation force—swelled tenfold for the second time in as many years by the soldiers being staged for Angalaranach action—but it seemed to Angusel that her scowl deepened when she made eye contact with him.
Angusel squared his shoulders and looked straight ahead as he'd been drilled countless times to do, thankful for the military protocol to mask the wound rending his heart.
Peripheral vision told him that Alayna had departed the battlements, leaving Saigarmor to act on her behalf in completing the welcome.
Arthur dispatched a soldier to find the Comitissa Britanniam and ordered First Ala to dismount and lead their horses to the staging area's picket lines while he wheeled Macsen about to join his family's litter.
The cavalry troop obeyed but hadn't advanced a score of paces when Alayna appeared, mounted, from through the gate and cantered straight up to the Pendragon.
"What is he doing here?" Angusel had never heard her sound so furious, and the pit in his gut confirmed that he was the he she had meant. He kept his gaze trained forward as he clenched Stonn's reins, mindful not to drag on them and hurt his horse's mouth. The heat in his cheeks and the sweat coursing down his back he did his best to ignore. "What gives you the right to violate Caledonach customs with such blatant disregard?" she demanded in Caledonaiche.
Arthur gave her a long, cool appraisal. "My soldiers are here upon my orders," he answered her, wielding an improved Caledonaiche accent. "All of them. If you have a quarrel, it is with me and no one else. Not even my wife. We can settle this quarrel, you and me, in the nearest combat ring and to the death, if that is your wish."
"My wish? You don't give a bloody damn about what I wish. I'll wager you can't guess what I wish!"
"That you had never underestimated me in the Battle of Abar-Gleann?"
Angusel heard the undercurrent of humor in the Pendragon's voice and pursed his lips to contain the smirk.
Kim Headlee lives on a farm in the mountains of southwestern Virginia with her family, cats, fish, goats, Great Pyrenees goat guards, someone else's cattle, half a million honey bees, and assorted wildlife. People and creatures come and go, but the cave and the 250-year-old house ruins—the latter having been occupied as recently as the midtwentieth century—seem to be sticking around for a while yet. She has been a published novelist since 1999 and has been studying the Arthurian legends for half a century.