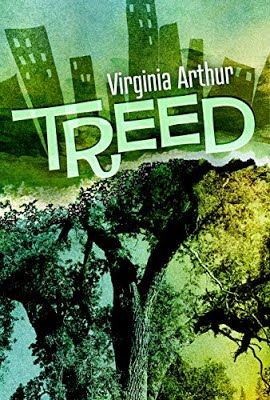 Eco-fiction, Political Fiction
Publisher:
Ecological Outreach Services
Published: September 2018
Because Trees Have Consequences
A consequence of getting older is current experiences inevitably get threaded to memories as Maybelline Emmons learns when she embarks on what she thinks will be a simple road trip to find a tree. She experiences something so confounding, painful, transformational--none of which she signed on for; her evenings drinking Pinot, watching her hummingbirds...this was always enough.
This passionate yet comic story revolves around efforts to save an old-growth tree but things go off the rails in a compelling, edge-of-your-seat way. Per Virginia Arthur's two previous novels, Treed will curl the tendrils of your heart and blow your leaves off.
Wiping tears off her face, she returned to the hotel where an envelope from Millicent was waiting for her.
Once in her room, she tossed the envelope on the chair and gave way to the bed. She stared at the ceiling. It had
not even been 24 hours; there was still time. She called Millicent's cell phone. She left a message she was
returning to Santa Barbara and to send any final paperwork to her address there, most importantly, the title.
The next morning she drove past the tree, a stone of dread in her gut. What if Tamara was right? No, she was
the owner now. No one could legally touch the land, the tree, Millicent would see to that.
She was grateful for the long drive home even as her cell was alerting her she had messages. She turned it off.
Thoughts of the tree were now taking up all the space in her mind; space previously taken up by grief and
loneliness was now replaced with "what the hell have I done?" Which was better?
"What the fuck?" she said out loud, surprising herself because she rarely if ever used this word. "What do I
do?" she asked no one. Fence it? Cut the kids out? Where else would they 'hang out'? In the parking lots of their
apartment complexes, the strip malls, the drugstores, behind their computers? There was no place for them. What
about Tamara's grandfather? What would he say about cutting the kids out, off? "Make it into a park" is what
Millicent said. What about liability? What if something happened? This is why people fence land off from other
people. Would the insurance company force her to do this? Obviously the little old lady that owned it never
did...Millicent knew all about these things. Millicent would guide her.
About the Author
Virginia Arthur was born wild. She took to exploring the wilds of her new Ohio suburban jungle by the time she was ten, launching great birding expeditions in between backhoes and bulldozers. Her bird list grew shorter in direct correlation with the number of homes growing larger such that by the time she was 12, she was a raging environmentalist, before the word even existed. This delighted her parents to no end. She continued on this profoundly pointless and frustrating path by earning a B.S. in Field Biology and a M.S. in Botany (Ecology) only to continue the exploring, observing of a country at war with its natural self. She weaves these experiences into her novels. She has published three novels, all "comedic-drama". Her first novel, Birdbrain, an eco-political fiction novel based on real life experiences, was published in 2014. Phat('s) Chance for Buddha in Houston (Or How I Spent My Summer Vacation), men's coming-of-age short fiction, was published in 2015. In September 2018, she published her latest, Treed, also eco-political fiction.