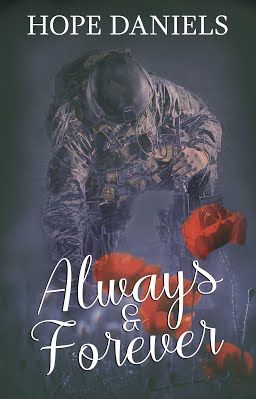 Date Published: June 8, 2019
As boys, Troy and Marshall vowed to be best friends for always and forever.
They pledged the same vow again, after a football game on a Friday night, when they made love for the first time.
Now, as ex-soldiers, can they find their way and help each other out of the darkness and into the light?
Can broken promises be forgiven and friendships strengthened over a common bond?
Can two broken men find their way back to when Always and Forever meant love until their final breath?
Amazon Bestselling Author Hope Daniels grew up in a small resort area in Michigan where she and her husband still live today. As the third child of four, she had an exhaustive imagination. From straddling the back-porch railing as a wild cowgirl, to saving the world as Wonder Woman complete with homemade bullet stopping bracelets. She was always taking what she read and making it as real as she could, now if she could just find the wolf shifter of her dreams…
Love of reading began at an early age, due to a first-grade teacher living next door, and her own father reading bible stories to her before bed each night. It was cemented in elementary when she discovered scholastic books, specifically Marguerite Henry's Misty of Chincoteague. Her love of horses and reading has never diminished, even after her husband took her to Chincoteague Island for their honeymoon.
Daniels loves to write in multiple genre which includes her short in the Amazon Bestselling Anthology Black Magic (A Women of Urban Fantasy Production), a Contemporary and YA short in the LDLInk Anthologies and a soon to be released short story in the Encompass Ink's All You Need Is Love Anthology releasing June 23, titled Always and Forever. She is also the co-author to the Magical Forces series books Hell In Heels, Hell On The Heart, Hell Of A Family Yule and Hell of A Night with Author Alicia Dawn.
Author Amazon Page
a Rafflecopter giveaway