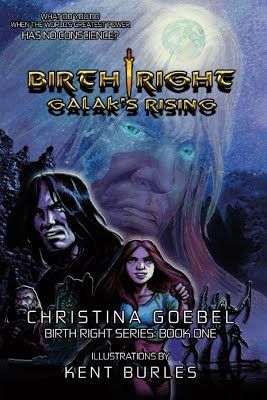 Sci-fi Adventure, Dystopian Science Fiction Epic Fantasy
Date Published: June 4, 2019
What do you do when the world's greatest power has no conscience?
Two, not of blood, but joined in blood,
may conquer only as a selfless act of love.
-from The Prophecy of the Dancers of Silence
The illustrated dystopian science fiction epic fantasy BIRTH RIGHT TRILOGY depicts the first battles of a brutal war between humans, cyborgs, robots, and genetically enhanced beings. In the first book, BIRTH RIGHT: GALAK'S RISING, you are introduced to the Valki and Galak.
At the onset of a technological war that could destroy their race and the technology that made them superior, the genetically enhanced Valki traveled more than a century into the future.
In this new civilization, Galak, a cruel cyborg obsessed with creating his own race of superior beings, induces the remaining human feudal and native tribes to war against one another. To limit the Valki population, births are restricted to one per woman, unless they are twins. Galak demands that Valki teen twins compete for a Birthright, the right to have children—or be sterilized.
The courage of two young Valki women to resist Galak's law pits princes, kings, and mighty warriors against a merciless and powerful foe.
To save humanity, the girls, named only 99 and 100, and their allies must resist an opponent who has the field and technological advantages. Only those willing to sacrifice everything can defeat their enemies.
The BIRTH RIGHT TRILOGY explores the ethical implications of technology with adventure, romance, humor, and terror.
Kent Burles created the nineteen illustrations for GALAK'S RISING.
99 and 100 watch in horror from their upstairs window as two Galak warriors drag a girl toward the red doors of the Dall Building. Neither can guess what they are doing with her or what the young girl did to deserve arrest.
Below, the girl kicks and screams, then faints.
The G warriors shrug, and then pick her up and carry her inside the wooden building.
From their room, the girls look on, waiting for something to happen, but nothing does. The only movement below them is the dust sweeping across the dirt road.
99 and 100 look at one another, not believing what they have seen. Then, the girls smell the familiar scent of Lavora, a rare rose and lavender perfume, and turn to face their grandmother, Crystal.
Crystal's forehead is fraught with concern. "Girls, what have you been doing?"
The two 14-year old girls cling to Crystal. 99, the most outspoken, speaks. "Grandma, a girl was arrested and taken inside the Dall Building. She was our age!"
"Who took her?" Crystal smooths the simple cotton skirt over her slim frame. She knows before she asks, though, that it has to do with Galak. Everything evil does. Why did Galak have to follow them here?
100 answers now. "The G Warriors. Were they kidnapping her?" Crystal pulls the girls closer. She hasn't felt this frightened since she left Darissa da Vinci in 2071. "We're not to interfere with them, dears. They work under Galak's orders."
"Who is Galak?" 99 asks as she brushes a long wisp of dark hair away from her face. If he's important, she ought to know.
Crystal looks from 99 to 100, uncertain what their mother, Sila, would have her say.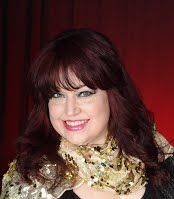 Christina Goebel, M.A., was born in Texas and is a former secondary English teacher and statewide disability conference planner. When she began college, her goal was to earn a degree to be respected as a writer. She earned an associate degree in World Literature from Miami-Dade Community College, a bachelor's in Secondary English Education from Florida International University, and a master's in Journalism from the University of Texas at Austin.
Since her father was a computer programmer, Christina developed a curiosity about artificial intelligence and machine learning.
Christina is married and has son and a German Shepherd. Her son designed the book cover for BIRTH RIGHT: GALAK'S RISING. Christina's an avid traveler and has a read a part of a book most days of her life.
Other works by Christina Goebel: GoldenHeart: How to Love Humanity