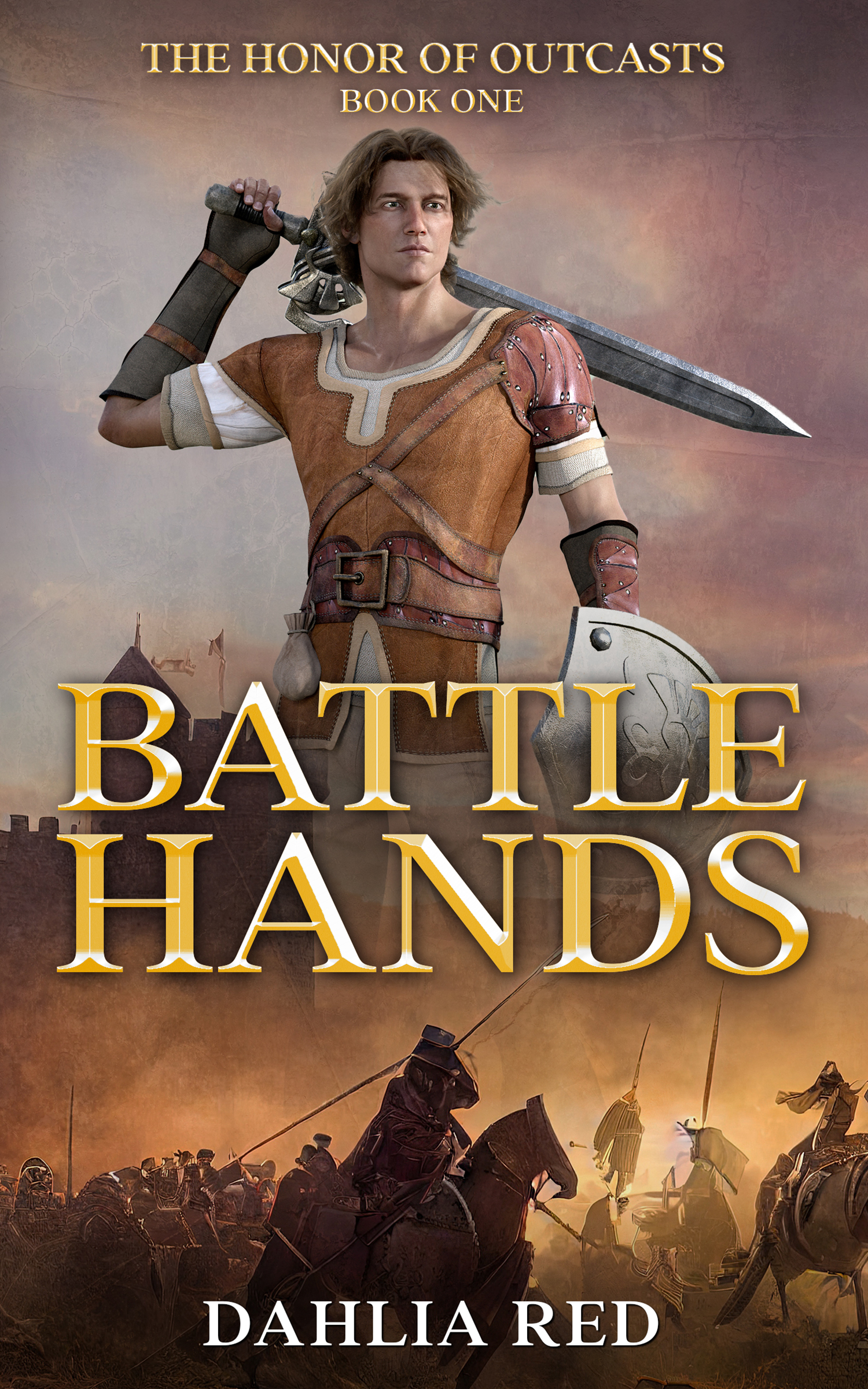 The Honor of Outcasts, Book One
Historical Romance
Date Published: 04-06-2023
Publisher: Sunset Petals Press, LLC
A man who finds his power in the blade of a sword.
A King and Queen who find their peace in each other.
And the cruel woman who twists their fates in her wicked hands.
Hayden is exiled to the castle of Engleside. As the bastard son of the King, he hates his rich and powerful father for not saving his beloved mother. And he is hated by the Queen, who sees him as a threat to her son's throne. Hayden's only companion is Mal, a fast-talking troublemaker, and his only salvation is his love of wielding a sword.
Magnus and Solveig are the much loved King and Queen of Gurnhaven. In warmth and laughter, they raise their children and rule their kingdom. But their peace is threatened when soldiers from Engleside ride into one of their villages, forcing Magnus to try and avoid a war while Solveig warns that it's inevitable.
Hayden knows if a war breaks out, the Queen will send him, hoping he doesn't return. But he isn't the only one who has to navigate the twisted plans of the calculating Queen. She has entire kingdoms in her grasp.
An epic of kingdoms at war, woven with the intimate love stories of those fighting to control their own futures, The Honor of Outcasts series shows how some passions burn so strongly, they can bring empires to the ground.
Excerpt
Dear Hayden,
You are more than battles and blood. Your hands have taken countless lives, yet they have been placed so gently, so delicately upon me, and caressed me so tenderly and deeply into love that I was, for moments, no longer bound within my skin. And there you would meet me, outside of our bodies, where we entwined the parts of us that exist much deeper than our sweating flesh and rushing blood.
Your hands, who drop their weapons to draw me closer, let me have them. I will care for them. I will give them a new purpose. I will take your hands and dig them into the earth until the soil releases its bounty for us to feast upon. And when we fill our stomachs, they shall rise together in laughter, for joy is the bounty of freedom earned. We will laugh, and while your lips curve like the crescent moon, I will teach you peace.
The weight of war has beared so heavily upon your shoulders that they now have the strength to carry the foundations of a nation. One not so cold as an empire, but one where fires burn for comfort and warmth. For while kings have used you to destroy, they have given your arms the power to heave these stones and trees and build a haven, where hearts touch, sun warms, trees sway.
Be not haunted by the scars you bear or the skill you wield, they will see us protected. And in my arms, you will see the beauty in what you've become, and find the peace you have long been fighting for.
With All My Love
The battle waged around him, and Hayden thought of plants, green, soft, and sun-warmed, growing up from the ground like soldiers who were born and died in peacetime. The tomatoes they bore were a fluorescent red, the opposite shade of the blood that covered him. One red was the color of death, and the other was life.
They were her plants, tended and kept by her soft, loving hands because she was peace and he was war, and it didn't take him long to feel which one was stronger.
She was the world around him, and everywhere he looked he saw her. The forest was her eyes, a place where you could look deeper and deeper for eternity. Her hair flowed like a river. Her skin was warm as the sun, and when she spoke it was moonlight, the only thing to grasp in the darkness.
He remembered the feeling of her face against his hand, the softness of her neck, how she would move her body in his hands so he could touch all of her and she could feel him everywhere. He wanted nothing but those moments, but violence took him anyway.
He carried her letter with him, he couldn't feel it against his skin, but he knew it was there, written in a time when there was no fighting, and instead, they had futures, full of warm, ripening tomatoes, growing serene and safe on their vines.
About the Author
Dahlia Red lives in the United States and gives her time to books. She is excited to share The Honor of Outcasts series with you. You can find her on instagram and facebook @dahliaredwrites.
Contact Links
Purchase Links
a Rafflecopter giveaway