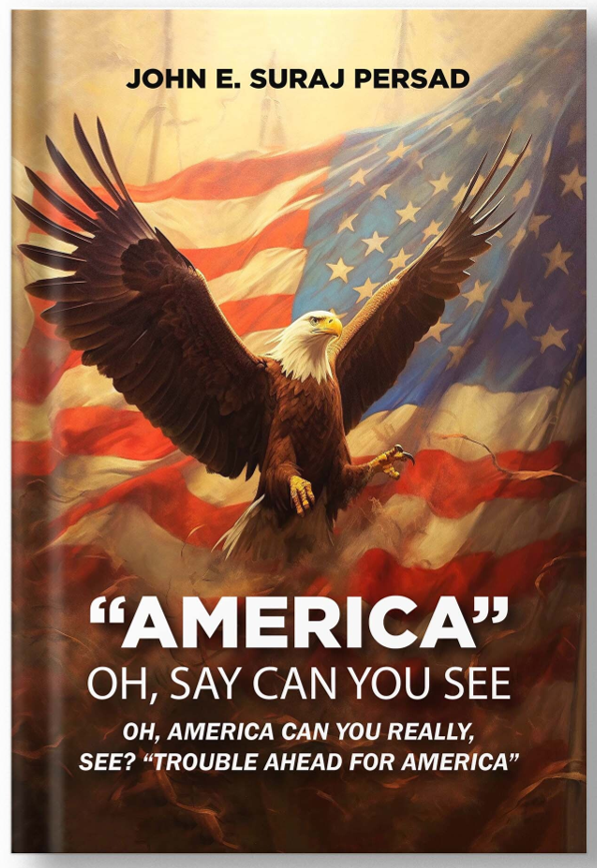 OH, AMERICA, CAN YOU REALLY SEE? "TROUBLE AHEAD FOR AMERICA"
Political Nonfiction
Date Published: August 30, 2023
Publisher: ‎ Bookmarketeers.com

This book places the reader in the correct frame of mind to grasp the gravity of the situation facing America and comprehend the downward spiral we have entered collectively as a nation. The United States' hegemony, competitive advantage, economic interests, national security, social construct, morality, and military capability are being threatened and contested on multiple levels, internally and externally. The global situation has escalated to a point where our past global retreats and inactions are forcing us to face significantly more risk. It is imperative that we adopt a more deliberate and strategic foreign policy posture, spend substantially more on targeted foreign investments, reengage partners, fix our sociocultural crisis, and develop new alliances to not fade away into irrelevance as so many great empires did throughout history.
Oh, say, can you see "America" is written with the intention of giving busy readers and the electorate a summary perspective on several different issues that affect us singularly as a nation, regionally as a country, and globally as a competing power. In the context of writing styles, this book has an aura of simplification and reiterating points throughout the book that I wanted to drive home. It is purposefully done to give the reader a "common sense" perspective rather than a scholastic paper filled with dry facts and data. Hopefully, this book will create more questions than answers and spark lively debates among families, friends, and colleagues. Please ask the tough questions, debate with an open mind, do not follow talking points, get information from different sources on both sides, and then use your common sense to see the truth of actions. You may not agree with some points, but it is always beneficial to look at varying perspectives, especially with so much on the line. To help the reader connect the dots on America's domestic spiral, the book will look through a political, cultural, and social lens to tease out socio-political issues impacting society and how the ramifications of these actions have created the downward spiral our great nation is in today.
To reiterate, this book is purposed to not only wet the reader's appetite but to make you think, ask the hard questions, and become knowledgeable and engaged in the democratic process of our nation, regardless of political persuasion. Might I remind the readers that politics is there to serve us in the governance of the country, not live in our "head space," and it must be returned to its rightful place in society so we as a people can come together as "One Nation Under God" and most importantly, "Under One Flag."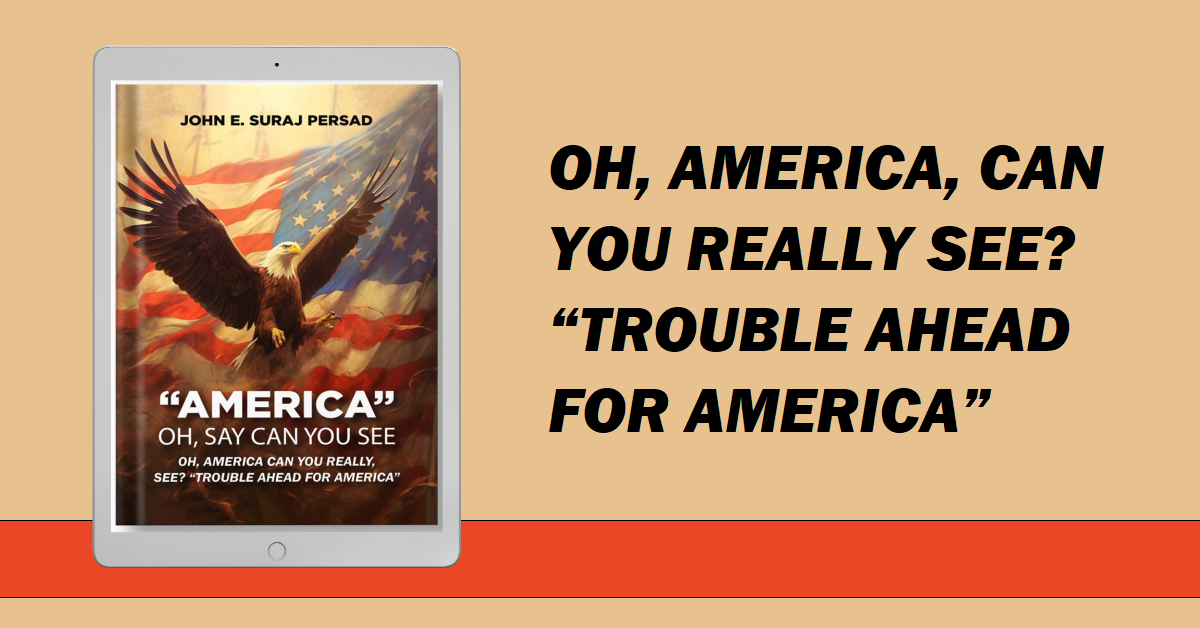 About the Author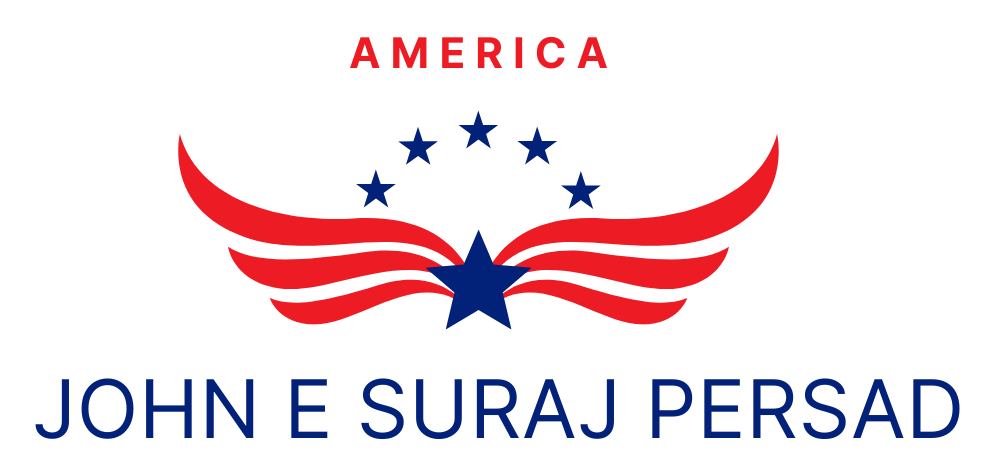 The author is of East Indian Descent, born in England to Jamaican and Guyanese East Indian immigrant parents. His father served in the RAF during WW2, and his mother trained as a nurse and teacher. John has a diverse background and was educated in the British and American systems. His education includes the Cambridge University Examinations, a Bachelor's degree in Technical Management (BSTM), a Post-Bachelor certification as a Paralegal, a Master's in International Policy and Practice (MIPP) from The George Washington University, Elliott School of International Affairs, and numerous military and civilian courses. His academic tracks heavily concentrate on Transnational Security, Strategic Leadership, Aviation, and International Policy. John is a former Chief Warrant Officer in the United States Army Aviation Corps, a graduate of the US Army Warrant Officer Career College, US Army Aviation Flight Academy, US Army Intelligence School, US Army Combat Readiness Center, and holds Federal Aviation Administration (FAA) certifications as a Flight Engineer (FE), Commercial Pilot (CP), and Airline Transport Pilot (ATP). He is dual-rated as an aviator in Helicopters and Airplanes and held career positions as an Aviation Safety Officer, Intelligence FW Pilot, Electronic Warfare Officer, and Flight Operations Officer. John has been deployed for many operations worldwide, and in his last assignment, he served in Europe and Asia, where he changed careers and went to UPS Airlines as a commercial cargo pilot, flying the DC8, B757, and B767-300ER platforms internationally. During his civilian aviation career, John volunteered for training at the Federal Law Enforcement Training Center to be a Deputized Federal Aviation Law Enforcement Officer assigned under the Department of Homeland Security. John is a disabled American veteran who is extremely thankful and proud of his service to the United States Army and is currently medically retired from United Parcel Service Airlines. He brings to this book the perspective of an immigrant coming to his adopted country, embracing the nation's core values, and being fully engaged. John continues service today as a security and leadership consultant, volunteers as a training advisor to the Boone Police Department in NC, and advises several foreign clients on strategic leadership, corporate security, and risk management. John is a member of the Rotary Club and the Military Officers Association of America, where he and his wife assist veterans in various capacities. John is happily retired with his wife Gerarda (CDR. USPHS. Ret), whom he met during their early Army careers. John often jokes, "The Army gave me a life and issued me a wife." They have two sons and a close nephew in their circle. His oldest son and nephew are former and retired Army, respectively. His oldest son is finishing his MBA studies, and the youngest son has recently graduated from Law School. Together, John and Gerarda have five grandchildren, and when not traveling the world, they hang their hats in North Carolina and Florida. --This text refers to the hardcover edition.
Contact Link
Purchase Link
November 21 - Momma Says to Read or Not to Read - Spotlight
November 22 - My Bookmarked Reads - Excerpt
November 24 - Matters That Count - Spotlight
November 27 - The Faerie Review - Spotlight
November 28 - The Avid Reader - Interview
November 29 - Tea Time and Books - Spotlight
November 30 - Book Junkiez - Excerpt
December 4 - Nana's Book Reviews - Spotlight
December 5 - On a Reading Bender - Review
December 6 - BRVL Book Review Virginia Lee Blog - Spotlight
December 7 - A Life Through Books - Interview
December 8 - Crossroad Reviews - Spotlight
December 11 - Texas Book Nook - Review
December 12 - Book Corner News and Reviews - Spotlight
December 13 - Momma and Her Stories - Excerpt
December 14 - Quill and Ink - Spotlight
December 15 - Novel News Network - Review
December 18 - Liliyana Shadowlyn - Spotlight
December 19 - The Indie Express - Review
December 20 - Our Town Book Reviews - Excerpt
December 21 - Books Blog - Spotlight
December 22 - RABT Reviews - Wrap Up