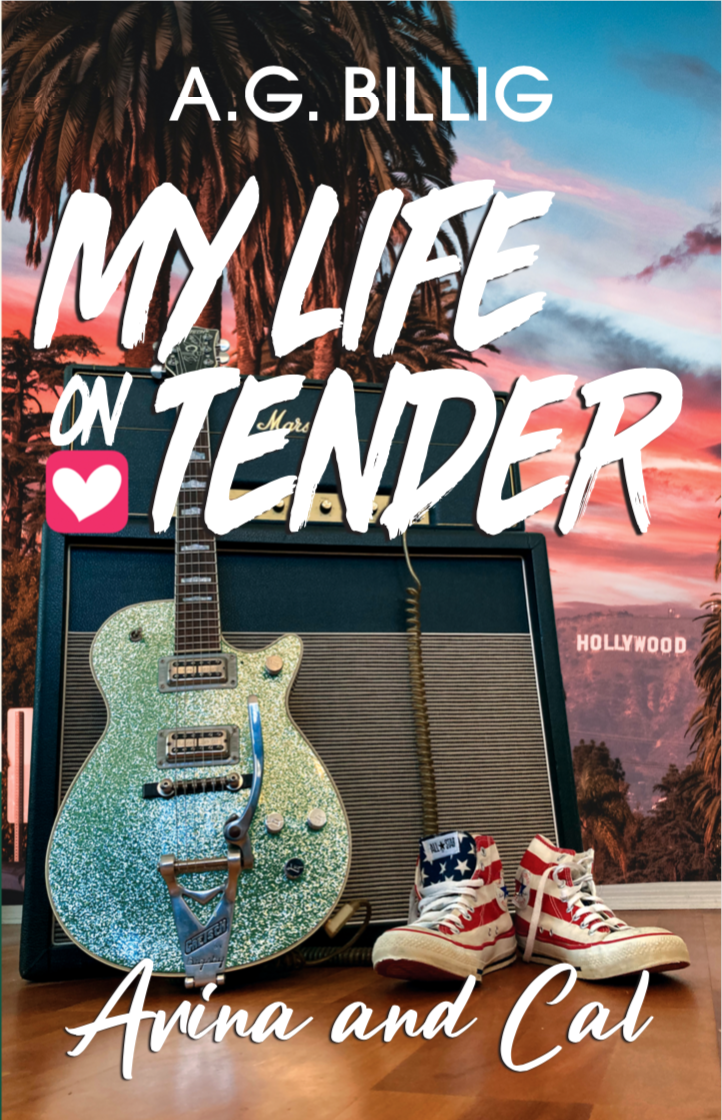 Book 1 in My Life on Tender series
Rockstar Romance/Contemporary Romance
Date Published: 11/11/2023
Curl up with your next favorite rockstar romance and meet these two hot lovers…
A gipsy fortuneteller predicted I had three years to find true love in a foreign land, away from home. But not in my wildest dreams did I imagine I'd end up falling in love with a smoking hot rockstar from Southern California…
I've always had a thing for tall, dark-eyed, handsome guitar players. Now, I'm dating one. Cal is a famous rock star from Southern California, and I accidentally matched with him on Tender. When he passionately explores my naked body and makes love to me, he takes me to paradise. However, when he flirts with his cute neighbor or forbids me to touch his ugly, I'm in agony and fear I have made the wrong choice.
Cal's unpredictable nature keeps me on my toes. He showers me with gifts and love on one day, but on the next, he acts as if I'm his worst enemy and turns cold. As if his dark past and emotional scars won't let him open his heart again and love a woman. As if he is a complex riddle that I cannot solve.
The quartz crystal gifted to me by the gypsy fortuneteller seems to agree with it. It's supposed to turn pink when I find true love, but it stays white. That is the reason why Tender is still installed on my phone, and I keep on swiping left and right. Tender is my trusted friend, my accomplice, and a contingency plan if Cal and I fail.
However, this is not an option. I'll make things work between us. I'll make him adore me. Beg me to become the second Mrs. Hudson and stay with him in California. I'll keep my promise to myself to never again squander another birthday, drowning in my own tears.
Arina and Cal is a rockstar romance novel and the first book in My Life on Tender Trilogy. If you enjoy spicy scenes, unexpected plot twists, an unconventional female protagonist, and surprise endings this novel is for you. The book is also packed with your favorite tropes: one of us is famous, grumpy sunshine, blind to love, and emotional scars.
Get cozy in your reading corner and dive into this steamy romance book. Let the warmth of the love story chase away the chill of the season.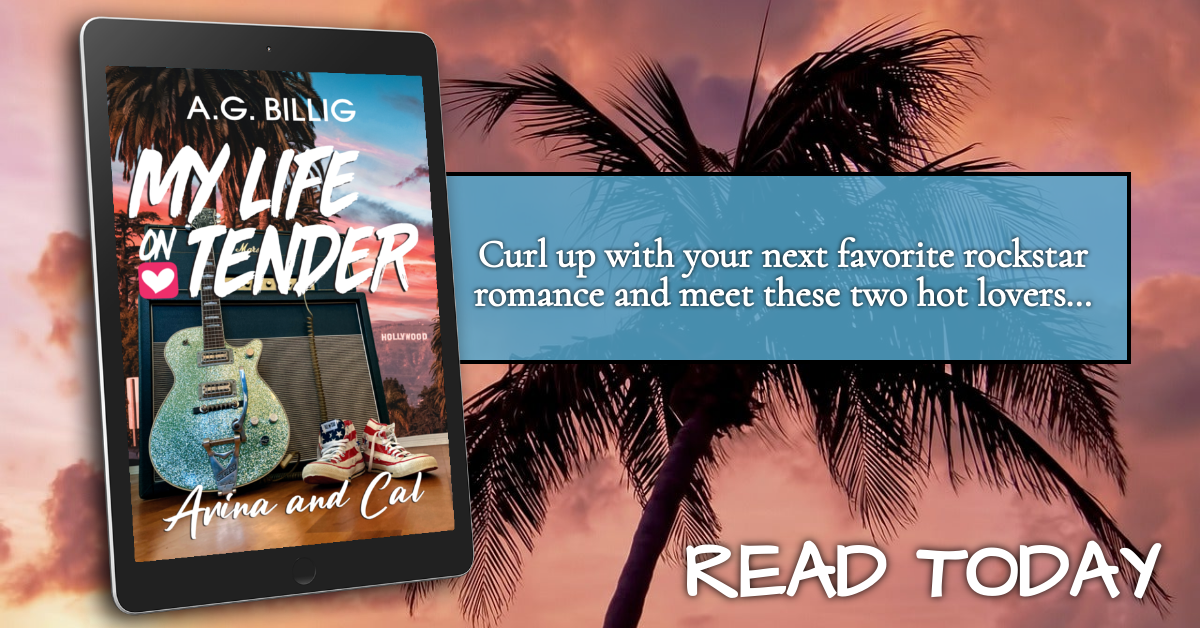 About the Author
A.G. Billig (her friends call her Andreea) is a #1 Amazon Bestselling Author, motivational speaker, and founder of The Project Love. A life explorer, she delights in writing novels for the romantic in you and non-fiction books that will inspire you to fully open your heart to love.
Celebrated for her unparalleled ability in writing characters that resonate with readers and painting scenes that come alive, she delights in fashioning courageous women protagonists who will risk it all for love. While navigating through a bumpy ride of unforeseen challenges, they unveil their raw, authentic selves as the ultimate prize on their quest to a happy ending.
A.G.'s love for writing blossomed at 8, and she wrote her first novel at 15. As a child prodigy, she won several national literary awards in Romania, her country of birth. Her academic qualifications include a BA in Foreign Languages and Literatures and an MA in PR and Communications.
Over the years, she experimented with different roles to explore her creativity and interests. She was a TV host, a radio host, an editor-in-chief, a PR consultant, and a self-publishing coach. She even won a bronze medal in ballroom dancing. Ultimately, she came to the realization that writing is where her true happiness lies.
She is currently a proud (and grateful) resident of the magical place called Sedona, Arizona.
Contact Links
Purchase Link
November 14 - Texas Book Nook - Review
November 15 - The Faerie Review - Spotlight
November 16 - Novel News Network - Review
November 17 - Matters That Count - Spotlight
November 18 - BRVL Book Review Virginia Lee Blog - Spotlight
November 19 - Brittany's Book Blog - Excerpt
November 20 - My Bookmarked Reads - Review
November 21 - The Avid Reader - Interview
November 22 - Book Junkiez - Excerpt
November 23 - Momma Says to Read or Not to Read - Spotlight
November 24 - Our Town Book Reviews - Excerpt
November 25 - RABT Reviews - Wrap Up
a Rafflecopter giveaway