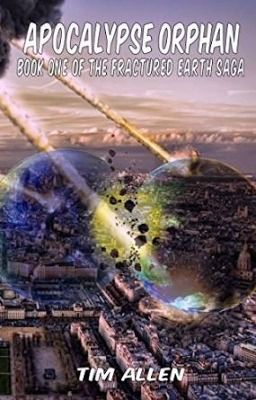 Sci-Fi / Alternative History
Date Published:
January 2016
Commander Orlando Iron Wolf is aboard the International Space Station when a blinking light on his computer console alerts him to a fast moving comet headed for a collision with planet Earth.
With no way to stop the impending doomsday, the world descends into panic and anarchy. Massive transport ships are built to colonize the moon, and evacuation of a chosen few begins.
After a shuttle mission to study the approaching comet goes awry, Wolf is forced into cryogenic deep sleep, and the onboard computer assumes control of the ship.
Wolf awakens 50,000 years later to a wildly different earth. Endowed with incredible strength, he finds himself caught in a war between primitive tribes, and his survival depends on Syn, an advanced computer intelligence who has fallen in love with him.
Will Wolf be able to help restore Earth to its past glory or is civilization doomed to fail?
Tim Allen is a twenty seven year veteran Fire Captain for the City of
Peoria
(
Illinois
) Fire Department. His writing career began when he had to write a report about a fire incident and he was told to be more descriptive. In his next report, he was more descriptive and reflected about what he had seen and felt during the two minutes of hell. His superiors found no humor in this report and disciplined him. Once several other fire fighters read the report, they were intrigued with his writing and wanted to read more stories.
Allen caught the writing bug. He loves writing science fiction, but currently is working on a murder mystery entitled, "Tethered." With several novels in development, spanning everything from planetary colonization to aliens to time travel, he is also considering writing a few horror stories based on actual past events that have been well documented.