A Jackson Walker Thriller
Release Date: June 20, 2018
Jackson Walker once again faces his demons in this haunting sequel to Devil in the Grass.
Now working as an investigative lawyer for Peter Robertson, Jack teams with Janie Callaghan to solve the disappearance of a sleazy client specializing in taboo pornography. Meanwhile the evil head of the Church of Satan weaves an intricate web to lure Walker as the sacrificial lamb in an Everglades Black Mass ritual.
Other Books in the Jackson Walker Series:
When his pro football career fails, Jackson Walker returns to his home in southwest Florida to sort out his life. He lands an internship with Republican state senator James Hunter, whose Clean Water Bill puts him at odds with influential members of The Brotherhood of Set, a Satanic cult. They have deep roots in Florida, and are led by the sinister Henrietta LePley.
After Walker begins a relationship with a member of the Brotherhood, he is framed for the horrific killing of two elderly people. To clear his name, Jackson turns to his Seminole family to evade the police and a particularly nasty bunch of malevolent characters who specialize in the disposal of dead bodies. The Everglades provides an ancient and frightening setting for the unfolding action that will prove whether Jackson Walker will pull himself free from the dark evil that lurks there.
PRAISE FOR THE JACKSON WALKER SERIES
"Bowron has a great 'voice' in spinning these complex and intelligent plotlines all together, and if you like thrillers with an edge, you'll enjoy this one" --Nicola Flood, Goodreads; Indie Book Reviewers
"Devil in the Grass is a brilliantly plotted and chilling read!" --Booklover Catlady
"A snappy, scary premise executed with skill against the backdrop of the Florida Everglades." --Ron Base, Author of The Sanibel Sunset Detective Series
"A fast-paced, action-packed thriller. Highly recommended!" --The Columbia Review
." . . an absolutely gripping novel." --Beach Bound Book Reviews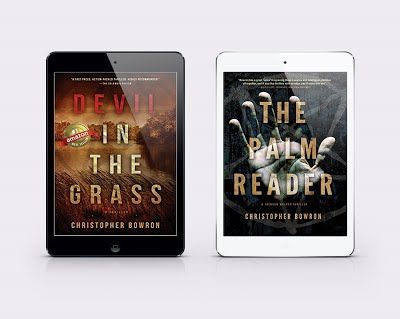 About the Author
Christopher Bowron's roots stretch back four generations in historic Niagara-on-the-Lake, voted the prettiest town in Canada. He owns a bachelor of arts from Brock University and is a lover of wine and all sports including salt water fishing, which usually finds its way into his writing. Thrillers, Mystery and Historical Fiction top his reading list. He and his wife Carmen have a second residence in southwest Florida where he has spent a good part of his life since childhood. Southwest Florida and the Everglades is the backdrop for his first novel, Devil in the Grass, published by Köehler Books, which in 2016 became a #1 Best Seller on Amazon.