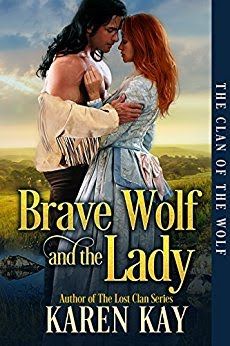 The Clan of the Wolf, Book 2
Historical Romance, Native American Romance
Date Published
: June 2018
Publisher: PK&J Publishing
He saved her life, then stole her heart….
To escape an arranged marriage, Mia Carlson, daughter of a U.S. senator, instead elopes with the man she loves. As they are escaping from her Virginia home, heading west, their wagon train is brutally attacked, leaving Mia alone and in grave danger. Rescue comes from a most unlikely source, a passing Lakota scouting party, led by the darkly handsome Indian, Brave Wolf.
Although Brave Wolf has consented to guide Mia to the nearest trading post, he holds himself apart from her, for his commitments lie elsewhere. But long days on the trail lead to a deep connection with the red-haired beauty. Yet, he can't stop wondering why death and danger stalk this beautiful woman, forcing him to rescue her time and again. Who is doing this, and why?
One thing is clear, however: Amid the flurry of dodging assassin bullets, Brave Wolf and Mia come into possession of a powerful love. But is it all for naught? Will Brave Wolf's obligations and Mia's secret enemy from the past finally succeed in the sinister plot to destroy their love forever?
Warning: Sensuous romance and cameo appearances of Tahiska and Kristina from the book, Lakota Surrender, might cause a happily-ever-after to warm your heart.
Other books in The Clan of the Wolf Series:
The Clan of the Wolf, Book 1
Publisher: PK&J Publishing
Refusing to believe the rumors that the European prince she was forced to marry had died in a far-off land, the princess, Sierra, sets sail to America, bent on revenge and determined to learn the truth. Because she will require a scout to guide her through the wilderness, she calls in a favor from the man who had betrayed her long ago, the man she had once loved deeply and had hoped to wed, the noble Cheyenne scout, High Wolf.
Many years before, a European prince had invited High Wolf to travel an ocean and as a brother, to live as a member of the royal family. There High Wolf had fallen in love with the princess, Sierra. But instead of an engagement and the planned wedding, the princess had treacherously married his friend, the prince. Betrayed and broken-hearted, High Wolf sailed back to America, determined to forget the princess. But a promise given to her years earlier brings her back into his life, igniting a desire he must resist, for to surrender to her again is unthinkable.
Forced into one another's company, with the threat of life or death around every corner, overcoming their prejudice might be their only means of survival. But can either of them trust in a love, once betrayed? Or will their past force them apart again, this time forever?…
This book has been previously published.
Warning: A sensuous romance that might fan the flames of desire. Be warned. You might fall in love all over again.
Fear washed through her. Was she in trouble?
She swung around to glance back in the direction where she'd left him. But where was he?
Panic consumed her. Had he left her?
"Mr. Lakota!" She called again. Then, louder yet. "Mr. Lakota, where are you?"
"I am...here." The tone of his voice was deep, reassuring, but farther up the slope.
Relief swept through her. Still, it took several moments before she was able to respond, saying, "Where? I still don't know where 'here' is."
With that masculine grace which seemed to be as much a part of his stride as was his careful pace, he stepped out from the tall grasses that grew at the top of the coulee.
"Oh, there you are." She looked up. "But how did you get up there?"
"I climb. Did you not see...wolf?"
"Wolf hungry...crazy. Watching you."
She caught her breath before she uttered, "A wolf, looking at me as though I were what? Food?"
"Could be. Had to...kill him. Not like to kill a wolf."
"But how did you know there was a wolf there? Or that there was any danger at all?"
"Yes, yes. However, I still don't understand how you could be aware that there was--" She cut herself off short, and paused. "You were so intent on building that lean-to. How do you do that? How do you know of happenings far away from you?"
He shrugged as he stepped down the slope and came down farther into the coulee. "I am...to
ƞ
w
é
ya, scout.
"
He said these words as though they alone explained the world around them from his point of view. And when she encouraged him to expand upon that a little, and said, "Yes...?" he did little more than nod at her.
"Hear wolf growl?" he asked.
"Wolf…pounce...on you before I kill? Spit and...howl? Bite you?"
His expression didn't change at all, as he said, "Wolf…rabid. Out of...mind. Had to kill."
All at once, the enormity of the danger she'd been in struck her. She swooned, but he'd come to stand close to her, and, clutching hold of his arm, she steadied herself.
"If it had bitten me, then I would surely die a most horrible death." She swallowed hard and continued to speak as though the words were drawn from deep within her soul. "I am obliged to you once again, Mr. Lakota. I—I hardly know how to repay you."
"No...claim on me," he said. "It my...duty." He touched her hand where she still gripped his arm, and he loosened her fingers. But as soon as she stood on her own, her knees buckled under her, and she fell.
He caught her before she reached the ground, and, as his arms came around her, she gazed up into his eyes. They were the color of a crystal-blue sky and looked so foreign in contrast to the deeply tanned color of his skin. So strange a combination for an Indian.
Then it happened. His head came down toward hers, and his lips were only a fraction of an inch from hers. She was ready for the embrace, and she opened her lips in anticipation of his kiss. But it never materialized.
As though they had both turned to stone, neither one of them moved. Nor did either of them step away from the other. However, neither took action to close the miniscule distance between them.
Her whole body was on fire, and she could barely speak as she asked, "Are you going to do it? Are you going to kiss me?"
"I...dare not," he whispered, and so close was he, she could feel the movement of his lips on her own as he spoke.
She whispered, "For what you have done for me, I owe you much. If you wish to—"
He put a single finger over her lips. "Do not say it. You...owe me nothing. If I...kiss you, it...be because I want to kiss you, not because you…owe me anything."
"And do you want to kiss me?"
"Do you not do it because of your pledge to Walks-in-sunshine?"
He let his arms fall from around her. With a deep breath, he stepped back from her, putting a little distance between them. When her knees wouldn't stand under her weight and she stumbled, he quickly moved to catch her, but he placed no more than a single arm around her waist.
He said, "No kiss...because one kiss not enough."
His words stirred her, caused her to realize that he was as moved by her as she was by him, and, in consequence, she might have gone to pieces and plunged to the ground altogether. She didn't. But only because he held onto her so tightly.
"These...words," he continued, "we must not say to...each other. Long...trek. Must not...touch again."
"Forbidden," was all he said.
About the Author
Multi-published Author of American Indian Historical Romances, KAREN KAY has been praised by reviewers and fans alike for bringing insights into the everyday life of the American Indian culture of the past. As Reviewer, Suzanne Tucker, once wrote, "Ms. Kay never fails to capture the pride, the passion and the spirit of the American Indian… As in each and every one of her mesmerizing Indian stories, we're moved beyond words. We feel more, we understand better, we love deeper. They are healing stories of hope, of tenderness, of forgiveness, of great beauty and awe."
KAREN KAY, whose great-grandmother was a Choctaw Indian, is honored to be able to write about the American Indian culture.
"With the power of romance, I hope to bring about an awareness of the American Indian's concept of honor, and what it meant to them to live as free men and free women. There are some things that should never be forgotten."