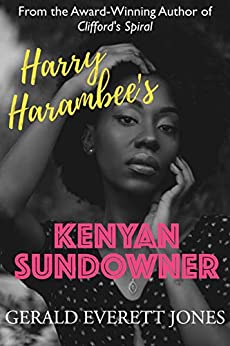 A Novel
Literary Fiction
Date Published: 6/29/2021
Publisher: La Puerta Productions
Intrigue on the white sands of the Indian Ocean. From the award-winning author of Clifford's Spiral.
A lonely widower from Los Angeles buys a tour package to East Africa on the promise of hookups and parties. What he finds instead are new reasons to live.
Aldo Barbieri, a slick Italian tour operator, convinces Harry to join a group of adventuresome "voluntourists." In a resort town on the Indian Ocean, Harry doesn't find the promised excitement with local ladies. But in the supermarket he meets Esther Mwemba, a demure widow who works as a bookkeeper. The attraction is strong and mutual, but Harry gets worried when he finds out that Esther and Aldo have a history. They introduce him to Victor Skebelsky, rumored to be the meanest man in town. Skebelsky has a plan to convert his grand colonial home and residential compound into a rehab center – as a tax dodge. The scheme calls for Harry to head up the charity. He could live like a wealthy diplomat and it won't cost him a shilling!
Harry has to come to terms with questions at the heart of his character: Is corruption a fact of life everywhere? Is all love transactional?
Harry Harambee's Kenyan Sundowner is an emotional story of expat intrigue in Africa, reminiscent of The Heart of the Matter by Graham Greene and The Constant Gardener by John le Carré.
Praise for Clifford's Spiral (Independent Press Awards 2020 Distinguished Favorite in Literary Fiction)
We've seen and noted the comparison of this author by other reviewers to literary giants like Roth and Vonnegut. And we can't disagree. Yet we feel there may be yet another strata for Gerald Everett Jones, who arguably is doing the best work of his career. We predict that he lacks only a mention in the The New York Review of Books or, better yet, Oprah, to become a nationwide best-selling author. Five-plus stars to Clifford's Spiral, a true literary novel if ever there was one. We say in all seriousness that if you only read one novel this year, this should be it. - Don Sloan, Publishers Daily Reviews
Preacher Finds a Corpse (NYC Big Book Awards 2020 Winner in Mystery, IPA 2020 Distinguished Favorite in Mystery, Eric Hoffer 2020 Finalist in Mystery)
This is literature masquerading as a mystery. Carefully yet powerfully, Gerald Jones creates a small, stunning world in a tiny midwestern town, infusing each character with not just life but wit, charm, and occasionally menace. This is the kind of writing one expects from John Irving or Jane Smiley.
- Marvin J. Wolf, author of the Rabbi Ben Mysteries, including A Scribe Dies in Brooklyn.
Contact Links
Purchase Link