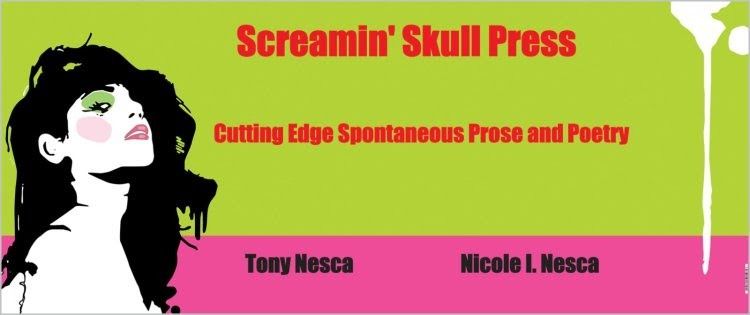 Searching for Rebellion: Two Indie Authors Form Edgy Publishing Company
Tony Nesca and Nicole I. Nesca have one question – where have all the fearless artists gone? Unable to find a mainstream publishing outfit that suited their taste for grittier writing, the Nescas formed their own – Screamin' Skull Press.
Creators like Jack Kerouac, William S. Burroughs and Lucien Carr courted debate and made careers out of pushing the proverbial envelope with their poems, books, music and other creative expressions. Living on the fringes of society was considered to be more exciting and fulfilling than conforming to the mainstream.
Authors and married couple Tony and Nicole Nesca feel connected to that Generation through their own work, and their innate understanding of what it means to be artists whose work cannot be deemed 'conventional' by anyone's standards.
Currently writing, editing and publishing their works through their self-publishing venture, Screamin' Skull Press, Tony Nesca and Nicole Nesca have both cultivated individual styles but have the same mission.
"To be frank, we see too much pushed out into the world today that is bland and formulaic," says Tony Nesca, whose unique, humorous and lyrical sixth novel, 'Hobo' is out now. "Every other book is a rip-off of another rip-off. The bookstores are packed with these endless vampire stories and dystopian fairy tales. Where is our Anais Nin? Our Hunter S. Thompson?"
Screamin' Skull Press exclusively publishes the works of the Nescas, and along with 'Hobo', released Nicole I. Nesca's collection, 'Kamikaze White Noise' this year. Raw, electric and with a free flowing mix of prose and poetry, the companion pieces are explorations of sexual freedom, art, death and love.
"We knew that mainstream publishers wouldn't have the courage to publish the kind of work that we want to create," says Nicole Nesca. "It's interesting – sometimes we wonder, could Charles Bukowski find success in today's market? It's as if bravery is a dirty word in literature. Fearlessness, to me, is everything to a writer. Although we have our own styles, I think that's one thing that Tony and I saw in each other when we met – that drive to find truth and peel back the layers in our own work."
"I think we first fell in love with each other's writing," says Tony. "Which was a fitting beginning to our story."
Tony Nesca and Nicole I. Nesca have published 18 distinct works through their Indie Press, and their journey toward a more rebellious future for literature continues
All books are available at Amazon, Barnes and Noble, Lulu and Itunes as paperbacks and Ebooks – also available directly from Screamin' Skull Press via credit card or Paypal
All books cost $15.00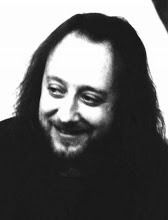 Tony Nesca was born in Torino, Italy in 1965 and moved to Canada at the age of three. He was raised in Winnipeg but relocated back to Italy several times until finally settling in Winnipeg in 1980. He taught himself how to play guitar and formed an original rock band playing the local bars for several years. At the age of twenty-seven he traded his guitar for a Commodore 64 and started writing seriously. He has published six chapbooks of stories and poems (which he used to sell straight out of his knapsack at local dives and bookstores), six novels, four books of poetry and has been an active contributor to the underground lit scene for ten years, being published in innumerable magazines both online and in print. He currently resides in Winnipeg.
Tony Nesca and his wife, Nicole-Isabella Nesca, are the editors of the underground publishing company Screamin' Skull Press.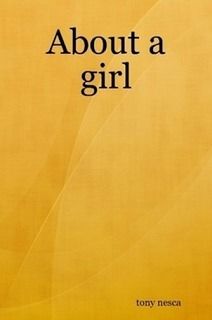 About a girl is a short novel that begins with two strangers, a man and a woman, who meet at a bus-stop and go on an impromptu bar-crawl on a cool, winter day. Taking place in twelve hours it recounts the oddball, hardcore, characters they meet and their increasing emotional connection as they fall for each other almost immediately. Infused with sexual energy, pop-culture references, intellectual debate and literary allusions this is an unapologetic, uncensored look at our society through the eyes of the outsider. It is written in a free-flow, spontaneous style with long unhindered sentences that enable the reader's eye to glide down the page as the story flows and moves to an urban beat of strippers, punk rockers and nightlife happenings.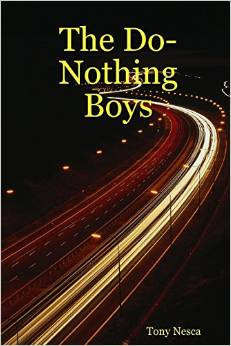 The Do-Nothing Boys is Tony Nesca's brand new novel, a raucous tale of teenage rebellion recounting the exploits of a teenager named Ziggy, recently returned to Canada after a three year hiatus in his native country of Italy, and the group of friends that spontaneously gather around him. A result of parental divorce, he turns to sex, drugs and rock and roll and in the process discovers deep friendship, love, loss, disintegration, and the beautiful, sad and wondrous experience of living. Written in an incendiary and gritty stream of consciousness, the words cascade down the page in a free-flow waterfall of ideas and happenings, hallucinatory at moments with surreal jaunts of what Nesca himself calls "word music", but never straying far from the downright gritty and street-tough prose, laced throughout with a constant sexual/erotic underpinning.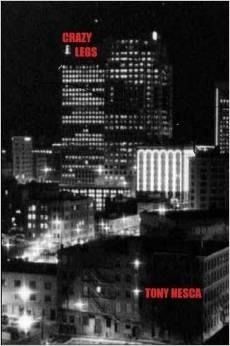 Crazy Legs is a collection of poems written in Tony Nesca's incendiary white-light/white-heat stream of urban consciousness. Both lyrical and street-tough, often in the same breath, the words cascade down the page in a free-flow waterfall of ideas and happenings and what Nesca himself calls "word music". A romantic, sexually charged discourse on life, Crazy Legs reads like latter-day Beat Poetry, but edgier and much more alive.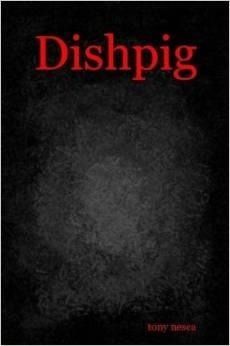 Dishpig is an experiment, an unconventional approach to writing, a first draft without a single sentence, word or comma altered from the way it was first laid down on the page. Written in five weeks, spontaneously and in a free-flow style, sentences go on for pages, undisciplined and full of vitality, exuberance and sexuality. It chronicles the bawdy adventures of a dishwasher/unpublished writer as he tries to make sense of what it means to be alive. From the fifteen year old Brazilian Maria, to the young, beautiful, wayward Betsy, to the protagonist, Tony, cynical but full of life, Dishpig takes you through the streets and bars of urban Winnipeg and the trendy strips of little Italy. With a keen sense of confused insight and humor, the language whips through a landscape of lost dreams and oddball characters, serious at moments, downright grim at others, but never collapsing to the point of complete defeat. It's a rush of vitality. It's a sense of living. There hasn't been a book like this in quite some time...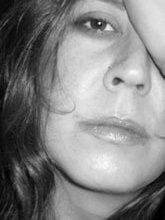 Nicole Nesca was born in Ohio. She developed a love of music, painting and writing early on and continued that love throughout her adult life. While living in Canada, she completed her first three works of poetry and prose collected in the anthology piece, KAMIKAZE WHITE NOISE., and her latest release of poems, Diamond Scarred Alley. She has been published in several E-Zines and has been a part of two anthologies.
Kamikaze White Noise is a collection of three books by Nicole I. Nesca, The Sexual Repression Collection, Kink and Canned. Though not a formal trilogy, the books were written as companion pieces and follow the themes of sexual freedom, emotional frankness and street-carnival logic, all written with Nicole Nesca's usual free-flowing sardonic wit. Kamikaze White Noise is prose and poetry that assaults the senses, liberates the mind and celebrates life on the edge like a perfect quarter-mile drag race.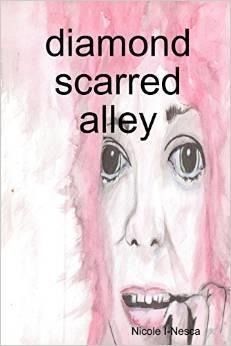 Poems written with the rebellious angst of a 40-something human who's been driven from the madness and frenzy of the ballrooms of mars.