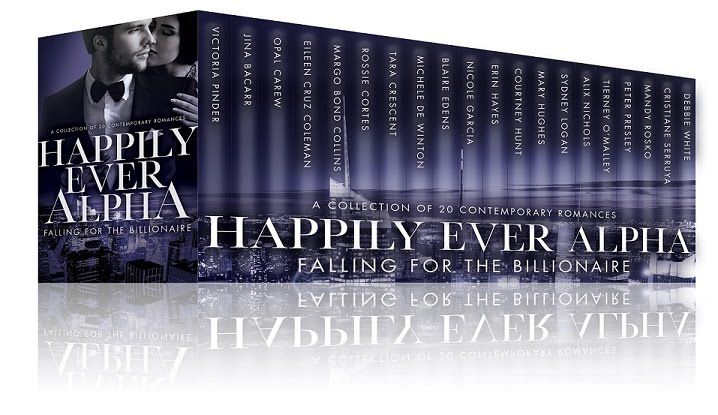 Date Published: February 13, 2017


20 Billionaires. 20 Sizzling Ways to Fall in Love. Whether your fantasy is a prince or a self-made man, this set has all the hard-bodied, Alpha billionaires you can handle. Let our award-winning, best-selling authors take you on a trip filled with exotic locales, dizzying privilege and heart-warming happily ever after.
Secret Crush: Can a handsome billionaire on a vendetta truly fall for a small town girl?
Come Fly with Me: Why spend New Year's alone when you can fly first class with a sexy billionaire?
Played by the Master: A story of Domination and submission, where breaking the rules of the game is where the fun begins, when Jacqueline crashes a billionaire's exclusive poker game in order to seduce him into granting a favor to save her sister, but instead finds herself Played by the Master.
Something like This: Devastatingly handsome & rich Reece Carter's mission is to win Jadie's heart. Will she surrender herself to him or push him away?
The Billionaire Cowboy's Speech: Leta knew the new cowboy in her life wasn't much of a talker, but Tor Edwards' billion-dollar secret might really leave her speechless.
Risking it All: What happens when a billionaire real estate mogul falls for the archeologist that wants to stop his next project?
His Fill In Fiancé: Cameron needs a fake fiancée. Enter ex-girlfriend Maddie. Then the past catches up.
Valentine's Vengeance: What's love got to do with it? Nothing as far as billionaire Joe Diaz is concerned. Bitter hearts and sweet revenge are a Valentine's recipe that is best served cold.
Noelle's Wish: Noelle who was abused and not looking for love meets Roman, a CEO who thought he had everything he wanted.
Royal Trade: He fell for her first. And he's going to prove to her that she fell for the wrong prince.
A Teacher for the Billionaire: One sexy single-dad billionaire plus one beautiful kindergarten teacher equals one scorching summer fling.
Falling for the Billionaire: When Vicky trips and lands in billionaire and media superstar Zan's lap, her face is hot. But soon that's not the only thing heating up.
Songbird: One beautiful bridesmaid. One billionaire groomsman. One wedding hookup that will change their lives forever.
Winter's Gift: He's a steely tycoon. She's an elite call girl. Both have sworn off love..
To Trust a Wicked Billionaire: One wicked sexy billionaire will do everything it takes to win his woman's trust.
Nothing but Trouble: The wealthy Brady Marino is a hot guy who has it all. But it's his dirty little secret that threatens to take away the girlfriend who makes his life complete.
Arrangement with a Billionaire: Arturo is holding all the cards and incredibly happy about it, and if Isla wants the family business back, she's going to have to agree to a little arrangement.
So Much More: Markus offers Hannah $500M to be his wife for 1 year. She agrees, on one condition. But it's the one thing he can't resist.
Finding Mrs. Right: One handsome billionaire searching for Mrs. Right. Three women vying for his attention. Who'll win his heart?
20 New York Times, USA Today and International Bestselling Authors teamed up for one Billionaire bundle.


Victoria Pinder, Jina Bacarr, Opal Carew, Eileen Cruz Coleman, Margo Bond Collins, Rossie Cortes, Tara Crescent, Michele De Winton, Blaire Edens, Nicole Garcia, Erin Hayes, Courtney Hunt, Mary Hughes, Sydney Logan, Alix Nichols, Tierney O'Malley, Peter Presley, Mandy Rusko, Cristiane Serruya, Debbie White
Twitter: @Billionairesexy