Date Published: October 2019
Pepper Chan tried to leave the scars of her abduction behind her when she joined her current veterinary practice. However, a chance encounter with Roddy Eastman, the brother of her former best friend, leaves her shaken and desperate to keep her distance. The last thing Pepper wants to do is relive the terrible ordeal from so many years ago. Her kidnapper was never caught, and Pepper is afraid to trust anyone.
Attorney Roddy Eastman is determined to find out why Dr. Chan wants to avoid him. He tries to convince himself that his drive to seek out answers from her is just his concern for his sister's friend and not something deeper—like his long-standing attraction to her since high school.
The sudden murder of her boyfriend makes it clear that a deranged murderer is taunting Pepper, waiting for the right moment to strike. When Pepper reluctantly reaches out to him, Roddy offers her his help. Together, they must dig into her past to uncover the identity of the stalker before his twisted plans can become a reality.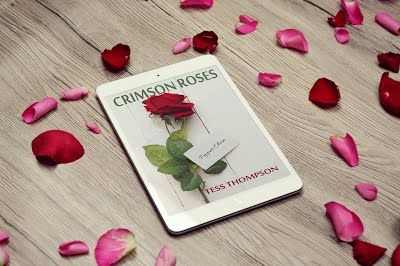 The raven-haired veterinarian stepped into the examining room and watched as a frustrated man tried to gain control of the angry, spitting cat climbing up his arm.
After tightening his grip on the short-haired, gray feline, he looked up at her. She recognized the boyish smile on the handsome man's face. It was Roddy Eastman, and he was even more attractive now than he had been when they were in high school in Angel Falls. "How can I help you, Mr. Eastman?"
His eyes widened, and he stammered, "Pepper Chan?"
She smiled and said, "Yes, it's me. Long time no see. How's your sister? I think about her often."
"When did you move to Albuquerque?" she said.
"I went to UNM, and after I graduated I stayed."
"I understand you've acquired a new cat?"
"No, I mean, yes, but he acquired me, not the other way around. He showed up on my porch one day and has refused to leave. He thinks it's okay to come into my house and sleep on my bed." His eyes twinkled and he grinned. "I'm sorry. I'm babbling like an idiot."
Pepper was amused at his efforts to control the cat. She hoped he wouldn't lose a finger as he set the beat-up tom on the stainless-steel table. The animal hissed again, but Roddy held it firmly. She began to examine the cat and then heard a tap on the door.
Pepper turned toward her partner who was speaking from the doorway.
"Sorry, to interrupt, Pepper, but there's a surgical emergency out here that I'd be more comfortable placing in your hands. I can take over here if you don't mind?"
"Okay with you, Roddy?" Pepper said.
"Yeah, that's fine. It was great seeing you again. I'll tell Kris."
Pepper had rushed out of the room so quickly that Roddy wasn't sure she'd ever been there, or if she was merely a wishful daytime fantasy.
The doctor who took over for Pepper was a tall, buxom woman with blond hair and brown eyes peering out from glasses. She was a couple of inches shorter than he was, and she spoke with a distinctive Boston accent. She was friendly enough and seemed to take in stride the quick change in plans.
"Looks like this old boy has been around the block a few times, literally," the vet said. "I'm Doctor Barbara Ashland, and what is this fellow's name?"
"Devil Cat," Roddy said giving the animal his best stern fatherly look. Changing the subject, he said, "I noticed Dr. Chan still uses her maiden name for the business. I guess she's never been married?"
The look Ashland sent him made it clear how out-of-line his question had been.
"Sorry," he muttered. "I knew her in high school."
"I see. Well, I've been her partner for over a year, all I can tell you is she isn't married now." She scratched Devil Cat between the ears. "What's the story?" Dr. Ashland said.
For a minute, Roddy thought she was talking about Pepper, but then he realized the doctor was asking about the cat. "One day, he showed up on my front porch and wouldn't go away. So I fed him, and then next thing I knew, every time I opened the door he came inside. Seems to think he belongs there." Roddy reached out and gave the cat a gentle pat. "To tell you the truth, the dang thing has grown on me."
Dr. Ashland picked up a clipboard. "He needs shots, a check for worms, and he'll need to be neutered, of course, but otherwise he looks good. You want to leave him today?"
"Uh, yeah, I guess." Roddy's brain was still trying to grasp what the vet had said, and he wanted to grab his own balls and hold on to them. He leaned over and whispered in the cat's ear, "Sorry, man, I really am. I bet if you'd known this was going to happen, you'd have gone to someone else's porch."
Roddy rolled down the window on his pickup and threaded the cool breeze through his fingers. Early spring was one of his favorite seasons in Albuquerque, even if Mother Nature was fickle and unpredictable. Today, it was in the high seventies, but tomorrow a front could come pushing in and drop the temperatures into the forties. Most of the snow had melted off Sandia Peak, and the redbud trees were popping their blooms.
He sang along to a country love song on the radio, Roddy thought back to Pepper's haunting eyes. She had been so gorgeous back when he was fifteen. Time had been good to her. She was still breathtaking. Her Chinese ancestry was evident in her shiny black hair and the shape of her eyes, but not their color. They were a deep, dark, indigo blue.
She had been his first serious crush, although she never gave him a second look. He remembered she had moved after her senior year, and he had thought about her now and again over the years. His older sister Kris was in the same grade as Pepper. Maybe she would know something more about her.
His truck bumped over the gravel road leading to his home and property. He'd scrimped and saved to put the down payment on the land when he'd first taken a position as a criminal defense attorney right out of law school. A few more years of saving and a couple of good verdicts had brought him more affluent clients who gave his bank account a much-needed boost. He was able to build a cozy, ranch-style home in Belen, a small community on the outskirts south of Albuquerque.
Kris's black Dodge Ram was parked next to the barn where she kept her two prized quarter horses. After her separation from her husband, Roddy suggested she move in with him until she got back on her feet. Kris was still angry with her ex-husband. The rotten, drunken, SOB, as she liked to call him, had managed to gamble away almost everything they ever owned. All she had left were the horses and the truck because they were in her name before she married.
"Hey, little girl," Roddy greeted his sister as he watched her groom the handsome chestnut horse.
"Hey, yourself," she said, straightening up from cleaning out the animal's hind hoof. "I thought you were going to drop off Hell Cat and go to your office."
"Please, Sis, get it right. It's Devil Cat. You'll hurt his feelings."
She put the horse's leg down and walked toward Roddy. "I don't see him anywhere around. I think I'm safe. I gather they could take care of him today?"
"Yeah, poor guy. He's going to lose his nuts you know."
"Weren't you expecting that?"
"Eventually I guess, but not today."
"Better him than you," she laughed and punched him hard on the arm.
"Hey," Roddy said. "What was that for? Because you hate the male species?"
"Not all," she said, "just most. What's up? Why are you back so early?"
After opening the gate to the pasture, Kris gently swatted the horse on the rump. Roddy helped her put the grooming tools away, and they walked back toward the house. "I can work from home tonight. I don't have anything pressing, and I want to talk to you about something," Roddy said.
"Do you remember Pepper Chan from high school?"
"Wow! Talk about a blast from the past," Kris said while kicking off her muddy boots near the back door. "Sure, I remember Pepper. Why?"
"I saw her today. She's a veterinarian now."
"Small world isn't it? I was so sad when her mom died, and she had to move and go live with her dad. We said we'd stay in contact with each other, and we did until we both started college. After that, I got a couple of emails and phone calls, but then they stopped. I always hated that we lost touch." Kris moved toward the kitchen sink to wash her hands and said, "Well, how is she? How does she look? Is she married?"
"Beats me. Pepper didn't stick around long enough for me to ask. She had an emergency, and another vet took over."
"I remember hearing that something bad happened to her when she was in college," Kris said, "but I never knew what."
"Strange," Roddy said, opening the refrigerator and taking out a beer. "I wonder what it was?"
"And you're not going to leave it alone are you?"
About the Author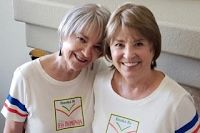 Charlene Tess and Judi Thompson are sisters who live over 1400 miles apart. They combined their two last names into the pen name Tess Thompson and have been writing novels together since 2002.