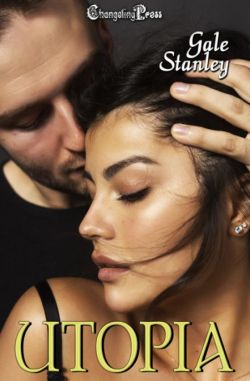 Paranormal Romance
Date Published: January 20, 2023
UTOPIA (3-Book boxset)
When pack politics collide with destined mates, Alpha Levi and his men must make some hard choices…
The Alpha's Demiwolf (Utopia 1)
Kya: I'm a demiwolf -- half wolf, half human, and both species despise my weird mix of genes. Despite the fact I strip for a living, I've hung on to my virginity for twenty-two years. Until I got knocked up by a big, bad wolf. Now, I'm going to bring another demiwolf into the world, but his father will never know.
Levi: I'm all wolf, and Alpha of my pack, committed to keeping our bloodlines pure. Then on the night of my bachelor party, I hooked up with a stripper. I just wanted to teach the demiwolf a lesson, but the sex set me on fire. My wolf claimed her and now I can't get her out of my head. But what if she won't accept me?
The Beta's Spitfire (Utopia 2)
Samson:
Levi and I have always been best friends. Now he's the pack Alpha and I'm his beta, a.k.a. the man who cleans up after his shit storms. This one is a doozy. He dumped his intended bride, and now it's my job to take care of her while he goes off to find his soulmate. Delilah is beautiful, a real spitfire, and completely off limits. But she ignites a fire that makes my wolf sit up and howl.
Delilah:
I was meant to be the mate of an Alpha, so l accepted an arranged marriage with Levi. But the arrogant jerk dumped me right before the wedding. I'm no damsel in distress, so I took off for New York to live a life of independence. Along the way, I was kidnapped and my situation became desperate. When Samson came to my rescue, I never expected him to claim me for himself.
The Omega's Temptation (Utopia 3)
A bullied omega leaves his pack and hides in plain sight among the humans. But will he reveal his true identity to save the woman he loves.
Teaser from The Alpha's Demiwolf (Utopia 1)
All rights reserved.
Copyright ©2019 Gale Stanley
Kya
I cringed when I saw the billboard proclaiming, Girls! Girls! Girls! It was a tacky way to get attention, and I hated it. Averting my eyes, I turned the corner, pulled into the lot, and parked my old pickup behind the club. It was my first night at Show 'n Tails, and a definite step down from my old job, but I'd been fired and needed a gig ASAP.
The incident wasn't my fault. There were two of us on the stage and Brandi was so sloshed she invaded my space and fell on her ass. As if that wasn't enough, she accused me of tripping her. Well, one thing led to another and we both got canned. Another girl told me that Show 'n Tails was hiring and I went for an audition. The manager was an asshat, but he doesn't ask too many questions. I like to keep a low profile.
This isn't the life I wanted, but taking off my clothes pays the bills, and I won't apologize for trying to earn a living. At least I'm not selling my body, just the illusion of sex. A lot of girls up their game, but not me. My virginity is the last piece of self-respect I own and I won't give it up to some creep for any amount of money.
The heavy backdoor slammed shut and locked behind me and the manager shot me a dirty look. "Hey, Kya. You're late."
"Sorry, it won't happen again. And my name is Raven when I'm working."
Marty's lip curled in a sneer. "Yeah, yeah. Whatever. You better get dressed. I mean undressed." He snickered.
I ignored his disrespectful ass, and walked over to the dressing room. A row of dented lockers lined one wall. A wide counter with a lighted mirror behind it ran the length of the opposite wall. Everything stunk from sweat and cheap perfume. The long vanity was cluttered with makeup and no one made room for the new girl, so I started changing next to my locker. When a spot at the mirror opened up, I grabbed it and started working on my wild black curls.
Marty stuck his head in the door. "Hey, fresh meat, you're on next."
About the Author
Gale Stanley grew up in Philadelphia PA. She was the kid who always had her nose in a book, her head in the clouds, and her hands on a pad and pencil.
Some things never change.
Contact Links
Website | Blog | Twitter | Facebook | Instagram | Pinterest