Date Published: August 12, 2016
Just back from Paris, Shelby barely has time to get over her jet lag before she is right back in the thick of things. Uncle Joey, the local mob boss, needs her help to find out what his son is hiding from him. Detective Harris, AKA Dimples, has an unsolved homicide on his hands, along with a missing engagement ring. Shelby's husband, Chris, just got promoted to partner in his law firm, and she has yet to see his new office or meet his new secretary. Add to that the opportunity to purchase a beautiful home, and Shelby is racing from one thing to the next while trying to keep them all straight.
When a courier in Uncle Joey's organization turns up dead, it's up to Shelby and her mind-reading powers to find out who killed him and why. The house Shelby wants to buy has a few problems that go beyond the building code, and the murder she's helping Dimples solve has ties to Chris' law firm. Even using all of her skills, Shelby finds one hidden deception after another. And if she's not careful, it might be the one she least expects that will kill her.
Today began like any other Monday.
The routine of getting my kids off to school was just the same as it had always been, and I found it a little disconcerting to think that I'd just had the adventure of my life in Paris, and now it seemed like I'd never been gone.
We'd gotten home on Friday, so with the weekend to get over my jet-lag, there was no excuse for not going back to my everyday life. It would have been depressing except for the fact that I had something to look forward to. Just thinking about it sent a thrill of excitement through me.
My husband, Chris, had just made partner at his law firm. With that came a few other benefits, one of which was a big raise in pay. On the plane ride home from Paris, Chris had mentioned this to me, along with the news that the house I'd always admired from afar was for sale. Now, there was a real possibility we could afford it.
I'd had my eye on that house ever since we'd moved into the area. It had a certain enchantment about it that fueled my imagination. It was situated on a beautiful, stately, tree-lined street, and was built in the Old Victorian style. It even had a round turret on one side that spanned two floors, and another in the back. A wrap-around porch had recently been added, making it even more inviting.
It wasn't a huge house, but big enough for our family, and I'd always thought it would be cool to live there. Even better, it was in our neighborhood and school district. So if we did buy it, our kids could stay in their schools and keep their friends.
The only drawback I could see? People moved in and out a lot, so it might need some fixing up, especially the yard. But that also meant the price would be lower, so it could all work out in the end. Chris had called a realtor on Saturday, and I had an appointment to meet him there this afternoon.
This fit into my plans perfectly, since I needed to visit Thrasher Development this morning and have a talk with Uncle Joey. He was the local mob-boss and my employer. And he wasn't even my real uncle. But since he knew my secret, I was more or less coerced into working for him.
Recently, he'd sent his hit-man, Ramos, to look after me when I'd accompanied a federal agent to Paris on a routine trip. It had turned out to be a heck of a lot more than I'd bargained for. In fact, without Ramos' help and protection, I'd be dead.
The last time I'd talked with Uncle Joey, he wasn't too happy with me. And since he'd basically saved my life by sending Ramos… again, I owed him big-time, probably for as long as I lived. Or at least until my mind-reading abilities stopped. So far, that hadn't happened. And deep inside, I hoped it never would.
It had been a whole year since my life changed during a bank robbery at the grocery store while I was shopping for carrots. A bullet wound to my head had changed something in my brain, and now I could hear people's thoughts. I could hardly believe how fast the time had gone since then.
In fact, reading minds had become so much a part of my identity that I didn't think I could ever go back to the person I was before. So, even though it might get me out of helping a mob-boss, and keep me out of trouble, and even keep me from getting killed, I'd hate to lose it. How crazy was that?
On the other hand, Uncle Joey was getting older. He had to be over sixty-five. That meant he should retire at some point in the next few years. Maybe by then, he'd let me off the hook. Ha! Who was I kidding? Uncle Joey didn't seem like the retiring type. He liked power way too much. And barring death, either his or mine, I didn't think I'd ever be out from under his thumb.
It also worried me a little that the circle of people who actually knew my secret had just widened to include French Inspector Gabriel Dumont. But since I'd helped save a chunk of Paris, he'd readily agreed to keep it to himself.
So, including Uncle Joey, Ramos, my husband, Chris, and Detective Harris, whom I called Dimples, that still added up to only five people, so maybe it wasn't so bad. Oh wait, there was one more… Kate.
How could I forget her? She was the main reason I got involved with Uncle Joey in the first place. As a new lawyer at Chris' law firm, she'd set her sights on Chris, even though she knew he was happily married to me. In order to stop her, I'd threatened to expose her ties to the local mob-boss, Joe 'The Knife' Manetto, whom she called Uncle Joey.
That's when it all went wrong, and I had to tell Uncle Joey my secret in order to stay alive. Kate had since been banished to run Uncle Joey's operations in Seattle, but that didn't mean she couldn't pop back up in my life at any time.
Just thinking about her brought a sick feeling to my stomach, but now that she was involved with Alec Passini and his shipping company, I hoped that kept her occupied. Still, I wouldn't put it past her to ask for my help if she needed it. So, of all the people who knew my secret, Kate was the one I worried about the most. Good thing I had Uncle Joey on my side. Everyone else thought I had 'premonitions,' and I needed to make sure it stayed that way.
Now that I was back in the real world, it hit me that I had a lot to worry about, so to alleviate those worries, I decided to change my focus to the possibility of purchasing my dream home. That helped revive me and, with anticipation, I jumped into the shower to get ready for my day.
An hour later, I pulled into the parking garage of Thrasher Development and gathered the special gifts I'd purchased in Paris for Uncle Joey, his secretary and wife, Jackie, and Ramos. I was excited about the gifts I'd bought for Uncle Joey and Jackie, but more than a little nervous about the one I'd bought for Ramos. I mean, what could I possibly give to the man who'd rescued me from a bunch of crazy terrorists?
Not only that, but he'd stuck by my side when he could have easily been blown up. The little Eiffel Tower I'd gotten him seemed kind of silly, but it was also personal. The first time I'd seen it sparkle was the night he'd saved my life and took me there to help settle me down. Now, when I thought of the Eiffel Tower, it was always of that moment standing there with him.
It was bad of me in so many ways, especially considering the kiss. Of course it wasn't a personal kiss since Gabriel had kissed me too. It was kind of a French thing to celebrate not getting blown up; Joie de Vivre, and all that.
Still, I had to admit that I'd liked it, and that I didn't feel too guilty about it. That probably made me even more of a bad person, but it's not like I'd ever do it again. I loved my husband more than I could say, and we had two great kids together.
But Ramos was special to me too, and always would be. So giving him the Eiffel Tower was an okay thing to do, right? Still, maybe I should forget about it and just give him the extra chocolates instead. Then I wouldn't have to worry that I'd crossed some sort of line.
"Babe."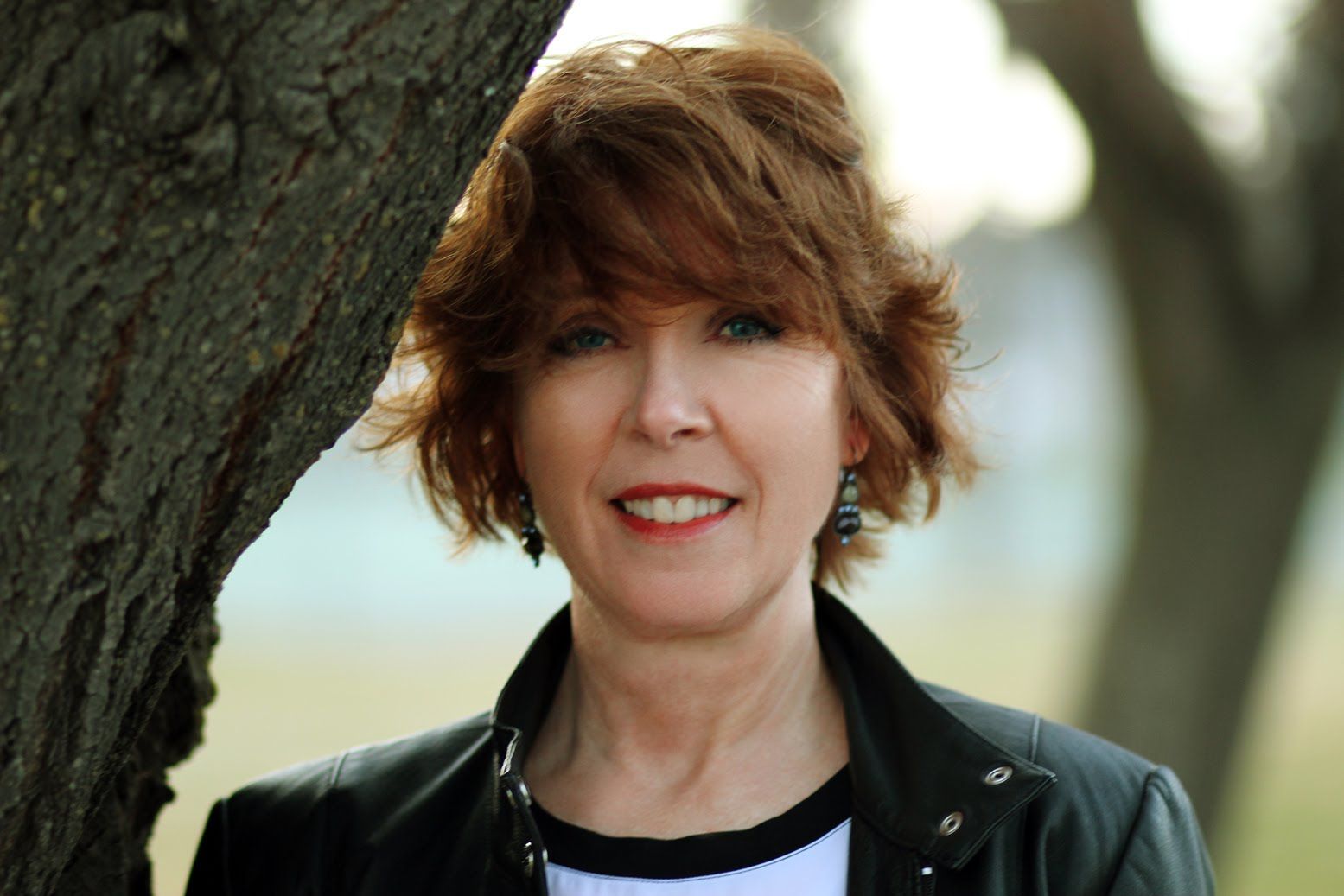 As the author of the Shelby Nichols Adventure Series, Colleen is often asked if Shelby Nichols is her alter-ego. "Definitely," she says. "Shelby is the epitome of everything I wish I dared to be." Known for her laugh since she was a kid, Colleen has always tried to find the humor in every situation and continues to enjoy writing about Shelby's adventures. "I love getting Shelby into trouble…I just don't always know how to get her out of it!" Colleen lives in the Rocky Mountains with her family. Besides writing, she loves a good book, biking, hiking, and playing board and card games with family and friends. She loves to connect with readers and admits that fans of the series keep her writing.