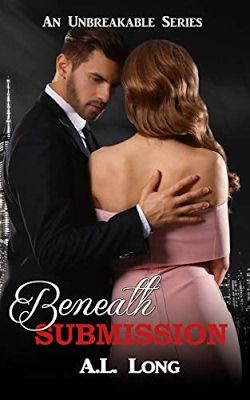 Date Published
: August 28, 2018
Award-winning author of the Shattered Innocence Trilogy
Xavier London was the only man Tessa Sands could ever love, but when she finds out that he isn't the man she thought he was she is torn between doing what is right and what her heart wants. Believing in second chances, Tessa follows her heart and lets Xavier back into her life.
Just when things begin where they left off, her second chance comes to an end when Colin Gates enters her life, taking away her freedom and her happiness.
Thinking that her life couldn't get any worse, she is sold to another man, more ruthless than Colin Gates. Her only hope is that Xavier will find her before she disappears forever.
Can she escape a life of torment or will she forever be under the control of Colin Gates?
This is the second book to the Unbreakable Series. It is recommended that the first book Beneath Deception be read first.
Other Books in the An Unbreakable Series: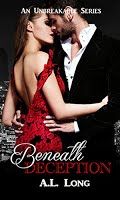 From The Award Winning Author of the Shattered Innocence Trilogy
Everyone has a story and for Xavier London, he preferred to keep his hidden. As ruthless as he was, he still had morals and those morals included betraying the one man who saved his life. He never thought that meeting one woman could change everything.
Tessa Sands never knew the truth about her life, nor did she ever question it. The only life she knew was the one she was taught, disciplined by the man who raised and groomed her to be only his. But, when another man entered her life, she slowly begins to discover that she had been deceived from the start.
Can she find true love or will his secrets get in the way?
Their love for each other will be tested. Only they can determine if love will win.
My restless night had me up later than I had wanted. Looking over to my alarm clock, it was already 8:00 a.m. Mr. Colin hadn't come to get me. I could only guess that the arrangement with Mr. Milford wasn't going to happen until later. Crawling out of bed, I headed to the bathroom to take a quick shower and get dressed before he came to get me.
Slipping on a floral dress with matching shoes, I headed down the steps before anyone suspected that I had slept in. Just as I rounded the staircase, I heard Mr. Colin's voice. "Meet me in an hour. Our usual spot."
I wasn't sure who he was talking to, but I assumed it was one of his business associates or another client. Hurrying to the kitchen, I didn't want to be seen, or worse yet, caught hearing his conversation. As I pushed the door open, Mr. Colin said behind me, "Tessa, we need to leave in ten minutes."
Stopping in mid-step, my hands remained glued to the door as I replied, "Yes, sir."
Grabbing a to-go cup of coffee, I headed out the front door to where Simon was waiting with his body leaning against the front fender, sporting an arrogant grin which showed just what an asshole he was. Pushing from the car, he moved to the back door and pulled it open for me with a sarcastic comment, "How about another round tonight, love?"
If it wasn't for the fact that he was much bigger and stronger than me, I would have punched him in the face. Giving him an evil look, I dipped my head and took a seat next to Mr. Colin, who was already inside. There was one thing I hated about Simon more than his cocky attitude, he always managed to speak his mind out of earshot of Mr. Colin, knowing full and well that if I said anything, it would be my word against his.
As we drove into the city, there was only silence between us. Not once did Mr. Colin reference the slight bruising on my cheek or what Simon had done to me after he left the training room. Maybe it was best that nothing was said. I wasn't sure that he could have said anything that would have made me feel any better. Turning my head, I gazed out the side window
watching the beautiful homes with their perfectly manicured lawns and expertly trimmed hedges pass by. As I looked, I wondered how the lifestyles of the families that occupied those beautiful homes compared to mine. Were they happy? Was there love between them? But most of all I wondered if they were they free to do as they pleased.
Consumed by my thoughts, at first I didn't notice that Simon turned off the main road and headed to what appeared to be an industrial part of LA. I couldn't understand why we would have driven here. Then I remembered what he said about meeting in the "usual place."
Adjusting my position, I tried to get a better view by looking out the front window. Simon pulled inside an empty warehouse. There was no one inside, only pallets of merchandise occupied the large building. Taking in my surroundings, a few minutes passed when a fancy red sports car began to approach us. My eyes were focused on the man driving the expensive looking car. Lowering his sunglasses, he had to have been the most handsome man I had ever seen. Normally, most of Mr. Colin's associates are old and overweight, but this man was gorgeous. Everything about him was perfect.
Breaking my fixation, Mr. Colin opened his briefcase and pulled out a manila envelope before opening the back door and exiting the car. All I could do was watch him approach the man as he stepped out of his car. As Mr. Colin stood in front of him, I wished that I could hear what was being said. I wanted so badly to roll down the window but knew that would be a big mistake. When he handed the handsome man the envelope, he didn't seem very happy. I got the feeling that Mr. Colin and this man were not on friendly terms.
As Mr. Colin walked back to the car, my focus was only on the gorgeous man as he got in his car. Opening the door, I couldn't help but ask, "Who was that man?"
"No one you need to worry about," he replied sharply.
As we drove off, I couldn't help but look at the red sports car and the man inside as he backed up and pulled out of the warehouse. Watching him drive away, I felt a strong pull on my hair, knowing that it was Mr. Colin trying to get my attention. I wasn't sure what he was trying
to prove, but when he pressed his lips hard against mine, I only thought of one thing and that was to push him away. Instead of going with my defensive instinct, I should have allowed him to have what he wanted. It would have saved me the pain of getting slapped across the face.
Placing my hand on my cheek to soothe some of the pain, Mr. Colin warned, "You will not defy me, Tessa. Just remember who you belong to."
Feeling defeated, I lowered my eyes and responded, "Yes, sir."
~*~*~*~
When we returned to Mr. Colin's home, I was once again ordered to meet him in the training room. Adhering to his request, I changed into a black corset with matching panties and silk stockings. One thing I wished he would have left out were the four-inch stilettos. Something special must have been planned. Never had Mr. Colin requested I wear this form of attire. Slipping on my shoes, I took a quick look in the mirror to make sure that I looked presentable. Everything was perfect except my hair. Gathering it to one side, I braided it in one long braid and tied it in place with a red ribbon to match the red in the corset.
Heading out of the bedroom, I slowly descended the stairs and made my way to the basement where the training room was. The temperature was about ten degrees cooler as I took each step, carefully balancing myself to keep from tumbling headfirst down the stairs. Safely reaching the bottom, I walked down the long hallway until I reached the training room. Pushing open the door, no one was inside, which made me think that I may have misunderstood Mr. Colin. He wasn't one to be late or one to accept anyone else being late. I thought about leaving and searching for him, but my instinct told me that I should wait until he arrived. Taking a seat on the edge of the bed, I folded my hands across my lap and focused on the door.
Since I hadn't slept very well the night before, I decide to lie down for just a moment. I had been waiting for such a long time that I could feel my eyes begin to get heavy. I just needed
to close them for a moment. Drifting off, I entered the world that I loved so much with the green meadow and wildflowers blowing against the warm breeze giving off a sweet fragrance.
Lying on the soft grass, the sky was so blue, and the sun felt so warm against my face. As I took in the warmth, there was something different about this dream. Off in the distance, I saw the form of a man approaching me. Propping my body on one elbow, I held my hand above my eyes to block the sun. I watched with anticipation, keeping my eyes focused on his every step as he got closer. As he stood in front of me, I knew this man. Although I didn't know his name, I would know that face anywhere. What I didn't understand was why he was in my dream? Yes, he was gorgeous. Beyond gorgeous, to be exact, but why would he be here?
As he held out his hand, I couldn't help but take it. Lifting me to my feet, we stood only inches apart. I could feel his breath on my forehead as he leaned forward and pressed his lips to mine. His scent was masculine and filled my senses. With a willing mind, I parted my lips and allowed him to dip inside. Never had I been kissed in this manner. It wasn't demanding, but gentle and compassionate. The way I had always imagined a kiss should be.
In the distance, I kept hearing Mr. Colin calling me. I couldn't bring myself to wake up. All I wanted was to remain in my perfect world with this amazing man. His voice became louder and I could sense the anger in the tone; even then, I didn't want to leave. Then it happened. Mr. Colin entered my dream, only I was wide awake. The grip he had on my arms as he shook me back to reality told me that my fantasy was over. His voice was stern as he ordered, "Put something appropriate on. We need to leave."
Award-winning Author of the Independent Press Award and NYC Big Book Award. A.L. Long is also the recipient of the National Indie Excellence Award.
My love for writing began several years ago after an early retirement from a demanding job that I loved, but also hated because it consumed so much of my time. Now, I am able to focus my time on what I love. Writing romance has been a lifelong dream and to actually say that I am a published author is beyond what I would have ever expected.
Even though some may say I have a little naughtiness in my books, I look at it as an added bonus for my readers. After all, what is a romance book without a little spice?
When I am not writing, I enjoy spending time with friends either at home or out on the town. Mostly, I enjoy a relaxing night at home where I can enjoy a glass of wine in the company of a good book.