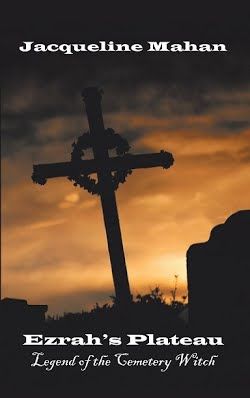 Legend of the Cemetery Witch
One hundred thirty-nine years ago, Maggie Morton found herself at the opposing end of a campaign to have her humiliated, ostracized and eventually hanged for practicing witchcraft. She was buried in a shallow grave in the back of the local cemetery. Maggie's lonely spirit walks restless in the cemetery as she continues to search for someone to believe her story and expose the truth behind her death.
Angela Horne is coming back to Ezrah's Plateau for the first time in over a decade. The town is throwing a weekend long celebration for her great grandfather Caleb, who rid the town of evil back in 1870 and offered it a direction of hope and righteousness. During her stay, she discovers a dust covered diary, over a century old, in the attic of her grandmothers house. As Angela reads, she learns that Maggie was not a witch. She was a scapegoat. Whats worse, someone else knows she has that diary and wants it, and her, put away for good.

About the Author
Jacqueline Mahan is an artist, born and raised in New York. She produces work in oil, watercolor, acrylic, and colored pencil, which are often shown and sold in exhibitions. Her artwork tends toward the beautiful and structured, specializing in portraits and still lifes, some illustrative, some painterly. As a visual arts educator, she served for more than twenty years in Nyack, NY.
Jacqueline is a writer. She grew up with an old cemetery in back of her childhood home, which may explain a few things... she loves old cemeteries! Her stories tend toward darkness and uncertainty in both the supernatural and human conditions. Good creepy stuff to keep readers turning pages and maybe...maybe allows them to see something of themselves in the stories.