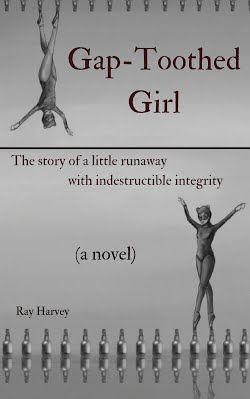 Date Published:
August 2018
Publisher: Pearl Button Press
"Tournament night in a sweltering Las Vegas stadium, and the girl with the gap-toothed smile stood bleeding in her ballet slippers."
Thus begins Gap-Toothed Girl, the story of Dusty May, a Lakota orphan with an iron will, who runs away from the horrific circumstances of her foster home and her foster father — a man of beast-like brilliance and power — to pursue her dream of lightness and ballet, even as her foster father unleashes an army to bring her down.
Part literary fiction, part thriller, part dance story, Gap-Toothed Girl is at its core a tale of human joy and freedom of will — a "relentlessly paced novel" combining "the surreal imagery of Nabokov with the psychological complexity of Dostoevsky" (Fort Collins Forum) to investigate the depths of the human psyche and the indomitable will to succeed, ultimately plumbing the very nature of human happiness and the human soul.
Tournament night in a sweltering Las Vegas stadium, and the girl with the gap-toothed smile stood bleeding in her ballet slippers. The sodium lights of the arena lay upcast on the low-hanging sky above. An electrical charge hummed through the air: a crackling undercurrent that came neither from the lights nor from the distant heat lightning, but from the galvanized excitement of the crowd.
Before her, some twenty feet away and elevated four feet off the ground, there stretched a long green balance beam, atop which, at the southernmost end, stood eight empty whiskey bottles. The bottles were perfectly upright and in single file. A small springboard crouched in front.
High above her floated a long banner which said, in shimmering red letters:
A CONTEST OF MOTION
She closed her eyes and inhaled. The air was dry. She stood alone upon the stage. She was dusky-limbed, Lakota. She held her breath a moment and then she released it.
When she opened her eyes, her gaze settled on the objects before her: the springboard, the balance beam, the whiskey bottles. The heat hung heavy. A rill of sweat slid between her breasts. She didn't see the tiny camera-flash explosions igniting everywhere around her from within the darkness of the stadium. She forgot that there were thousands of eyes fixed upon her. She forgot also the pain in her toes and was unaware of the bleed-through and the blood leaking like ink across the entire top part of her slipper.
Offstage in the shadows, a lanky youth in a baseball cap gave a thumbs-up, but it wasn't directed toward her.
A man with a microphone emerged on stage. He was thin and well-dressed and darkly complexioned.
A hush came over the crowd. The man held the microphone to his mouth. His voice came booming through the speakers with great clarity.
"Ladies and gentlemen," he said, "ladies and gentleman. May I have your attention, please. Thank you. We are finally at the end of the night, and — my Lord — what a night it's been. What a competition."
The crowd erupted.
"We have seen — excuse me, please — we have seen tonight some of the very best dancers in the world, and I'm sure you know this is not an exaggeration. We have only one more to go. Did we save the best for last? Need I remind you that there's fifty thousand dollars at stake here?"
He paused.
"Now," he said, "now, then. Do you see this young woman up on the stage with me? I'm told she's about to do something that only one other person in human history is known to have done, and that was Ms. Bianca Passarge, of Hamburg, Germany, in 1958 — except Ms. Passarge, I am told, was not mounting a balance beam when she did her routine. Can this little girl — all 115 pounds of her — I say, can she do it? Can she steal the money from these big city boys and girls, the Bronx break dancers and West Coast B-Boys and all the others who have astounded us here tonight with their strength and agility and their grace of motion? Folks, we are about to find out."
The crowd erupted again. The MC turned and looked at the girl on stage behind him.
He winked.
He lowered the microphone and said in an unamplified voice that sounded peculiar to her:
"Are you ready?"
He smiled kindly.
She nodded.
He gave her the A-OK sign with his fingers and nodded back. Then her lips broke open in return, disclosing, very slightly, her endearing gap-toothed smile.
He brought the microphone back to his mouth and turned again to the audience.
"Here we go!" he said.
The crowd went dead-silent in anticipation.
"Okay, okay!" she thought. All ten of her fingers wiggled unconsciously and in unison.
Abruptly, then, the lights above her darkened while simultaneously the lights behind her brightened, and then the music began: fast-paced and throbbing and happy.
She bolted forward.
She sprinted toward the balance beam and with astonishing speed executed a back handspring onto the springboard, vaulting into a full fluid backflip on one foot upon the beam — which in the very same motion turned into another back handspring, and then another, all to within inches of the bottles at the far end of the beam. This entire process took no more than five seconds. Here she paused for a fraction and then performed a half turn. From there she leapt lightly onto the first upright whiskey bottle, which wobbled only slightly under her weight. She placed her other toe catlike upon the next whiskey bottle, and then she raised herself en point to great heights….
About the Author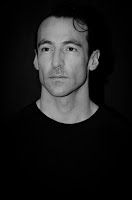 Ray A. Harvey, novelist, essayist, published poet, athlete, and editor, son of Firman Charles Harvey (RIP) and his wife Cecilia, youngest of thirteen half brothers and half sisters, was born and raised in the San Juan Mountains of southwestern Colorado. He's worked as a short-order cook, copyeditor, construction laborer, crab fisherman, janitor, pedi-cab driver, bartender, and more. He's also written and ghostwritten a number of published books, poems, and essays, but no matter where he's gone or what he's done to earn a living, literature and learning have always existed at the core of his life.