The pathless path to fulfillment and happiness
Non-Fiction, Self-Help, Spiritual Wellness
By Master Genro: Gert Beirer and Clifford Stevens
Publisher: Gatekeeper Press
Normally Priced $9.99 On Sale November 22-December 22 for only $.99
"Seek what is within self and you may find the answers to true authentic life fulfillment and happiness."
Find The Seeker! is based on the wisdom and profound, first-hand experience of a modern-day Master as well as the teachings of enlightened ones throughout the ages. This book reboots our spiritual search in order to renew our limiting, thought-driven and ego-dominated lives. Focusing on the spiritual dimension underlying Existence which all of us share, the book addresses people of all faiths who suffer, are unhappy and seek to lead more fulfilling lives.
"Find the Seeker! is not a wishy-washy, feel-good book offering a quick fix or esoteric porridge or pandering to those who want a spiritual baby rattle to rely on. Instead, it serves as a traveling companion and guide, enticing readers with the vision of what we really are" ...
Absolute, eternal and unconditional Being, whole and divine – which can only be directly experienced and embodied. It serves as a powerful wake-up call for those who mistakenly believe in their being separate from the Oneness and living in a state of duality, reminding us that the Kingdom of God is really within us.
Although written by a Zen Master and using some Zen stories, the focus is not on explaining Zen, its tenets or history. The book is in stark contrast to the majority of books which indulge in superficial descriptions or sayings and provide seemingly "precise" instructions, lists of goals or steps to take which trap us into continuing our dependency on intermediaries and religious institutions or our self-delusion of being less than we really are.
Instead, accompanying the authors along the age-old pathless path we have always been on, we are called upon to empty ourselves and "drop" all our preconceptions and expectations and the limited "self" which thinks it has a life of its own, as well as the heavy backpack with all our experiences and learnings.
The book holds up a mirror to our worldly and at times ego-driven existence, suffering and the intricate workings of the ego, which entraps us in the never-ending soap opera and the roller-coaster of life's ups and downs, drama from chaos. We are led to live mindfully in the here-now, delve more deeply into ourselves and to be Self-reliant – enabling our inner guru to unfold our true nature so that we can abide in the one Self. In this way seekers become finders, and we can become the Oneness we already are, enjoying the vibrant bliss and lightness of Being that is inherently ours.
The book not only appeals to people interested in Zen but spiritual seekers and people of all faiths and confessions, especially those who suffer, are unhappy, and still have unanswered questions about spirituality and life purpose, and God.
As a result, the book targets readers searching for books on personal development, body, mind, and spirit, self-help, spirituality and religion, Buddhism, Zen or finding happiness. It may be the last book you need to read that includes all of the above and much more.
About the Authors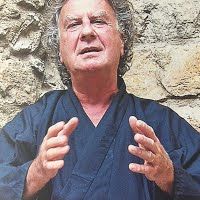 Genro: Gert Beirer, who was born in Austria in 1945, studied Zen, meditation, Kung-Fu, Qi Gong and acupuncture in Asia. He was given the name Genro ("Origin of Joy") Xuan Lou, Laoshi (Laoshi = "Spiritual Master") by Zen Master Tetsuo Kiichi Nagaya Roshi. Genro Xuan Lou, Laoshi was named Zen (Chan) Master by the Abbot and Grand Master Kun Kong at the Lingyin Temple (Shakyamuni Buddhism) in Hangzhou, with whom he studied 11 years, by Abbot and Zen Master Shi Chan Ming in Wuhan, Province Hubei, China, and was also named Shifu or "Spiritual Teacher" in 2009 by Shi Xue Feng, Abbot of the Ding Shan Temple in Germany.
After returning to Europe, Genro spent decades as a therapist and business consultant and has been heading the Qi Gong Master School in Austria for many years, practicing in accordance with the Wuhan-Yangsheng style. Genro Laoshi has lectured at universities, appeared on TV, held seminars on a variety of spiritual and self-help topics, taught Qi Gong courses and published articles and books on meditation, Zen, motivation and communication, storytelling, body-reading, sexual Kung-Fu, autohypnosis, and many more topics.
About Author, Clifford Stevens - (Ki-
ichi
) was born in the United States. His career included stints as a teacher, journalist, PR manager
and
translator. He has studied Qi Gong, Zen
and
meditation with Genro Xuan Lou, Laoshi for many years. His meditation-imparted experiences and the Dharma transmission from Genro have qualified him to be a teacher of Zen. He humbly reveals his deep insights and awareness of the spiritual cosmos as he wanders along the pathless path with his Zen Master.
Normally Priced $9.99 On Sale November 22-December 22 for only $.99