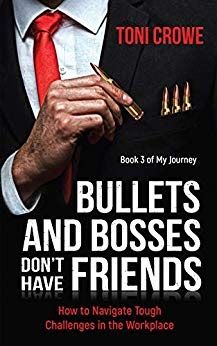 How to Navigate Tough Challenges in the Workplace
Are you worried that you're too nice to get ahead? Discover how to play smart in your work place and take your life to the next level in Toni Crowe's continuation of her memoir.
Does your office feel more like a minefield than a place to get things done? Are you confronted by tenacious colleagues and even more challenging situations every workday? With over 30 years of experience, award-winning executive Toni Crowe has climbed the ladder across multiple sectors, from high tech to aerospace. After ascending from the very bottom to the top, she's here to share her experience, strategies, and wisdom for you to realize your own career triumph.
Bullets and Bosses Don't Have Friends teaches you how to assume the serious edge you need to succeed in the corporate world. With the book's honest, compelling look at relationships with peers and bosses alike, you'll discover a pragmatic approach to mastering your trek through management. By reading Crowe's down-to-earth stories, you'll learn how to navigate common challenges in the workplace and conquer them with your own personal style.
In Bullets and Bosses Don't Have Friends, you'll discover:
- A behind-the-scenes peek at corporate America that shows you what it's really like at the top
- Which skills and attitudes you need to scale to the top of the business world
- How to cultivate a relationship with your boss that benefits both of you
- What you can do when confronted with difficult peers so you maintain control
- How you can and should deal with workplace treachery, and much, much more!
Bullets and Bosses Don't Have Friends is a series of true stories from Toni Crowe's life in the corporate world, each with a practical lesson and a set of exercises you can apply to your own career. If you like the personal approach of a mentor, tales of hard-won success, and real-world advice from a CEO with an amazing record of achievement, then you'll love Toni Crowe's second installment in the four-part My Journey from a Lady of the Night to the Lady of the Boardroom memoir!
Toni Crowe is an award-winning and accomplished executive with 30 years of experience as a CEO/President, Vice-President, Director, Engineer, and Manager across multiple sectors including high tech, consumer and nuclear sensors, Aerospace, film production, and glass. She has extensive experience in P&L, Manufacturing, Operations Management, and Lean. She has participated in several mergers and acquisitions. Toni is currently the President and CEO of Just One: her company which is dedicated to changing lives, one life at a time.