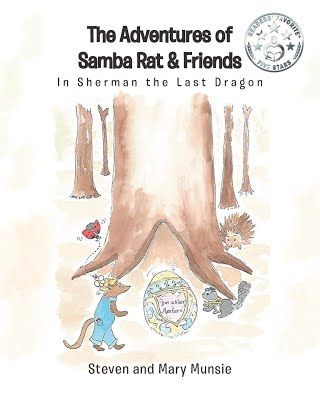 Publisher: Page Publishing
The Adventures of Samba Rat and Friends in Sherman the Last Dragon
Four woodland friends, Samba Rat, Peter Porcupine, Squirrely, a scout camp mascot and Cindy, a ladybug, returning home from a Spring picnic, are caught in a storm and discover a large mysterious egg hidden in an ancient tree. When it hatches into a baby dragon, the four friends are set upon an adventure to find the little creature a home.
The four friends are joined by Kitty Joy, a young master scout, who first tracks them, then joins them on their adventure to find a mysterious sanctuary and save Sherman, the Last Dragon.
Praise for The Adventures of Samba Rat & Friends In Sherman the Last Dragon:
"I really enjoyed reading The Adventures of Samba Rat and Friends in Sherman the Last Dragon by Steven and Mary Munsie. The book is well written and very descriptive. I really liked how the plot combined many different myths in a way that makes sense. The story is intriguing and filled with action and adventure. The characters are all very likeable, and young readers will want them to succeed in their quest. They are also unique and well developed. The story is fast paced and exciting. I was hooked by the first page and I never wanted to put the book down. The story contains many adorable, colorful illustrations readers will love. I would definitely recommend this book to all children." - Kristen Van Kampen (Teen Reviewer) for Readers' Favorite - 5 Stars
"This is a charming piece of fiction which touches on many important themes for the characters involved. Co-authors Steven Munsie and Mary Munsie write in a highly descriptive and wordy style, so I'd say this read is more suitable for advanced readers aged eight and above, or as a read-along by an adult for younger children to fully get the best from the tale. The characters' dialogue is lively and fun, and important issues like the value of teamwork come through as strong morals, but taught through exciting action sequences. I liked that each character of the core group had their own moment to shine where their individual skills were appreciated to solve the problems on the quest. The book really celebrates diversity and making new friends who are very different to oneself. Overall, The Adventures of Samba Rat and Friends in Sherman the Last Dragon is a delightful moral fable which I would recommend to young readers." - K.C. Finn for Readers' Favorite - 5 Stars
"In Steven Munsie and Mary Munsie's epic fantasy novel for children and preteens, a happy group of forest friends is suddenly transformed into adventurers of the first order as they risk all to ensure the safety of the last dragonling. And, as with all epic and quest adventures, the participants are faced with all manner of challenges, dangers and outright terrifying situations. I loved watching as these four epic heroes worked together to reach their goal, each exploiting their own particular gifts to make the team's efforts succeed. The addition of Kitty Joy, "the youngest knight scout in the entire history of scouting," to the quest adds marvelous human dimension to the story. The Munsies' characters are credible and infinitely fun to read about, and their plot is both sound and exciting. Mary Munsie's watercolor and ink and wash illustrations bring the quest participants and their quest to life in magnificent fashion. Epic fantasy fans of all ages should consider giving this imaginative tale a chance. The Adventures of Samba Rat and Friends in Sherman the Last Dragon is most highly recommended." - Jack Magnus for Readers's Favorite - 5 Stars

About the Author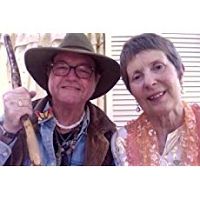 Steven Munsie developed his storytelling abilities as a pantomime artist in Hollywood, teaching pantomime and theater in the Los Angeles school system's program for gifted students, and with Mary created a young people's acting company, The Young Shakespearian Repertory Ensemble, at the Shakespeare Society of America's Globe Playhouse, West Hollywood, presenting productions of Midsummer Night's Dream, MacBeth, As You Like It, the Tempest and Comedy of Errors.
Proceeds from our books go to Enhance Worldwide, a non-profit working in Ethiopia to "educate girls and change the world."