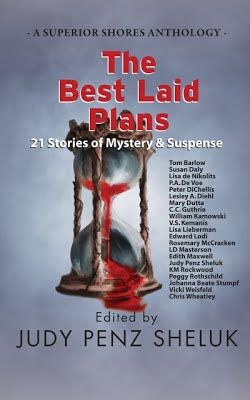 21 Stories of Mystery & Suspense
Mystery/Suspense Anthology
Publisher: Superior Shores Press
Date Published: June 18, 2019
Whether it's at a subway station in Norway, a ski resort in Vermont, a McMansion in the suburbs, or a trendy art gallery in Toronto, the twenty-one authors represented in this superb collection of mystery and suspense interpret the overarching theme of "the best laid plans" in their own inimitable style. And like many best laid plans, they come with no guarantees.
Stories by Tom Barlow, Susan Daly, Lisa de Nikolits, P.A. De Voe, Peter DiChellis, Lesley A. Diehl, Mary Dutta, C.C. Guthrie, William Kamowski, V.S. Kemanis, Lisa Lieberman, Edward Lodi, Rosemary McCracken, LD Masterson, Edith Maxwell, Judy Penz Sheluk, KM Rockwood, Peggy Rothschild, Johanna Beate Stumpf, Vicki Weisfeld, and Chris Wheatley.
Me and my dimwitted brother, a cash withdrawn at gunpoint, make a midnight escape on ATVs through gnarly mountain trails chased by a blizzard. Lucky I'm too smart to fail.
Spirit River Dam by Susan Daly
Imogen doesn't anticipate surprises at her trendy art gallery, until the day her ex walks in with an intriguing old painting. Is it a Fake? Or a Fortune?
Fire Drill by Lisa de Nikolits
You'll never know my name, I'm not that important. But I'll fight for what's mine. So beware, world, because you've got no idea what I'm capable of.
Gambling Against Fate: From Judge Lu's Ming Dynasty Case Files by P.A. De Voe
As the emperor's representative in maintaining peace and order, I am challenged daily to ferret out criminals hiding among the innocent.
Callingdon Mountain by Peter DiChellis
I'm a private eye who spends his days investigating a baffling murder case the news media calls an "impossible" crime. The cops sure can't solve the mystery. Can I?
Lunchbreak by Lesley A. Diehl
Spurred on by his buddy, Ben decides this is the day to shut up his nagging wife for good, but she thwarts his plans with some creative culinary intervention.
Festival Finale by Mary Dutta
My name is Charles Attlee, but of course you know my work. You don't want to miss my killer book festival appearance.
A Sure Thing by C.C. Guthrie
The hit on an eighty year-old rancher seemed like a sure thing. I left the Buffalo snow behind for sixty-degree days in Oklahoma figuring, what could go wrong?
Last Thoughts by William Kamowski
Timothy, an empathetic techie, takes care of people online—for better or for worse—especially sad young women who need to script their final moments.
Sucker Punch by V.S. Kemanis
I'm Freddy, behind the butcher counter at Food Super. I'll never look at the meat and bone saw in the same way after my "best friend" Zach roped me into his latest moneymaking scheme.
Better Dead Than Redhead by Lisa Lieberman
I'm Ashley Early. The best thing about being a primatologist? Chimps don't find themselves accused of murdering their hair model. Unlike Alex, my twin sister.
Choose as your target a frail, elderly woman who lives alone, and what could possibly go wrong?
The Sweetheart Scamster by Rosemary McCracken
I'm Pat Tierney, a financial planner. The day my seventy four year-old client Trudy Sullivan said she had a new man in her life, I had questions to ask her.
Deadly Dinner by LD Masterson
I didn't take this nursing home job to kill someone, I'm just looking for a way to score. But if it means helping some rich old biddy to her just reward…well, that's okay, too.
The Stonecutter by Edith Maxwell
I'm Eleanor, a middle-aged librarian. A Portuguese stonecutter and I are in love, but it's bittersweet and attempting to fix things could prove dangerous. I think I'll try.
Plan D by Judy Penz Sheluk
My name's Jenny and most of my days center around trying to think of inventive ways I can kill my lazy, job-losing husband, Ted—without getting caught.
Frozen Daiquiris by KM Rockwood Penelope's new McMansion doesn't provide automatic entrée to the upper crust. Maybe if she hosts a society fundraiser in the new house, and everything goes according to plan…
The Cookie Crumbles by Peggy Rothschild
Angry with my mom and jealous of my talented older sister, I'm planning the perfect prank and hoping revenge is sweet.
Thank You For Your Cooperation by Johanna Beate Stumpf
Marsha watches people. As surveillance operator for the subway, this is her job. Lately, a new commuter has appeared on Marsha's screens. And he's going to change her life.
Who They Are Now by Vicki Weisfeld
Yolanda and Bill are Delray Beach, Florida, cops investigating the murder of a beloved sportscaster during the chaos of a Category 5 hurricane.
The True Cost of Liberty by Chris Wheatley
I am Gerald Worthington. Life consists of dealing antiques, dining at second-class restaurants, enduring tedious social engagements and wishing my wife's new husband would drop dead.
About the Author
Editor Judy Penz Sheluk is the author of the Glass Dolphin Mystery and Marketville Mystery series. Her short stories can be found in several collections. Judy is also a member of Sisters in Crime, International Thriller Writers, the Short Mystery Fiction Society, and Crime Writers of Canada, where she serves as Vice Chair on the Board of Directors. Find her at www.judypenzsheluk.com.
a Rafflecopter giveaway