Date Published: September 13, 2019
Publisher: Jan-Carol Publishing, Inc.
After Anna Shields receives an invitation from her estranged Aunt Lydia, she flies to Tennessee to find a number of older women-Tasha, Sadie, and Chloe-also living on Lydia's farm. Losing power during a blizzard, the women share dark and startling secrets. Skating between past and present, they reveal frighteningly desperate things that they have done. Anna begins to realize, to her shock, that these things are connected to her own past and become key to her future.
About the Author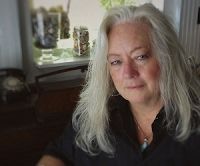 Cynn Chadwick is an author of seven novels: Cat Rising; Girls With Hammers; Babies, Bikes, and Broads; Cutting Loose; Angels and Manners; As The Table Turns; and That's Karma, Baby... Her books have been nominated for the Lambda, Golden Crown, and Stonewall Literary Awards. Over the course of her career, she has done readings and speaking engagements including: Saints and Sinners Literary Festival in New Orleans, The Authors' Arena at Book Expo America in Chicago, Human Rights Campaign Headquarters, DC, AWP in Atlanta, Amelia Island Book Festival, FL, Malaprop's Bookstore/Cafe, Asheville and UNCA are just a few of her past speaking and reading engagements. She holds a BA from Norwich University and both an MA and MFA from Goddard College in Vermont. Over the last, nearly, thirty years, she taught creative writing to fifth-graders and senior citizens, teachers and homeless teens, college students and convicted felons and have been equally touched by each of their stories. She lives with her wife Elenna and their Springer Spaniel, The Amazing Andy, in the Blue Ridge Mountains is where she taught in the English Department and Creative Writing program at the University of North Carolina at Asheville.