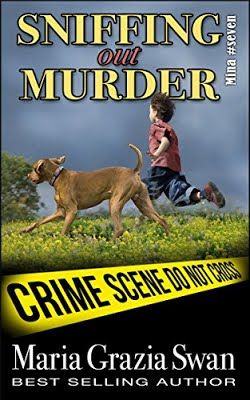 Date Published:
July 2017
One dog with two names, twice lost, yet always found. Two newly orphaned boys who love their dog and love each other so much they vow to stick together against all odds. Enter super sleuth Mina Calvi, the quasi-grown up Italian import who likes cats more than dogs. When she tries to locate the owners of a lost dog, Mina is drawn into tracking down a murderer in spite of her loneliness, absentee boyfriend, and the fact that even with an espresso machine worth more than a diamond ring, she still can't manage to make a good cup of coffee.
Eleven
De Fiore stared at the only living room wall deprived of artwork. They hadn't exchanged a word since Tom loaded Leo and Buddy into his truck, and after promising a small detour to pick up dog food, headed home to his large place with the fenced yard.
Millie had walked back to her small place, her eyes red rimmed from the suppressed crying and the exposure to bright light.
The mood was anything but pleasant. Why? She had no way of knowing a kid was squatting in Kalinda's house. She hadn't set foot in there since the woman left weeks ago. But De Fiore should have known. He checked out the place often, and he was a detective after all. Apparently he didn't detect squat until—until what?
"De Fiore, how did you catch Leo? How long had he been hiding there?"
"He wasn't there the other day when I stopped by to check on the landscape."
"That was the same day Buddy was spotted wondering around the train tracks in San Clemente. Yes, that fits. Leo said he ran away to go looking for his dog. Poor kid. We need to find his brother, let him know what's going on."
"Tom is going to try to locate him. I'll call Kalinda and ask her how to get in touch with the construction crew. He's obviously traveling with them." He glanced at Mina, his voice slightly mellower than his attitude. "How do you do it?"
"Do what?"
"Turn something as uncomplicated as transferring a rescued dog from one shelter to another into a possible murder investigation and a big hot mess that touches many lives here and abroad?"
"Oh, wait, wait. What are you talking about? I get the murder investigation, and you can thank me later. But hot mess? Here and abroad? Seriously?"
He kept staring at that same wall. Avoiding her eyes. Why?
"The phone." He slipped his hand inside his jacket and pulled out a phone from the breast pocket. Diego's phone.
"You found it. You found it. Oh, thank you, thank you…" She leapt from her chair to grab the phone. The detective moved it out of her reach. "No, I didn't find it. It's the other way around, and I can't let you have it. Sorry. Gave my word."
"Come on, De Fiore, stop with the games. I've been searching for it. It's very special. It's the one I lost yesterday when I was chasing Buddy. I fell, hit my head, and it must have slipped out of my jeans pocket. Where was it?"
De Fiore shook his head, and there was not a trace of a smile when he said, "That's how I found Leo. He had the phone." He paused and then spoke in a slow and staccato pattern. "He-was using it. Your boyfriend's super special, high-tech, state-of-the-art phone was being used in random efforts to reach—friends? Family? Except that's not what the phone is programmed to do."
He kept it at a certain distance from himself, as if afraid the device would cause him bodily harm. How ridiculous was that? Probably trying to give her a guilt trip. She who thrived on eternal guilt.
"This cell has now been disabled and will be picked up at my office tomorrow and properly disposed of, after being dissected and carefully analyzed of course. If you don't get the dozen of nefarious consequences that may have been set in motion by the kid's actions, I suggest you ask Diego to explain it to you." He sighed. "All the calls originated from Kalinda's house."
It all sounded preposterous, right off some B spy movie, which in turn made the whole thing even more plausible.
"Is he mad at me?" she asked, troubled by De Fiore's accusations.
His answer left no doubts. "You'll have to ask him yourself. There are lots of rumors floating around with the passing of the Gran Dame. And none are good." What did he know about Diego's deceased boss? "I need to get going. You behave kid, and let me do my job. Look at me, Mina. I mean it. You need to lay low. It was suggested that you go about your usual routine but avoid at all cost going anywhere near Kalinda's place. Got that?" He paused, waiting for her answer. "I was asked to relay the message to you. And I promise I'll keep you informed regarding the Cordero case." He shook his head. "What am I saying? What case? See what I mean? Your disease is contagious. Didn't even get to say hi to Aria. I'm leaving; don't get up. Sit and stew on that promise you just made."
Mina sat until she heard the front door close. What promise? He did all the talking. She never agreed to anything. She headed upstairs to let the cats out of the bedroom.
Best selling author Maria Grazia Swan was born in Italy, but this rolling stone has definitely gathered no moss. She lived in Belgium, France, Germany, in beautiful Orange County, California where she raised her family, and is currently at home in Phoenix, Arizona--but stay tuned for weekly updates of Where in the World is Maria Grazia Swan?
As a young girl, her vivid imagination predestined her to be a writer. She won her first literary award at the age of fourteen while living in Belgium. As a young woman Maria returned to Italy to design for--ooh-la-la--haute couture. Once in the U.S. and after years of concentrating on family, she tackled real estate. These days her time is devoted to her deepest passions: writing and helping people and pets find the perfect home.
Maria loves travel, opera, good books, hiking, and intelligent movies (if she can find one, that is). When asked about her idea of a perfect evening, she favors stimulating conversation, Northern Italian food and perfectly chilled Prosecco--but then, who doesn't?