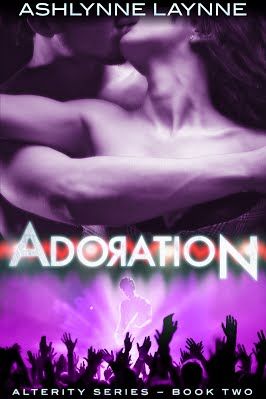 Contemporary/ Rocker Romance
Desire. Surrender. Discovery.
A man committed to shaping his future…
Austin MacKenzie shares a passionate relationship with Liz Carlisle, a union rooted in mutual respect and honesty. A feat complicated by the vow of purity handed down by his Scottish forefathers and the ire of his scorned ex-girlfriend. When a series of tragedies rock their worlds, the couple must fight for their relationship and lives.
A woman about to discover the mystery of her past…
Liz Carlisle has led a challenged life. The survivor of a childhood stained by drug addiction and poverty, Austin MacKenzie's love is helping to mend her heart from the inside out. But echoes from the past threaten to destroy her newfound happiness.
With music as a common bond…
Fate brought them together, but music remains the centrifugal force tying Liz and Austin to one another. With the popularity of their Indie rock group growing, Cupid's Crush prepares to join alternative rock sensations, Justice Denied, on the European leg of a worldwide tour that promises to catapult them to mega stardom.
Ashlynne Laynne is the author of contemporary romance and the award-winning erotic paranormal romance succession, The Progeny Series, as well as an accomplished songwriter and poet. She's an avid horror movie fan, admitted vamp groupie, and lover of all things Celtic. A hopeless romantic, she's always had a thing for the fanged ones and hot guys in kilts.

Ashlynne writes on the edge and combines erotica and romance in sensual tales that always feature heroes with heart. A flexitarian, Ashlynne enjoys cooking vegetarian recipes that support a healthier lifestyle. In her spare time, she likes to read, watch crime shows, and spend time with her family. Ashlynne juggles the hats of wife, mother, full time employee and part-time writer, hoping to write exclusively in the future.

Ms. Laynne is an advocate of autism research and is always looking for projects to benefit the cause. She lives in the southern United States with her husband and son.

Ashlynne Stats
Zodiac: Leo
Favorite Music Genres: Alt Rock, 90's Grunge, Pop
Favorite Musical Acts: Maroon 5, Rihanna, Lil Wayne, Bruno Mars, Jay-Z, Beyoncé, Imagine Dragons, Florida Georgia Line, Adele, Rob Zombie, Robin Thicke, Kings of Leon, Coldplay, Drake, Justin Timberlake, Sam Smith, Ariana Grande, Eminem, Evanescence
Favorite Movie Genre: Horror
Favorite Television Shows: Family Guy, Outlander, Deadly Women, Wives with Knives, American Horror Story, Bate's Motel, Grey's Anatomy, Orange is the New Black
Favorite Color: Pink
Favorite Authors: Stephen King, Anne Rice, Diana Gabaldon, Sylvia Day
Book Boyfriends: Gideon Cross from the Crossfire Novels, James Fraser from the Outlander Series, Zsadist from the Black Dagger Brotherhood
Favorite Literary Heroines: Katniss Everdeen from the Hunger Games Series, Claire Beauchamp from the Outlander Series
Foods: Yogurt, Chocolate Milk, Chicken Alfredo
Find Ashlynne's Books at these online retailers