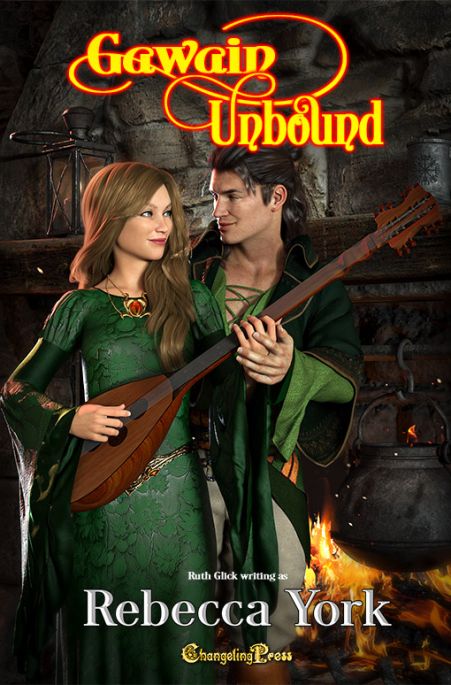 Erotic Fantasy Romance
Date Published: 2/25/22
When Killian returned alive after an enchanted captivity, his younger brother Prince Gawain was more than happy to step aside as heir to the throne of Abercarn. Now, though, Gawain is at loose ends -- until Lady Catrin seduces him and secures his agreement to stalk Madrin, the evil magician who enchanted Killian and killed her father.
Posing as troubadours, the two battle adversity together and find that they are connected by more than their hatred of Madrin. Yet despite their growing longing for a life together, neither of them is willing to abandon their dangerous quest. Their confrontation with their powerful and wily enemy will be the ultimate test of their resolve and their love.
Excerpt
She collapsed on top of him, her sweat-slick body sliding against his for a moment before she levered herself away and collapsed to the moss beside him, leaving him breathing hard as he regained his senses.
What did I just do? He might have sprung away from her then, but her hand shot out to grasp his wrist, holding him in place.
He glared down at her. "What just happened?
"You had your way with me."
"I believe it was the other way around. Did you bewitch me?"
"No."
"Then what in the names of all the gods happened?"
A smile played about her lips. "We fucked each other to a very satisfactory conclusion."
His harsh laugh filled the glen. "Tell me, how did we go from conversation to fucking in the blink of an eye?"
"It was what you wanted."
He considered her answer. "I might have wanted you, but I never would have acted with such haste."
"I know." She dragged in a breath and let it out. "My father, Simon Waller, was a mage." Before Gawain could interrupt, she went on. "The skill passes from one generation to the next, sometimes strongly and sometimes with lesser effect. I have only a fraction of his powers, but I have one talent that serves me well. I can urge a man or a woman to do something that they are already contemplating. You wanted to fuck me, and I helped you go from thought to action."
He couldn't deny the desire he had felt and the unseemly way he had acted upon that desire. Realizing that they were having this conversation in the nude in a forest glen, he began gathering up the clothing he had discarded. When she saw what he was doing, she also reached for her drawers.
They both dressed quickly. When she finished adjusting her dress, she met his gaze. "And you would compel me to accompany you on your journey to find Madrin and punish him?"
She shook her head. "I would never compel a man to undertake a task that could lead to his death. A decision like that must be made without coercion."
About the Author
New York Times and USA Today Best-Selling Author Rebecca York began her career as a journalist writing articles for newspapers and magazines, but after several years decided to try writing fiction. She's a highly successful author of over 50 romantic suspense and paranormal novels and is the head of the Columbia Writers Workshop. Her many awards include two Rita finalist books. She has two Career Achievement awards from Romantic Times: for Series Romantic Suspense and for Series Romantic Mystery. Her Peregrine Connection series won a Lifetime Achievement Award for Romantic Suspense Series. She collects rocks, and enjoys cooking, walking, reading, gardening, travel, and Mozart operas.
Follow the Publisher on Facebook, Instagram and Twitter: @changelingpress
Pre-Order Now: