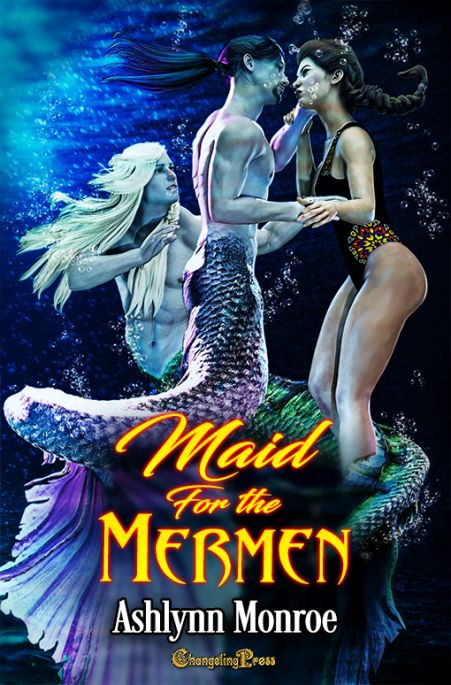 Fantasy Romance, Paranormal Romance, Shapeshifters, Reverse Harem
Date Published: 11/25/2022
Couch surfing and temp jobs were a way of life for Daisy Daniels after she aged out of the foster care system. She's always taken life one day at a time and gone with the flow. What she never expected is that flow would lead her down a raging current of uncertainty about her life and the world she knows.
River, Ocean, and Bayou Waterson need someone to keep their island home neat and tidy, but they have a problem. They can't trust any old cleaning service. They need to find someone who will be willing to overlook their differences. What they never expected was to find a live-in maid they would all love.
When Daisy discovers the celebrity treasure hunters are really mermen, will she be able to keep her head above water? An ancient prophecy brings danger to their doorstep. Forces she never imagined are conspiring to destroy everything that matters to her. The only thing that can save her is a bond she can't break. Saving the world definitely wasn't in the job description.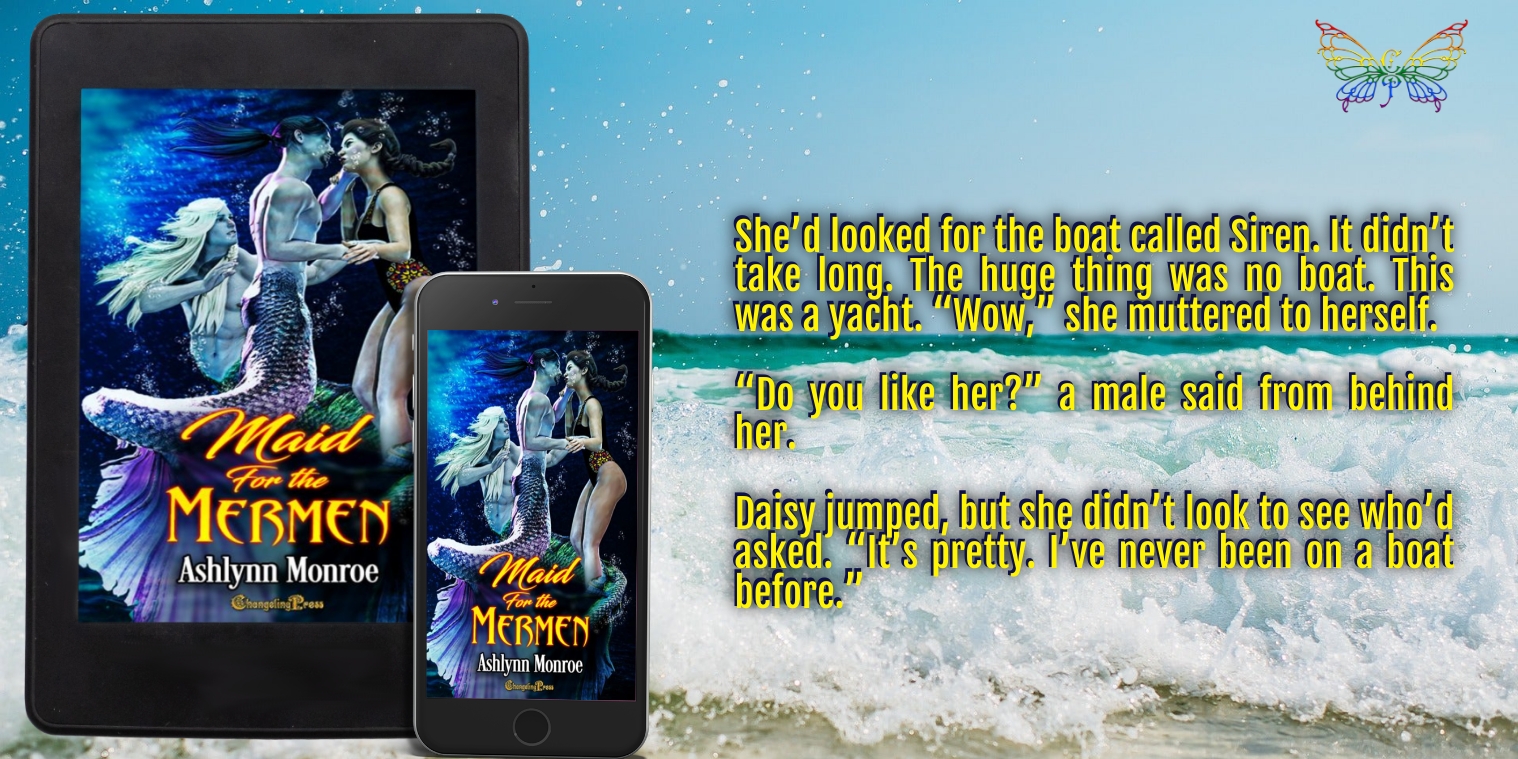 EXCERPT
All rights reserved.
Copyright ©2022 Ashlynn Monroe
Daisy had slept -- more like tossed and turned -- at Sally's the previous night. It felt weird leaving her vehicle behind at the harbor, the rusty hunk of junk being her most valuable possession. She'd been told to bring a bag in case this worked out and she could spend the night settling in. Everything she owned fit into a large suitcase and overnight bag, so she decided to bring it all. After grabbing her pillow, she looked at the small pile on the ground. So little to show for twenty-one years of life. It caused a wave of melancholy to wash over her while locking the car.
She'd looked for the boat called Siren. It didn't take long. The huge thing was no boat. This was a yacht. "Wow," she muttered to herself.
"Do you like her?" a male said from behind her.
Daisy jumped, but she didn't look to see who'd asked. "It's pretty. I've never been on a boat before."
"Are you Daisy Daniels?"
When she heard her name, she turned. Her mouth went dry. She'd seen an episode of his TV show with Sally here and there, but she'd always been more interested in playing with her phone than the program. She vaguely recognized this guy as one of the hotties Sally drooled over. He wasn't just TV pretty. This guy was hot. A total hunk. His long black hair, casually tied back in a ponytail, made her a bit envious. He had a black goatee and eyes so brown they could have been black. His skin, tanned, and his upper body, powerful. His arms looked like they belonged to a body builder. She opened her mouth, at a loss for words.
He grinned, as if amused. "You do realize this job is on an island. The only way off and on is by boat. Are you sure you're up for it?"
Mort's had already replaced her with another temp. She needed this job. Nodding, Daisy dropped her overnight bag and stuck out her hand. "I'm up for it."
"River Waterson." He shook her hand firmly.
Daisy picked up her bag. She couldn't help wondering if it was actually his name or a stage name for his reality show.
"Let me take something for you," River offered. He gave her a tight smile.
"You don't have to do that, Mr. Waterson. It's not heavy." Years of having things stolen made Daisy nervous to hand off her belongings.
"Don't worry, I won't run off with it." He held out his hand. "And please, it's River. Three Mr. Watersons could get a bit confusing."
Daisy nodded. Wanting to seem cooperative and make a good impression, she reluctantly let him take the handle of her suitcase. He rolled it behind him as they approached the boat.
They walked to the dock and then up a wobbly metal ramp. Daisy took hold of the railing, feeling a little woozy.
"Careful. You'll need to get those sea legs if we all agree you're a good fit," River said.
Worry nibbled at the back of her mind. His words reminded her this wasn't a sure thing, but an interview. Whatever happened, she'd just have to figure things out. Silently, she cursed Sally's idea. It wasn't as if Daisy qualified as maid material. These guys would probably see that. At least Sally would be obligated to let Daisy crash at her place.
"Do you have time left on a lease somewhere?" River asked.
Daisy mentally cursed. She still wasn't totally sure how to frame her lack of permanent address, so she didn't sound flighty. And was this guy some kind of mind reader or just super perceptive?
The author on…
Publisher's Instagram/Facebook/Twitter: @changelingpress