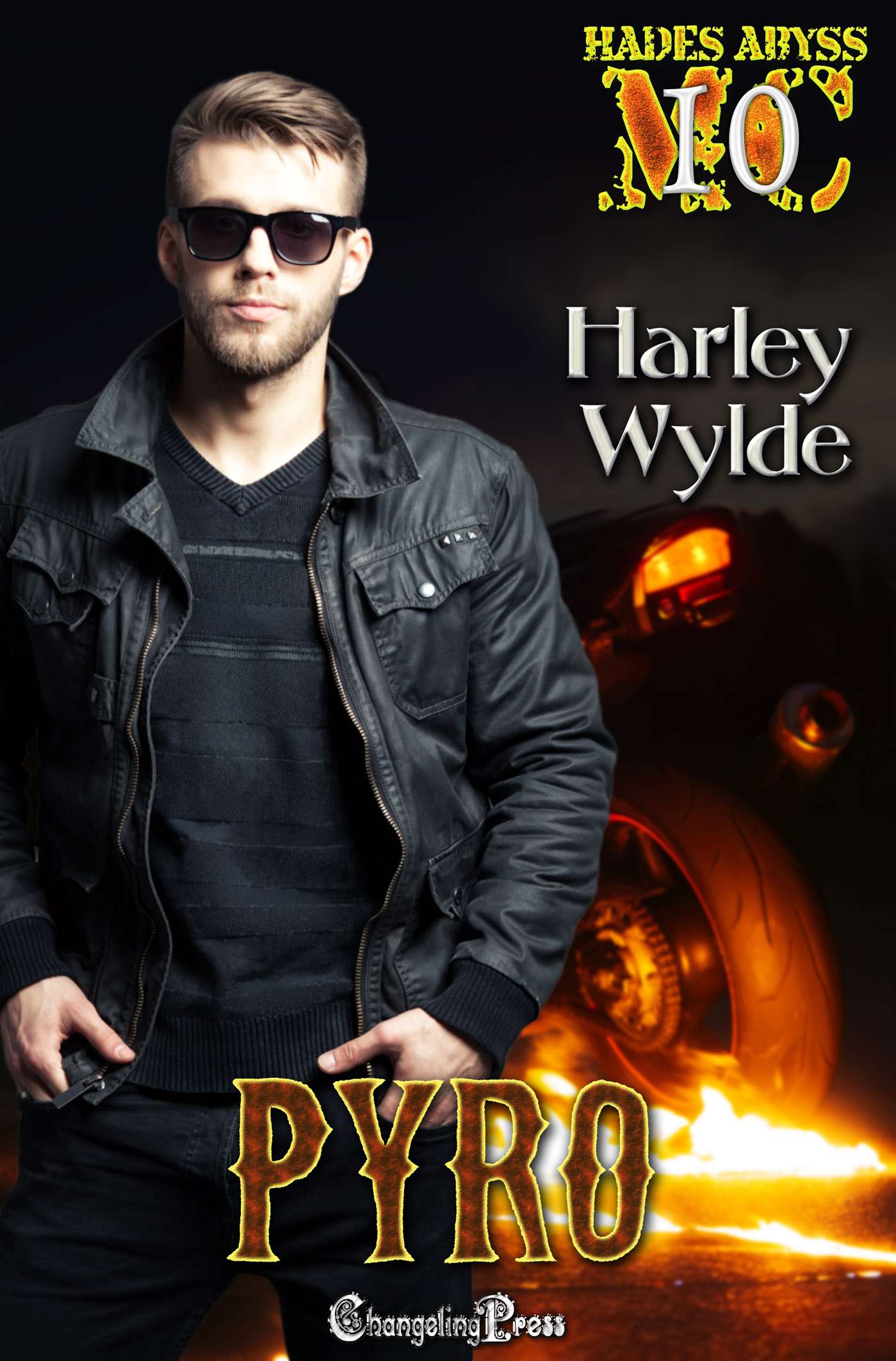 (Hades Abyss MC, Book 10) (Mississippi Chapter)
A Dixie Reapers Bad Boys Romance
Motorcycle Club Romance / Suspense / Age-Gap
Date Published: October 27, 2023
Publisher: ‎ Changeling Press LLC
Roe -- My world turned upside down about a year ago. I need a fresh start, and since my dad and brother are both part of the Hades Abyss MC Missouri chapter, they decide to send me to their brothers in Mississippi. I don't really care as long as I'm anywhere but here. I'd thought things would be different. Until I end up in trouble and scared to death. Sometimes it's the people you least expect who stab you in the back. I don't know if I'll make it out of this one alive.
Pyro -- The moment I saw her, I knew she was meant to be mine. I tried to keep my distance and give her time to adjust to her new home. Best laid plans and all. I've claimed her, my Pres is pissed, her dad and brother are even angrier, and to make matters worse my past may have caught up to me. Now Roe is in danger, and I want to set the world on fire. Once I find her, none of the bastards responsible are getting out of there alive. I'll show them exactly how I got my name, and make sure everyone knows to never touch what's mine.
WARNING: Recommended for readers 18+ due to adult situations, language, and violence. Guaranteed happily ever after, no cliffhanger, no cheating.
EXCERPT
Copyright ©2023 Harley Wylde
Marauder's daughter had been with our chapter of the club for the last three months, and to most people it probably appeared she was doing well. Except I wasn't most people. From the first moment I saw her, Roe had absolutely captivated me. Everyone thought Cotton was chasing after her out of a sense of obligation. After meeting her, I had to wonder if he hadn't fallen head over heels in love with her. The fact she didn't share those feelings meant it didn't really matter. I personally hoped she decided to stick around for a long time.
Stone came up and lightly punched me in the shoulder. "I see you're still stalking her. You know, you could just man the fuck up and go say hi. Ask her out for dinner. Take her to a movie. Something other than lurking in the shadows and watching her every move. I've heard women aren't really into creepers."
"What the hell would you know about it? When's the last time you went on a date?"
Stone snorted. "Fair enough. Still, I'm not too sure Marauder would like the way you follow his daughter around."
He was probably right. Just the same, I didn't plan to back down. What if something happened to her when she went into town? She'd been harmed inside the clubhouse at our Missouri chapter. I didn't understand why no one else seemed concerned about her well-being. Did none of them notice her smile never reached her eyes? More than once, I'd noticed the way she pressed her hand to her belly.
I was nowhere near as good at computers as Wizard and the other hackers, but it didn't mean I was unable to dig up information when I needed it. Roe had probably thought there wouldn't be a paper trail if she paid for her clinic and ER visits in cash. It hadn't been too difficult to discover the paperwork for her miscarriage. Either she'd never told her father and brother, or they were catering to her and letting her pretend it didn't happen. Seeing as how she tried to hide everything, I was betting they had no clue what she'd been through. Had she even told Cotton?
The club could continue treating her as if nothing were wrong, but I knew differently. She had tried to bury her pain deep, and only those observant enough could see how much she was hurting. I watched as she got into her car and headed for the front gate. I gave her time to clear the entrance before getting on my bike and following at a distance. My Harley-Davidson wasn't exactly quiet. There was no way she didn't hear me. This wasn't the first time I'd tailed her into town and it wouldn't be the last.
Roe parked outside of the local diner and went inside. I took the open spot next to her and watched through the window as they seated her at a booth directly in front of me. She didn't glance my way. The way she played with the sugar packets on the table belied her anxiousness. Anyone else in the club would have given her space. Something told me that was the last thing she needed. I headed into the diner and took the seat across from her.
A waitress came over and set two menus on the table. "What can I get the two of you to drink?"
"Sweet tea for both of us," I said. Yeah, I knew her drink preferences, as well as her favorite foods.
The woman wrote it down and hurried off, leaving the two of us alone. I opened a menu and placed it in front of Roe before picking up the other one. I may know what she'd most likely order, but it didn't mean I wanted her to realize it. Even after we placed our food order, she still hadn't acknowledged my presence.
I leaned back in the booth and stretched my legs out under her seat, crossing my feet at the ankles. A faint smile twitched her lips. At last, I'd gotten some sort of reaction out of her.
"You're like a giant cat," she said.
"Does that mean you're going to pet me?"
That time I got an actual smile out of her. Her gaze finally met and held mine. We hadn't had many chances to talk before now. She had mostly kept to herself.
"Sorry, but I don't pet strays."
I placed my hand over my heart and winced. "Ouch. Talk about a direct hit."
Some would say I'd been very much like a stray cat, following her around and keeping my distance. Except I hadn't done it for myself.
"If you're anything like my dad and brother, that didn't even remotely put a dent in your ego. I think you'll survive."
I wanted to keep her talking, but I wasn't sure what topics to discuss. I knew she liked audiobooks, coming to this diner, and going to church on Sundays. Other than the food part of all that, I couldn't really relate. When it came to books, I preferred reading them. As for church, I'd probably burst into flames if I were to walk through the doors. It would probably be a good idea to never tell her how I got the name Pyro, especially since the first thing I ever set on fire was the house of God. Not the one she attended, but I didn't think it would matter.
"Did my dad or brother pay you?"
"I'm afraid I don't follow," I said.
"Oh, but you do, and that's precisely why I asked the question. Are you supposed to be guarding me or something?"
And here I thought she'd been completely unaware. The fact someone kept tailing her would have been obvious. None of our motorcycles were quiet. I hadn't realized she knew it was me, unless she only meant this one specific time.
"Maybe I just took it upon myself to make sure you stayed safe."
"Does that mean you're worried the same thing will happen to me again?" she asked.
I wasn't sure how to answer her. Did I think it was likely someone would drug her drink at the clubhouse? No. For one, she never went there. And second, I was certain she'd already learned her lesson about being careful with her drinks at a bar. Of course, that didn't mean I thought any of it had been her fault.
"There's trouble all around us every day, and I don't necessarily mean the club. You could step off a curb while looking at your phone and get hit by a car. Someone could snatch your purse or hold you at gunpoint to rob you, if not something worse. So no, I don't think the exact same thing will happen, but it doesn't mean this world is a safe place either. The thought of you being hurt doesn't sit well with me."
Her gaze softened marginally. The waitress approached and set our drinks on the table. Roe smiled up at her and said a soft thank-you. We placed our order and I took the time to study the woman sitting across from me. Sure, I'd been watching her since she'd come to our club, but I hadn't had an opportunity to sit so close to her until now. From the first moment I saw her, I'd thought she was beautiful. When she'd gotten out of her car, I'd noticed the unevenness of her hair before I took stock of anything else. It looked so butchered I knew she had to have done it herself. Less than twenty-four hours later, Phoebe had gone with her to a salon, and she'd come back with a cute and sassy style that hung longer in the front than the back. It suited her.
I'd been curious about what happened to make her cut her hair off in such a way. We'd been told she asked to stay with us in order to have a fresh start. I had to wonder if the combination of her miscarriage and Cotton constantly hounding her had finally pushed her to the breaking point.
"You've been here about three months now and haven't seemed to have much luck finding a job. Then again, I don't think you've been looking all that hard."
She shifted in her seat. "And your point?"
"I just find it interesting. We were told you needed a new start in a new town. So far it's looked more like you're hiding. It can't be from Cotton because I'm sure he knows exactly where you are. The Missouri chapter said you're a good girl and don't have any enemies. The only thing I can figure you'd have to run from is yourself."
She twisted the glass of sweet tea in front of her. I could see she had a lot on her mind, and I wished she'd open up and share. If she only wanted someone to listen, then I'd be happy to do it. Or if she needed advice, I'd do my best. It was difficult to get her to talk about herself much less her problems, according to Phoebe. I couldn't very well tell her I knew about the miscarriage.
About the Author
Harley Wylde is an accomplished author known for her captivating MC Romances. With an unwavering commitment to sensual storytelling, Wylde immerses her readers in an exciting world of fierce men and irresistible women. Her works exude passion, danger, and gritty realism, while still managing to end on a satisfying note each time.
When not crafting her tales, Wylde spends her time brainstorming new plotlines, indulging in a hot cup of Starbucks, or delving into a good book. She has a particular affinity for supernatural horror literature and movies. Visit Wylde's website to learn more about her works and upcoming events, and don't forget to sign up for her newsletter to receive exclusive discounts and other exciting perks.
Author's Instagram, TikTok, and Facebook: @harleywylde
Author on Twitter: @HarleyW_Writer
Publisher on Twitter, Facebook, and Instagram: @changelingpress