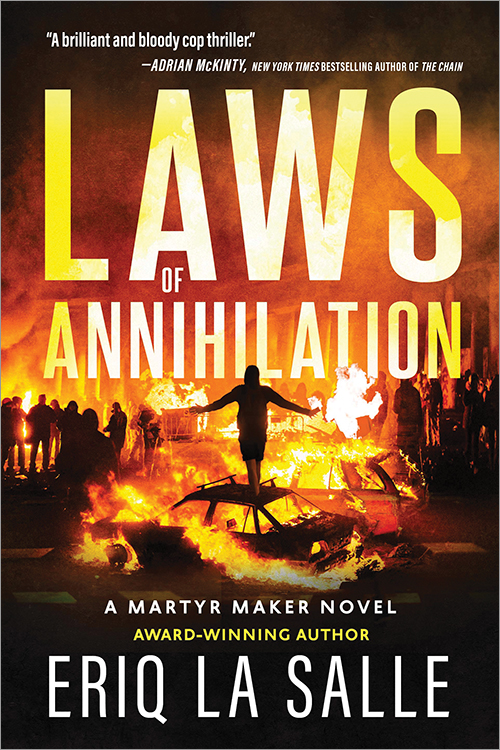 Martyr Maker Series, Book 3
Mystery & Thriller / Literature & Fiction / Religion & Spirituality
Date Published: 10/24/23
Publisher: Sourcebooks
"Eriq La Salle has emerged as a terrific writer with unique gifts." ―Don Winslow, #1 international bestselling author
A war is brewing in New York City, and no one can stop it.
With grit, relentless action, and twists you'll never see coming, Laws of Annihilation is the third installment in the highly-acclaimed Martyr Maker series by Eriq La Salle.
It's another blistering summer in New York City, and a sweltering heat wave stifles the area. Hostility between the Hasidic and Black communities has been steadily increasing since a tragic incident left a Black teenager dead. When two rabbis are killed in a gruesome attack on their synagogue, it has all the signs of retaliation.
The entire city is on edge.
Through it all, Agent Janet Maclin's dreams of becoming the FBI's first female director come crashing down when she receives some devastating news. In spite of it all, she's determined to help NYPD detectives Quincy Cavanaugh and Phee Freeman find the rabbis' killer as more hate crimes put the city on the brink of all-out war. As the body count climbs with the temperature and the tensions, time is running out for Maclin in more ways than one.
Apart from his critically-acclaimed thriller titles, La Salle is a masterful mystery/crime storyteller. He may be best known for his acting roles in productions such as ER, Coming to America, and Logan, but his background in crime fiction was finely honed as he directed and executive produced countless episodes of popular shows such as Law & Order, Law and Order SVU, Law & Order: Organized Crime, CSI: NY, and Chicago PD with Dick Wolf.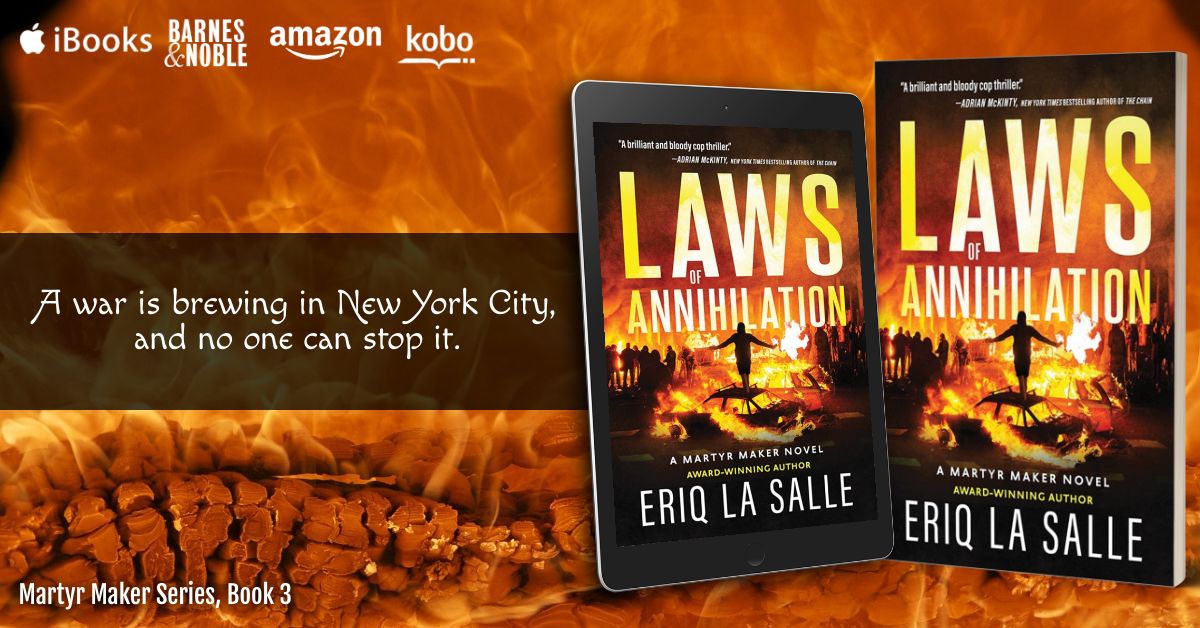 Praise for Eriq La Salle's Martyr Maker Series
"Laws of Wrath is all thriller; no filler―a white knuckled treat."
―James Patterson, New York Timesbestselling author
"Laws of Depravity is a gritty crime thriller, spiritual quest, and love story all woven into one compelling tale."
―Publishers Weekly
"Fast paced…Characters are richly textured [and] none is without faults."
―Kirkus Reviews, for Laws of Wrath
About the Author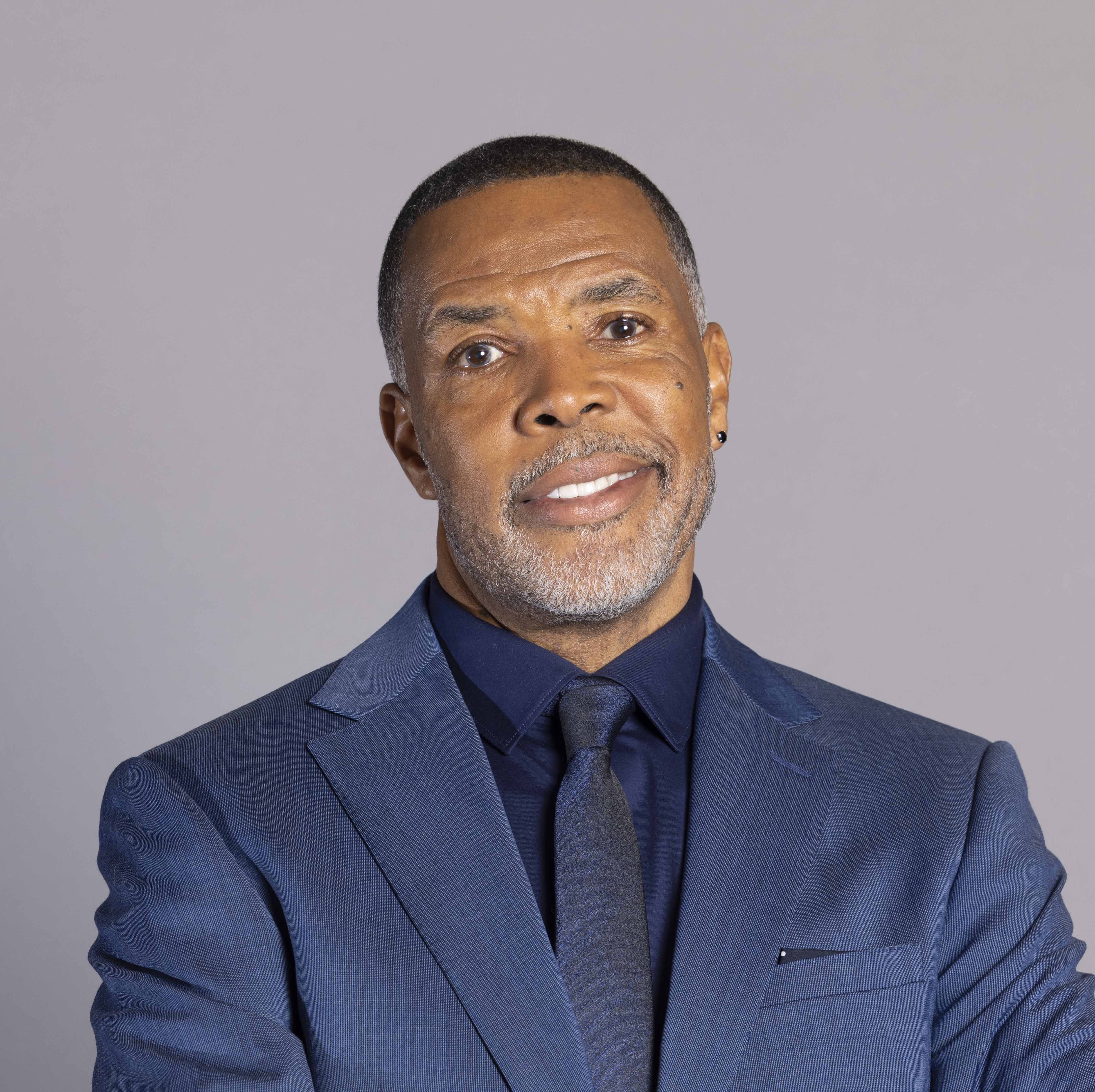 Actor, director, producer, and masterful storyteller Eriq La Salle is best known to worldwide television audiences for his award-winning portrayal of Dr. Peter Benton on the medical drama ER. Educated at Juilliard and NYU's Tisch School of the Arts, his credits range from Broadway to film roles, starring alongside Eddie Murphy in Coming to America, Robin Williams in One Hour Photo, and Hugh Jackman in Logan. La Salle has maintained a prolific acting career while also taking the helm as director for HBO, Showtime, Netflix, Amazon Prime, ABC NBC, Fox and CBS productions. His craft as a crime writer was honed over his many seasons as a key member of the Dick Wolf Entertainment team, which include four years as executive producer and director on Chicago PD, in addition to directing episodes of Law & Order, Law and Order SVU and Law & Order: Organized Crime. He is also executive producer, director, and one of the lead actors of Dick Wolf's "On Call," out in 2024 on Amazon Prime Video. As a writer, La Salle is the author of several critically-acclaimed thrillers published by Sourcebooks—Laws of Depravity (2022), Laws of Wrath (2023), and Laws of Annihilation (2023). His episode of The Twilight Zone recently made WGA's list of 101 Best Written TV Series. He lives in Los Angeles, California.
Contact Links
Purchase Links
a Rafflecopter giveaway