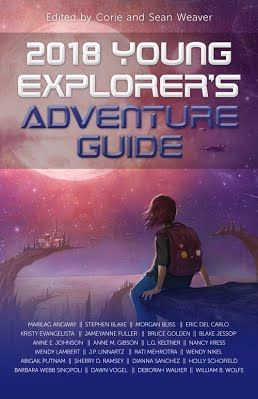 Middle Grade Science Fiction
Date to be Published:
December 6, 2017
For Explorers of All Ages!


Tumble forward in time with the fourth collection in the series Kirkus Review called "a must-have in science fiction collections." These twenty-four imaginative, entertaining tales take readers of all ages to exciting places — from star ships to Mars to alien adventure!


"There are not very many action, adventure, superhero, or sci-fi stories that feature girls, but there needs to be. I have read this whole book and now I have become even more interested in space and robots and things like that." ~ Lily F. (10 years old)
Excerpt from one of the Short Stories
THE GREAT BROCCOLI WI-FI THEFT
by Nancy Kress


Nancy Kress is the author of thirty-three books, including twenty-six novels, four collections of short stories, and three books on writing. Her work has won six Nebulas, two Hugos, a Sturgeon, and the John W. Campbell Memorial Award. Most recent works are the Nebula-winning novella "Yesterday's Kin" (Tachyon, 2014) and THE BEST OF NANCY KRESS (Subterranean, 2015). Forthcoming in 2017 is TOMORROW'S KIN (Tor), the first novel of a trilogy based on "Yesterday's Kin" and extending its universe for several generations. Kress's work has been translated into Swedish, Danish, French, Italian, German, Spanish, Polish, Croatian, Chinese, Lithuanian, Romanian, Japanese, Korean, Hebrew, Russian, and Klingon, none of which she can read. In addition to writing, Kress often teaches at various venues around the country and abroad; in 2008 she was the Picador visiting lecturer at the University of Leipzig. Kress lives in Seattle with her husband, writer Jack Skillingstead, and Cosette, the world's most spoiled toy poodle.
Do you know what a pas de chat is? I didn't either, two months ago. But I know now, and it's going to make me a hero. Really! Everybody will applaud for me so hard their hands will sting—especially Mom! They'll give me a medal! It's going to be great!
I'm going to solve a mystery that nobody else can solve.
Just as soon as I figure out how.
#
My name is Nia. I'm ten. I live sometimes on the moon, at Alpha Base, and sometimes on Earth, in Illinois. I like both places, but Illinois has a big problem: GRAVITY. There's too much of it here. I wish they could just ship some of this gravity to the moon and even things out a little bit, but it doesn't work that way. On the moon there isn't enough gravity to keep human muscles strong unless you exercise a lot, and I got lazy. So now I'm back on Earth because my mom's job moved us here—again!—and my muscles aren't strong enough. Which is why I was in ballet class doing a pas de chat. It was not my idea.
"No, no," said Mademoiselle Janine, who was in charge of the class. "Nia, you must land lightly. Lightly! Ellen, show her the pas de chat."
Ellen smirked at me and raised her arms. Pas de chat means "step of the cat," which is a really stupid name because it doesn't look anything like a cat. I know—we have a cat. In the pas de chat you bend one leg, jump off the other leg, bend that one in the air, then land lightly. If you can find a cat that can do that, I'll give you a million dollars.
Ellen did the step. She landed lightly.
"Now you try, Nia," Mademoiselle said.
I landed like a baby elephant.
"Well…" said Mademoiselle. "These things take practice."
Did I mention that ballet class was definitely not my idea?
#
"I want to quit ballet," I said at dinner. "I'm no good at ballet."
Dad said, "You're probably better than you think." Dad is always on my side.
Mom said, "You might not be good at it, but you can't go on quitting things when they get hard." Mom is always on the side of doing hard things.
"But I stink at ballet," I said. I pushed my mashed potatoes around with my fork. "I'm not good at anything."
"That's not true," Dad said. "You're good at a lot of things."
I said, "Name three!"
"Well…you're good at spelling."
"Nobody needs to spell good. Autocorrect fixes it."
Mom said, "Nobody needs to spell well. 'Well,' not 'good.'"
"See?" I said. "I'm not good at sentences, either! I'm not good at anything!"
"Yes, you are," Dad said. "You're good at training our pets."
That was true. We have a dog named Bandit, a robot-dog named Luna, and a cat named Pickles. I trained Bandit to fetch. I programmed Luna, which is the closest you can get to training a robot. I couldn't train Pickles to do anything, but…cats. They do what they want.
I said, "That's only two things."
Mom smiled. "You're good at getting into trouble."
Dad said warningly, "Angela…"
"I'm teasing! Nia, I just wanted to make you laugh!"
I wasn't laughing. Mom never understands!
But then she said, "Look, Nia, everybody has to practice and work hard in order to get good at something. Do you know how many times my broccoli has failed?"
Mom is a plant geneticist. That means she changes plants' genes to make them better. Right now she's changing broccoli, which in my opinion can't ever be made better no matter what you do to it. I hate broccoli. She was just making me feel worse.
She knew it, too, because she put her hand on mine and said, "Nia, honey, after dinner let me show you something."
I said, "As long as it's not broccoli."
To be continued in the 2018 Young Explorer's Adventure Guide!