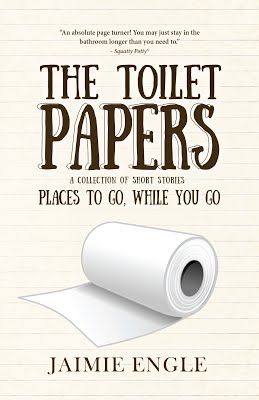 Short story collection (horror, humor, & historical)
Date Published:

7/23/2017
Have you ever noticed that reading a book on the toilet takes forever? Wouldn't it be nice to have stories suited to your specific potty needs? This collection of short stories ranges from 50 words to more than 50 pages, separated in categories labeled to fit your bathroom needs: NUMBER ONE, NUMBER TWO, and FARFROMPOOPIN. The idea is to give you, the reader, a great deal of material to read, tailored and categorized to the needs of your intestines and bladder. So go ahead, get comfortable, pull out your Squatty Potty® and enjoy some fantasy, science fiction, horror, adventure, and humor from the comfort of your own throne…the john…the latrine…your office…the bathroom, whatever you want to call it. Just be sure to wash your hands once you're done.
"Get him to his feet," Sarah ordered.
"Watch my shoulder," Jedediah said. "Hurts like a son of a bitch."
Sarah slipped beneath his wounded arm while Bobby Ray slipped under the other one. They led Jedediah to a seat that hadn't been overturned during the fight.
The cowboy knelt before him, pulling back Jedediah's shirt to scrutinize the wound. His face remained hidden by the wide brim of his hat. He wore hide boots whose origin Jedediah could only speculate and his skin smelled like fire.
"It's not too deep," the cowboy said. "Won't take me a minute." He pressed his large flat palm against the wound.
Jedediah bit the inside of his cheek to keep from screaming. His mouth pooled with the iron-taste of his own blood.
The cowboy lifted his hand.
Jedediah stared as the gaping holes in his flesh were completely healed; the tear in his blood soaked shirt was all that remained. "Well, I'll be damned."
"Be careful, bartender. You don't meant it." He leaned over the body of what had once been Frances Deveaux and whatever had tried to eat Jedediah. "This one's dead."
"Course he is," Bobby Ray said. "You killed him."
"No. This man's been dead." The cowboy rolled the body on to its stomach with the steel-tipped toe of his boot. "Was before he walked through those doors."
"The living dead?" Bobby Ray whispered.
"Of all the unholy things," said Sarah.
Beneath Frances Deveaux's shoulder blade lay an empty cavity where his liver should have been.
"Detestable." Sarah covered her mouth and swept to an empty seat near the bar.
"Did he say why he was here?" the cowboy asked, staring at the body.
"Not precisely. Just said some woman tried to kill him, so he gave her what she wanted."
"And what was that?"
Jedediah gulped hard. "Me."
The man looked up, his face in shadows. "You?"
"That's right."
"Did she say what for?"
"Never got to that part."
The man didn't say a word as he stared at Jedediah. Finally, he spoke. "Something's after you, Jed. I'm gonna stay in town a while to figure out what." He looked up. "You okay with that?"
His eyes shone in a radiant shade of violet. Dirty-blond hair fell ragged from beneath his hat.
"Yes, Simeon. I'm okay with it," Jedediah said. "I think I'm gonna need some help on this one."
"First thing to figure out is where this man's liver went. Hopefully, it will lead to this woman you mentioned." Simeon stood, walked back to the entrance, and turned in the doorway. "You all better get your feet shod," he said with a smirk, tipping his hat, "because it's about to get ugly."
Jaimie Engle was once sucked into a storybook, where she decided she would become an author. She has modeled, managed a hip-hop band, and run a body shop. She loves coffee, trivia, cosplay, and podcasting on ORIGINS, where myth and science meet (podcastORIGINS.com). Basically, if it's slanted toward the supernatural or nerdy, she's into it! She lives in Florida with her awesome husband, hilarious children, and the world's best dog. She also happens to have the world's best literary agent, Saritza Hernandez. Become a fan at theWRITEengle.com. Follow on social media @theWRITEengle and pick up books at jmebooks.com.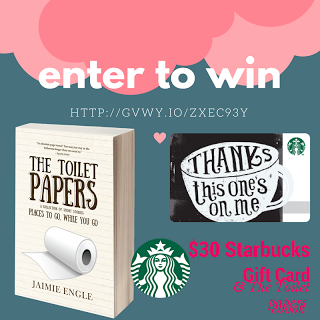 Rafflecopter: July 6 – Aug 6 ($30 Starbucks GC; Toilet Papers ebook)
Goodreads Giveaway: July 1 – July 22 (3 paperbacks)