The Duchess Society Series, Book Two
Historical Romance, Regency Romance, Steamy Romance
Date Published: January 6, 2022
Publisher: WOLF Publishing
In this enemies-to-lovers Regency romance by award-winning author Tracy Sumner, a bold lady and a ruthless duke realize they need to agree to an ardent alliance to get what they want.
He knew at first sight.
She knew at first kiss.
Helena Astley, Lady Hell to the ton, has plans. To control her father's shipping business, to live her way, by her rules. Her plan is going remarkably well until one ill-advised kiss invites the duke she doesn't want but cannot resist into her life.
Hardnosed Roan Darlington, Duke of Leighton, cares little for society or finding a duchess. The only person ever to challenge him is the incorrigible, infuriating Helena Astley. The one woman he's never been able to forget. When they're caught in a ruinous situation, Roan offers her an alternative. A sham engagement she can break off after Christmas.
As they discover a world of forbidden pleasure, Helena must decide if she can relinquish a heart she vowed to withhold from the only man powerful enough to seize it.
And Roan must decide if falling madly, passionately in love is worth the risk.
Other Books in The Duchess Society Series: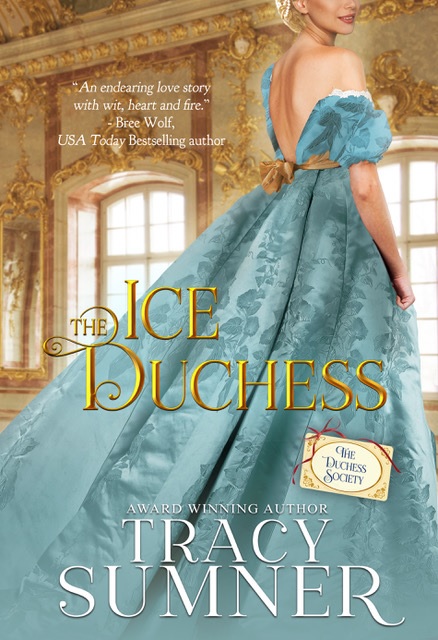 The Ice Duchess
Prequel to the Duchess Society Series
Release Date: July 22, 2021
A scandalous countess plays matchmaker…for a man she once longed to take for herself.
Georgiana Whitcomb, Countess Winterbourne, is known as the Ice Countess for her rebellious ways and refusal to marry again. But a scandalous Christmas wager fashioned by Georgiana's childhood obsession changes everything.
The demanding duke needs a bride…
Dexter Munro, mere days from becoming the Duke of Markham, made a promise to his dying father to find a wife by the Twelfth Night. Except the only woman he's ever desired has vowed never to marry again. Not even to become his duchess.
Georgiana and Dex share a sizzling attraction and a wicked past…but is their scorching passion enough to melt the Ice Countess' heart?
If you adore sexy Dukes, feisty Duchesses, and a steamy second-chance romance set in the magnificent Regency era, The Ice Duchess is the romance novel for you!
The Brazen Bluestocking
The Duchess Society Series, Book One
Release Date: September 30, 2021
Publisher: WOLF Publishing
In this Regency romance by award-winning author Tracy Sumner, a willful bluestocking matches wits with a devilish scoundrel she never expected to desire with every beat of her heart.
A defiant society outcast.
A forbidding rogue who doesn't believe in love.
And a passionate wager.
Daughter of an earl, Lady Hildegard Templeton hasn't conformed to what society expects from a woman of her station. Industrious and unique, she's created an emboldened organization for women on the cusp of marriage, The Duchess Society. Called a bluestocking to her face and worse behind closed salon doors, she vows to marry for love. And nothing but. Although the emotion has never shown itself to her. Until she meets him.
Bastard son of a viscount and king of London's sordid streets, Tobias Streeter has spent a lifetime building his empire, and he needs the Duchess Society to find a suitable wife. An asset to expand his worth in society's eyes. But he vows his search will have nothing to do with love and everything to do with vengeance. Until he meets her.
Soon, Tobias and Hildy's plans are in turmoil as they choose between expectation, passion, and love.
The Wicked Wall Flower
The Duchess Society Series, Book Three
Publisher: WOLF Publishing
Coming Soon

About the Author
Award-winning author Tracy Sumner's storytelling career began when she picked up a historical romance on a college beach trip, and she fondly blames LaVyrle Spencer for her obsession with the genre. She's a recipient of the National Reader's Choice, and her novels have been translated into Dutch, German, Portuguese and Spanish. She lived in New York, Paris and Taipei before finding her way back to the Lowcountry of South Carolina.
When not writing sizzling love stories about feisty heroines and their temperamental-but-entirely-lovable heroes, Tracy enjoys reading, snowboarding, college football (Go Tigers!), yoga, and travel. She loves to hear from romance readers!
Author Links:
Publisher Links:
Purchase Link