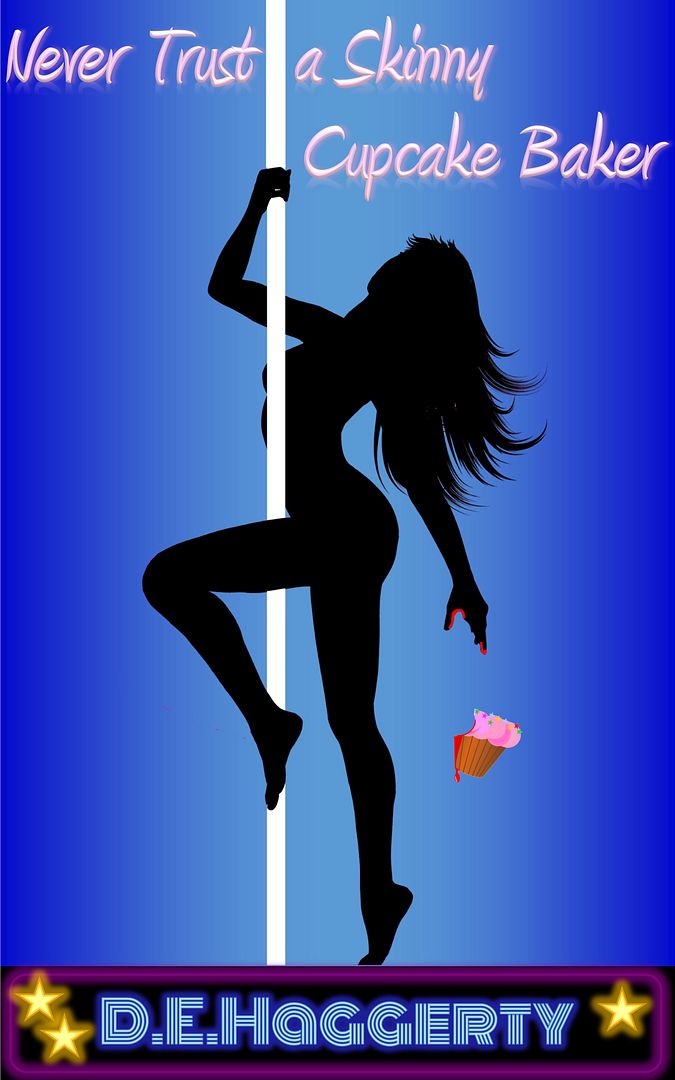 Date Published:
April 11, 2016
A cozy mystery with a heap of laughs, a generous portion of romance, and just a smidgeon of suspense.
Callie's life is rather awesome. She owns a successful bakery and teaches German literature at the local university. There's just one tiny problem. She has no self-confidence when it comes to her body. And then there's the little matter of her being accused of murdering her pole dancing instructor. There's no way Callie's going to risk losing her teaching position and thus she embarks, with her best baker bud Anna, on a journey to discover the real killer. Between stripper auditions and a detective who insists Callie is the woman of his dreams, it's a roller coast adventure. Cupcakes not included.
I take a deep breath and walk into the club. It's dark and smoky. No surprise there. The floors are covered in shag carpeting, the walls are painted a red so deep it looks black, and the chairs are red velour. Is strip club a euphemism for whore house? To the right is a shiny, black bar. Straight ahead is a stage in an M-shape with three stripper poles. Of course there are stripper poles. Dolly worked here after all.
"You next?" A man shouts, and I nearly jump out of my shoes. I look to my left to see two men in shiny suits sitting at a table in the middle of the room. "Come on, doll, are you the next dancer?"
The man rolls his eyes and talks to the man next to him. "Not the brightest one of the bunch is she?" He turns back to me. "Come on, sweetheart." He looks me up and down, and I feel the sudden need to shower with bleach. "You've got the body for it. Show us what you can do."
I've got the body for it? Have we landed on planet opposite? I'm still trying to figure out how to respond when Anna grabs my hand. "Where are the dressing rooms? She needs to change."
The man points to a door on the right side of the stage behind the bar. "Hurry up. We ain't got all day!"
Anna pulls me to the door. I stumble behind her unsure if I should follow her or get the heck out of Dodge. She pushes through the door and looks around before spotting a room filled with racks of clothing. She lets my hand go and starts pawing through the outfits.
"Anna, stop!" I say when my brain finally catches up. "I can't go up there and dance. Let's just get out of here and come back another time."
I don't even get a chance to stand up from the chair before Anna's on me. Her tiny body boxes me in the chair. "I don't want to hear it! You heard the man. You've got the perfect body for this because you're… let's say it together… sexy!" She turns back to the rack of clothes. "Besides, while you're up there doing your thing, I can snoop around." She pulls out an outfit and hands it to me.
I don't have a choice but to take the hanger as she shoves it in my hand. There's not enough fabric here. She's got to be kidding me. "I can't wear this," I protest.
Anna's having none of it. "You will wear it, and you will go up on that stage and totally rock! In the meantime, I'll be doing some investigating so we can save your job. You know the one that you spent the last 10 years studying and preparing for?"
I want to scream and shout and fight her, but I don't really see what other option we have. I suppose we can sneak out the back door, but then we'd have to come back at some point as this is our only lead. Mr. Creepy #1 and Mr. Creepy #2 might not recognize me – a chubby girl with boring brown hair. But a tiny pixie with bright pink hair? I shake my head and put on the darn outfit.
I grew up reading everything I could get my hands on from my mom's Harlequin romances to Nancy Drew to Little Women. When I wasn't flipping pages in a library book, I was penning horrendous poems, writing songs no one should ever sing, or drafting stories which have thankfully been destroyed. College and a stint in the U.S. Army came along, robbing me of free time to write and read, although I did manage every once in a while to sneak a book into my rucksack between rolled up socks, MRIs, t-shirts, and cold weather gear. A few years into my legal career, I was exhausted, fed up, and just plain done. I quit my job and sat down to write a manuscript, which I promptly hid in the attic after returning to the law. Another job change, this time from lawyer to B&B owner and I was again fed up and ready to scream I quit, which is incredibly difficult when you own the business. Thus, I shut the B&B during the week and in the off-season and started writing. Several books later I find myself in Istanbul writing full-time.