Date Published: June 1, 2021
Publisher: Kallisto Gaia Press
Perpetrator. Bystander. Victim. Krystal Riordan watched as her boyfriend beat a drunk teenager to death in a vermin-infested hotel room. Could she have stopped it? Could she be his next victim? She is serving the maximum 30-year sentence while the man who beat the young woman to death is about to be released. This is no anomaly. Studies show over 80% of women who fail to stop their partner from committing a violent crime serve more prison time than the perpetrator. What does it take to survive in a maximum-security lockdown for 30 years? Is it possible to thrive? The answers only lead to more questions.
Excerpt
Somehow, the angels' wings kept me alive long enough
to find out I wasn't doing 30 years, but sentenced to nine years.
—Lucy Weems, Inmate #781192
Her father, alarmed by the Public Defender's 30 years, manages to hire a real attorney, and then everything changes. The facts of the case become distortions. He examines the evidence and gets much of it thrown out—blurry video footage, tainted DNA exhibits. The plea deal's 30 years gets dropped to 15 and then to 9. Lucy accepts the 9 years and will be transported to Edna Mahan Correctional Facility for Women to begin serving her time. Ramón, the hard-core dealer who bullied his customers and sold tainted dope, shows up at the sentencing and claims he'll be traumatized for life.
&
In the doggie wagon van the sun has gone out, and Lucy sits with her head bowed. There's no room to straighten up without hitting the van's roof. Better to contemplate the shackles around her ankles and the handcuffs encircling her wrists. Soon she'll add inmate to her list—a college graduate, a flutist, an artist, a mother, a wife, an accountant, a heroin addict, a prostitute, and an armed robber and kidnapper.
Maybe it rains only inside her or the doggie wagon. The same kind of van that Animal Control transports stray dogs in. All afternoon it's been the gray overcast that makes you feel like you're floating inside the steam that rises off a kettle. Yet she's high on being out of Cell 1313. She's interested in her neighbors, her fellow prisoners, and the noises of the interstate. Instead of how the jailed world sounded—the outside muffled and half drowned. After being in solitary confinement for a year, the breathing and shuffling of her neighbors being transported to prison is music.
&
You can feel the highway but not see it. One of the other prisoners says she's from Newark and the other from Camden. The Newark girl violated her parole and she's on her way back to EMCF. This is her return trip past the cliffs of Weehawken, past the sea-oats sloughs that once flourished and now are a toxic nothingness that ducks putter through.
So long, Newark, all dying cathedrals and abandoned factories. So long, tall clusters of trees, poplar and hickory. The Ironbound section—foreclosure storefronts, mosques, flu shots advertised $24.99. All the doggie wagon ladies have tasted the dark matter bubbling at the universe's core, the trapdoor that leads to the street, the homeless shelter, or prison. Like Lucy, the other shackled women bow their heads and to God, glancing down from the clouds, it looks like they're praying.
About the Author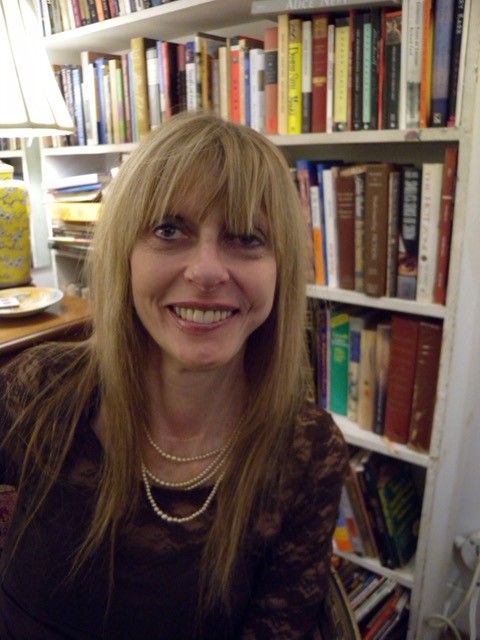 Stephanie Dickinson, raised on an Iowa farm, now lives in New York City with the poet Rob Cook and their senior citizen feline, Vallejo. Her novels "Half Girl" and "Lust Series" are published by Spuyten Duyvil, as is her feminist noir "Love Highway." Other books include "Heat: An Interview with Jean Seberg" (New Michigan Press); "Flashlight Girls Run" (New Meridian Arts Press); "The Emily Fables" (ELJ Press); and "Big-Headed Anna Imagines Herself" (Alien Buddha). She has published poetry and prose in literary journals including Cherry Tree, The Bitter Oleander, Mudfish, Another Chicago Magazine, Lit, The Chattahoochee Review, The Columbia Review, Orca and Gargoyle, among others. Her stories have been reprinted in New Stories from the South, New Stories from the Midwest, and Best American Nonrequired Reading. She received distinguished story citations in Best American Short Stories, Best American Essays and numerous Pushcart anthology citations. In 2020, she won the Bitter Oleander Poetry Book Prize with her "Blue Swan/Black Swan: The Trakl Diaries." To support the holy flow, she has long labored as a word processor for a Fifth Avenue accounting firm.
Contact Link
Purchase Links